I'm a total self-professed TED and TEDx geek…I love all things TED(x). Talking at TEDxWinnipeg was a dream come true when I didn't even have that as a realistic dream.
That made the TEDx talk that I did this week completely and ridiculously intimidating for me, considering that I speak regularly at all sorts of events.
---
Several years ago, I met a woman who was going into a stressful meeting, and she told me she wanted to back out of it. She was terrified.
When she asked herself how she could get herself through the door, she found herself realizing that a particularly bright shade of red lipstick that said, "I am here. I am strong. I am not afraid of you," would help her.
Her lipstick was going to enter the room before she did, and set the tone. It would help her be brave.
It worked, she said.
---
I remembered the story of the woman with the bright red lipstick when Dahlia Kurtz asked me to be a weekly guest on her afternoon show at 680CJOB. I had a long held belief that I lost my ability to speak in complete sentences when a microphone was thrust in my face, and so this was received as a regular opportunity to make it clearly apparent to anyone that I didn't have an intelligent thought in my head.
I said, "Yes"–because as a therapist, I refuse to be a hypocrite.  If my clients are going to show up in my office to have terrifying conversations with their partner, about their own fears, and launch themselves into new adventures requiring vulnerability and courage, I gotta be willing to do the same.
I remembered the story about the woman with the lipstick. More out of grasping at any and all tools to survive this weekly exercise in terror, I decided to try it.
After one of my first afternoons of regular Thursday evenings, I walked over to The Bay, and to the MAC counter there.  I'm not a bright red lipstick person, so I asked for a shade that enhanced my natural lip colour.  I wanted to pull up to the microphone prepared and looking good.
The woman was helpful and found a color to try.  She put it on me and declared that she thought it worked.
When she went over to get a brand new tube for me to purchase, she mentioned that the color of this lipstick was called "Brave".
How awesome is that?!?!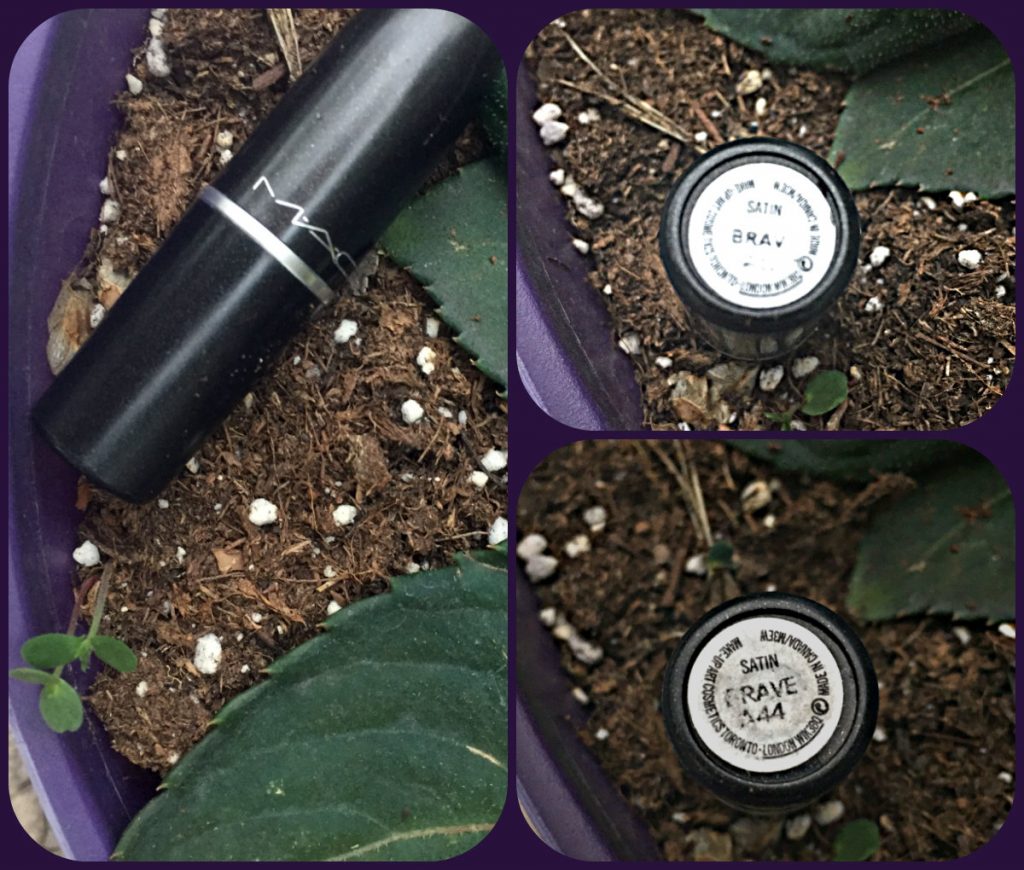 Then I knew it would work.
It was gonna remind me, in color and name, of what, and whom, I am called to be.  Aren't we all called to be brave on a regular basis?
---
It took almost 2 years before I no longer got scared to have those weekly interviews with Dahlia, and now Hal Anderson. Two years of showing up with courage and with fear.  Two years of "putting on my Brave" while still scared.
I still usually put my Brave on. But even if I forget, I'm OK.
I trust myself now to have a good conversation with Hal.
Sometimes we need to remember that we are a lot more trustworthy and capable than for which we give ourselves credit. You, too, right?
---
I keep a tube of "Brave" in purse all the time.  I put it on regularly, but for sure just before I speak to a group.
I think of it as "putting on my Brave". Whether it's a group of folks that work for the military, or a hospital, or a school, or at a church, or a mom's group, or at the university, or with the media, I can't know how it will go ahead of time. That element of uncertainty, and my commitment to do a good job means that I'm still on edge. Putting on my Brave helps each time I'm about to be vulnerable and brave at the same time.
The Brave lipstick reminds me that I have done it before, and I can do it again.  Brave reminds me that it's ok to be scared…and that I can still do something even if I'm fearful.
---
This week I spoke at TEDx Winnipeg 2018.  I was the last speaker of the day. One by one, my new friends went and did their talk and had the look of relief when they were done. I was a little jealous, I'll admit.
Eventually, it was my turn.
Just before I went up, I touched up my lipstick.  I put my Brave on.
AND I DID IT!
---
It wasn't really the lipstick that made it happen, though it's a comforting ritual. Brave lipstick reminds me of the value of being brave. But the lipstick is not actually where my bravery comes from…
Clients come to therapy where they will talk about something they may never have uttered out loud before. Sometimes they explore a relationship or a part of themselves in a new way that stretches and challenges.  Occasionally, clients come to tackle a problem, and are prepared to do what it takes to solve the problem–though it will be frightening and difficult.
Therapy is terrifying, because there will be new conversations that will go in unknown directions about some of the most important topics in a person's life.
The experience of TEDx Winnipeg reminded me to remember for myself all the things that my clients learn and discover and live out every session:
1. We can be scared and brave at the same time
2. We can do hard things
3. Doing terrifying and hard things is infinitely and deeply rewarding
4. We are often more capable than our fear gives us credit for
I'm grateful for the forest of humanity that I have around me:
Kerry Stevenson, head of the TEDx Speaker Committee who said, "Don't be afraid to be afraid" at the first meeting
Nicole Jensen, the head of TEDx Winnipeg, who was encouraging and supportive: She wrote to us: "Thank you for all the time, effort, struggles, laughs, maybe tears and especially heart you dedicate to us…It is a special feeling in that space that I've experienced at no other event and I'm so grateful you're taking the time and energy to be there with your whole heart. It means a lot.
Maryann, a member of the speaker committee and an old growth friend who sent me an email suggesting I apply to be a speaker,
Caitlin Curtis and Stephen Sim, the Emcee's of the event, and my speaker buddies. They are professional improv actors--and they were generous in their time with me in emails and rehearsals.  So encouraging and supportive as they coached me through. I learned much.
Mary and Husband and Louise and Maggie and Judy and Melanie and Terilyn and the Conexus therapists and all the Junior and Intermediate Tribe Members who listened to me rehearse.  They offered suggestions…but much more importantly, they offered their support.
The other TEDx Winnipeg speakers, who walked through all the rehearsals, versions of their talks, with me.  We shared stories, and got to know each other. They were willing to share this chapter with me.
The audience at TEDx Winnipeg. So kind and supportive.  I sat among them during the day, and knew how they wanted speakers to do well.
And most of all…
The courageous clients I am blessed to worth with. The brave men and women who show up to talk about hard things even though it's uncertain for them. These people I work with invite me into the tender spots of their lives. They dare to risk going to vulnerable places because they want to grow and be better people.
How can that, then, not challenge me to do the same?
I had an entire forest people encouraging me, challenging me, inspiring me with generosity and love. Their kindness and connection allowed me to wrap my life's roots around theirs…giving me their strength and stability.
I am grateful.
---
We are wired for connection,
Although I was the only one on the stage rockin' it with Brave lipstick– this was most definitely a group project!