Dear Dahlia,
Your signature, "TGPF"-Thank Good People Friday is something you are famous for in the city. You have made the city a kinder and gentler place, as you encourage people to express gratitude for a kindness they have received in their lives. Gratitude is a value we both share as vital…so today, for me, on this blog, it's TGDK…
Thank Good Dahlia Kurtz day
I remember how, just over 3 years ago, the morning host from CJOB called me to ask me to speak with him and yourself about supporting children who were experiencing anxiety anticipating the start of school.  I said yes, because I have to.
You see, several years ago, I made a commitment that I wouldn't say no to an opportunity because of fear.
At the time, I felt like if you put a microphone in my face, I would lose the ability to speak in full sentences.  I made it through.
It was less than a week later, you asked me to speak on your new afternoon show.  I again forced myself to say yes, because of my personal vow.
Then you did one of the meanest and kindest things in one question:  You asked me to be a weekly guest on your show. I remember thinking that I'd rather poke my eye out with a fork than agree to a weekly interview with you.
It was mean, because I was anxious. I would sleep poorly  before an interview, and before each interview, I would flap my hands and pace the office with my colleagues chuckling at my obvious anxiety as I would wail to them that it was this interview where I would say something so stupid, I would ruin my reputation and my career. Every week.  Even I could see the humour.
It was kind, because in my life I recognize I can't ask my clients to do what I am not myself willing to attempt.  And if I ask clients to do things that terrify them, then I gotta do the same.  And you gave me a chance to confront my fear over and over and over and over again. Even then, I knew that would be good for me.
Gradually, I was able to fall asleep more normally on the Wednesday before the Thursday.  Gradually, my stomach got less nervous.  I was determined to keep doing these weekly interviews with you until I no longer got anxious before an interview with you–It took about 20 months, but I got there. I'm not nervous to get in front of that microphone anymore.
Thanx for the opportunity to confront my fears.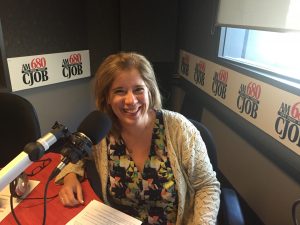 That's big, but not the biggest thing I'm grateful for. Thanx, for so very much more.
You have given me a chance to say every week for 3 years:
It's not just a slogan. It's my life mission.  To let people know that:
at the end of their lives, it will be the quality of their relationships that will matter. What you own, how hard you've worked, or how thin and fit you are will pale in comparison to the important relationships in your life.
the feeling of "not being good enough" and "what will people think" pulls the strings on the behaviour of each person every day, unless we mindfully are aware to make better choices
when we connect meaningfully others we are healthier people–we have better heart health, and immunity
We are on the same page on the value of connections.  We have had such great conversations about this.  You have also promoted better connections between people.  While I do it in the counselling room, you do it in the community.  You have helped people connect with those who are struggling with mental health issues, physical illness and disability.  The Winnipeg Police Service developed more of a human face as the great folks who get up in the morning, put on their badge, and do their best, in a complex world to make our city safer–you let them share their vision and passions and energy. Regular folks connecting with regular folks sharing their stories–letting each other in on their pain, their dreams in ways that help us all connect with each other.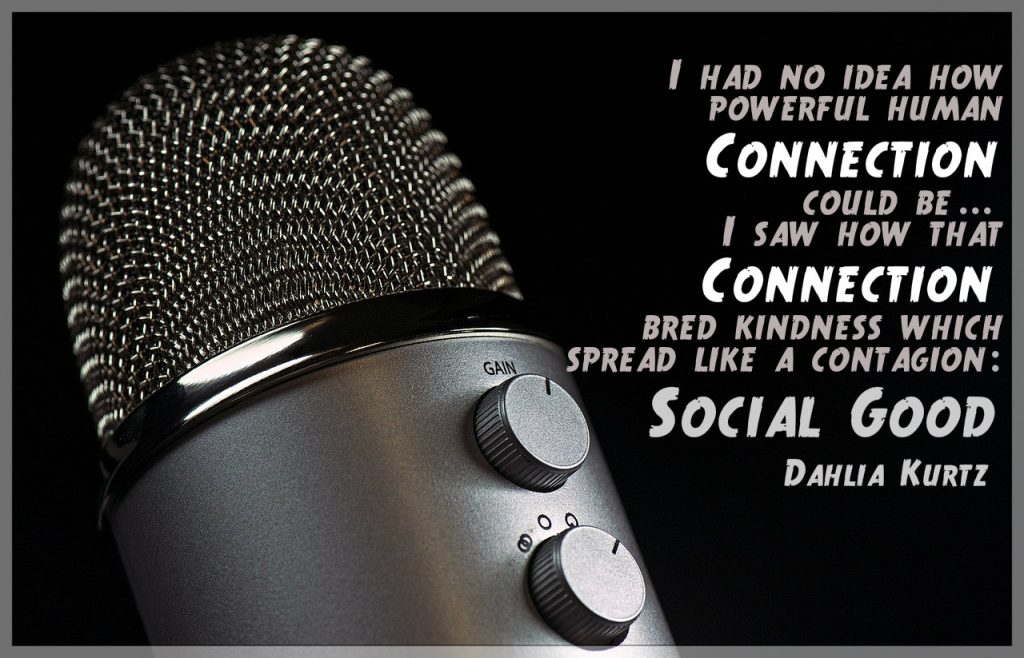 Dahlia…you let us know on your Facebook announcement that your listeners and your guests were your teachers.  You were open to learning from them.
I like that…I have often said that my clients teach me to become a better therapist. I think we learn best from each other…and so often, wisdom comes from those who think they come to learn.
Dahlia…you have been my teacher.
Do you remember that at my wedding, you told my mom and my aunt that I would cover for you as a host when you went on vacation?  You were serious!
You, Dahlia, have taught me that having a "bucket list" of things to do in life is limiting.  Trust me, it wouldn't have occurred to me to put "being a radio co-host"  on my bucket list.
But you believed in me more than I believed in myself. You told me I could do it!  I trusted you, so I did it. You trusted me…and I learned to trust myself…
The second day I co-hosted was a day that bombs were going off in our city, and there were major road blockades.  Super helpful 680CJOB staff were supplying me with up to date info which I referred to periodically. City officials were preparing to go live to give information to the city during the time of the Dahlia show…and:
I was working to interview people while
I had one eye watching Kyle Milroy, who would give me the signal that they were cutting to the live feed.
I had one eye on the clock to announce the time and the station periodically.  And
I had one eye on the time that we had to finish the interviews at a certain time.
I had one eye on my co-host to ensure he and I were collaborating well.
And I had one eye on my notes so I would know was coming next.
I had "one eye" on five different things...and frankly, it did not feel like there was enough of me to go around!
I made it through. (I am glad that I can say I tried it. I notice they didn't ask me to cover your vacation this year, but radio hosting is not my gig–that suited me just fine!)
I always had respect for you, Dahlia…but my recognition of the challenge of the job you do grew three sizes that day. Being a radio talk show host is not easy…and some days, the task is super challenging.
But you made it look easy.
Even more important, the biggest reason for this is Thank Good Dahlia Kurtz blog…is our friendship.
Dahlia, your friendship to me was a gift I didn't see coming when I agreed to this regular radio gig.
For a long time now, when folks ask me about my radio experience, I've told them that the opportunity to spread relationship information is great, but the part I really look forward to are the commercials.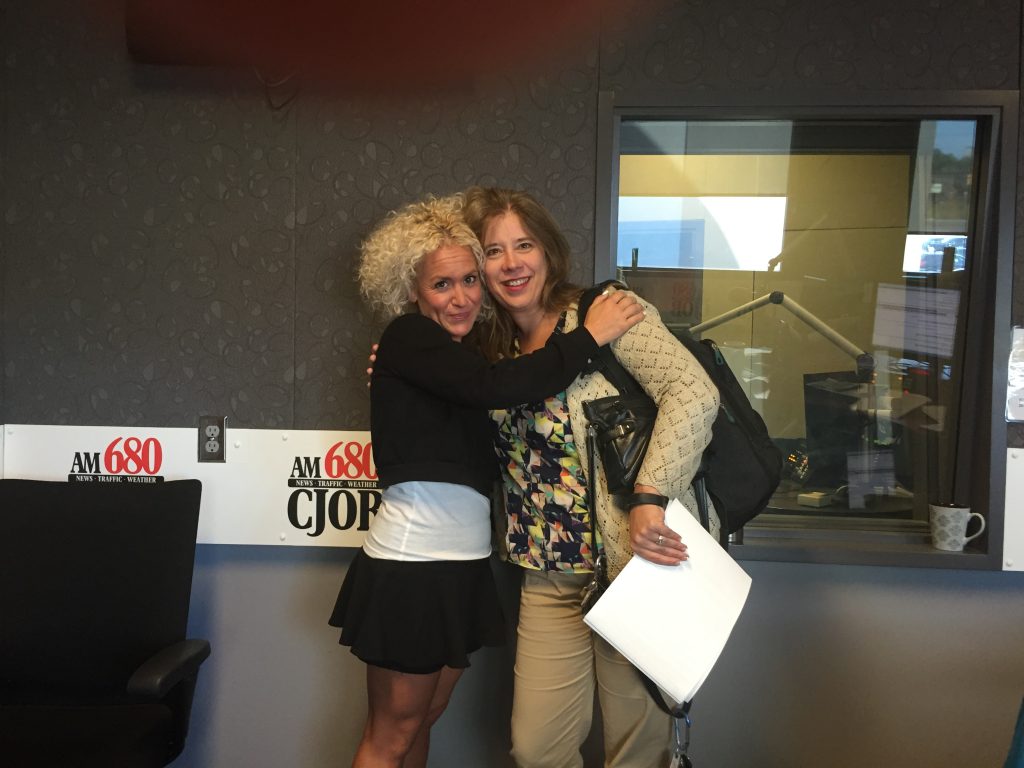 Commercials are when you and I get to chat.   We catch up on each other's lives. You tell me about your fur-baby and your family. You ask me about my Junior Tribe Members and about Husband. We commiserate about the things that friends do–supporting each other.
You make my life better.
Remember when I asked you to come to my wedding, and you asked your listeners what you sort of gift you should bring to your un-named friend's wedding?
It was a great question…and I giggled that day about the passionate and varying responses on Facebook and on-air.
What really tickled my funny bone was the negative reactions on my Facebook comment to your question…I wrote that perhaps you should just trust that your friendship was the gift and nothing further was required.
Others could not have known that the bride you were referring to really meant it.
Thanx, Dahlia…for the way you have pushed me to grow personally, for the opportunity you gave me to connect with more people about the value of connection than I would have ever thought possible, for the gift of your friendship…for the gift of you.
Fondly,
Carolyn
PS for September 29…I had the delightful opportunity to visit with Dahlia today for one last on-air show.  And this time, I asked the questions in a "exit interview" of sorts…here it is.  And yes, I made her speechless.  A radio host, completely speechless.  Because of what I said.
Booyah!