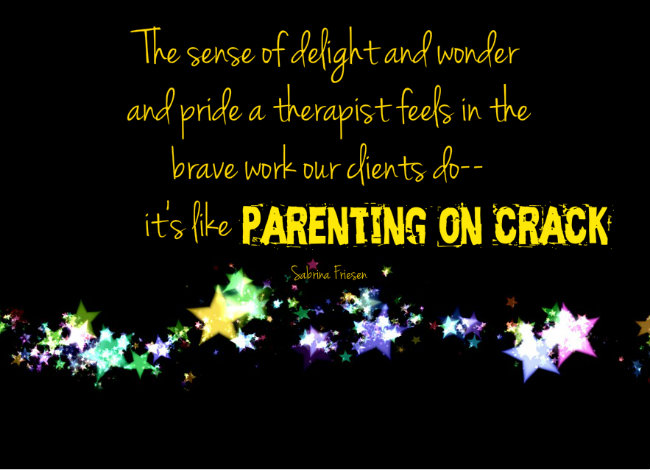 The magnitude of this work is not lost on me.
Four and a half years after beginning as a therapist I still find myself utterly awed at the courage and tenacity of the folks who plunk down on the couch and whisper words that have never made it outside their heads or hearts. 
55 months of stories have graced my ears, and the wonder of change and brilliance of raw courage still moves me deeply. The act of being entrusted with the most tender and most vulnerable places of another is something that words cannot adequately describe…it is this mindblowing experience that happens on repeat each day within our sacred walls.
Sometimes the nature of this work really hits me. As I left the office last night I noticed it, a wordless ache deep in my chest that I could feel with each exhale. It was a full night of sessions and as I drove home in the late evening a deep sense of overwhelm settled into my bones as I reflected on all that transpired.
There was nothing particularly out of the ordinary in the evening compared to other days of this extraordinary work, yet the gravity and magnitude and privilege of journeying with people struck me afresh.  As I cruised along lonely streets under the cover of night I searched for words that could clothe the feeling in my heart.
Gratitude, awe, reverence, sacredness…somehow these things mingled and I was simply overcome with thankfulness for the pure gift it is to bear witness to, and to have a small part in shaping change in the lives of the brave folks I have the privilege of working with.
I pondered where folks have been when they start the process of therapy and think of how far many of them have come, and I am so proud of them. It kind of feels like parenting on crack.
I think of how delighted I am to watch my kids learn new things, and grow into who they are more and more…and I realize that this is the same sense of delight and wonder and pride I feel in the brave work my clients do. 
I crawled into bed and found myself teary eyed and full of reverence for the holiness and privilege of sitting with clients each week and being given a front row seat as their lives take on new shapes and depths.
So to you brave souls out there who reach out in times of struggle or stuckness and give us therapists space to enter in, thank you.
So to you brave souls out there who reach out in times of struggle or stuckness and give us therapists space to enter in, thank you.
Click To Tweet
Thank you for the privilege of being invited into your experience, of seeing all parts of who you are, of bearing witness to your stories. 
It is a gift to see you, a gift to journey with you, and a gift to celebrate with and delight in the shifts that you have worked so hard for. 
We truly are wired for connection, and it is such an incredible privilege to be invited to support you in the hard and brave and courageous work that you do.