It's less than a week before TEDx Winnipeg 2018. I'm excited and nervous…and ready to enjoy the day, and then have it in my rear view mirror.
I teach and lead and talk and facilitate often in my job–I led a full day retreat last weekend for 200 women and feel comfortable doing so.  But speaking at TEDx is different.  The website said that TEDx is more theatre than a lecture, or a talk. The bar for TEDx is, unapologetically, set high. The timing is tight. The idea of TEDx is to completely memorize your carefully crafted script so it gives a concise, clear message.
I never memorize when I give lectures, workshops or presentations.
And now I had to memorize a whole talk!
When I found out I would be speaking at TEDx, it was daunting. I was scared terrified.
But here's the thing: I have had incredible support to work towards something I could have never done on my own. And that makes the whole thing fine less terrifying.
Stephen and Caity, the emcees of TEDxWinnipeg are my "speaker buddies". Each TEDx speaker is paired up with a speaker buddy that provides far more than emotional and moral support–though that too! Caity and Stephen are experts at presenting in front of large groups–and their input into my life has been such a gift.
Performing is their jam:
Stephen and Caity have given clear critique.  Preparing my TEDx talk with Stephen and Caity was rather like putting on a pot of soup to simmer. The longer it boils, the more delicious it gets–partly because it boils down leaving a concentration of flavour. They gave careful and thorough critique. They would let me know when a paragraph didn't serve my main message, and should be eliminated.   They would encourage me to find a way to say the same thing in half the length.
Their ways to improve were generally "sandwiched" in between validation and encouragement.
Don't we all do better when those that are trying to help us get better remind us first that they see our efforts and support us?
This week, Caity and Stephen spent a couple of hours with me helping me figure out how to present my material effectively.
Most important of all, I was reminded to breathe.
That sounds so basic, and yet the times when it is most important, and we are the most wound up, we all forget to breathe sometimes, don't we?
Friends have come alongside too.  Husband listens to my TEDx talk quite regularly.  When I told him that I would spare him yet another run through that day, he told me: "If you want to say it to me three times a day every day from now until TEDx day, I'll still be ready to listen to it one more time."
Don't we all need a cheerleader like that in our lives?
I'm hoping when I grow up, I can be as supportive to others as Husband is to me!
Mary, my Thursday morning coffee buddy, lives a few blocks away. I'll text asking if I can come over for a run through.  If she's home, she always obliges.  Mary and her husband and Morgan listen to me…with Mary having a copy of the talk, ready to cue me if needed.
Morgan used to be very interested: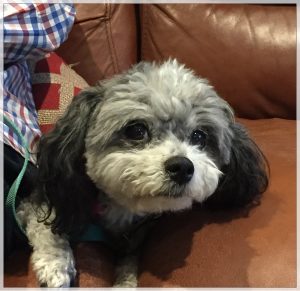 Now that she has heard it so often, not so much: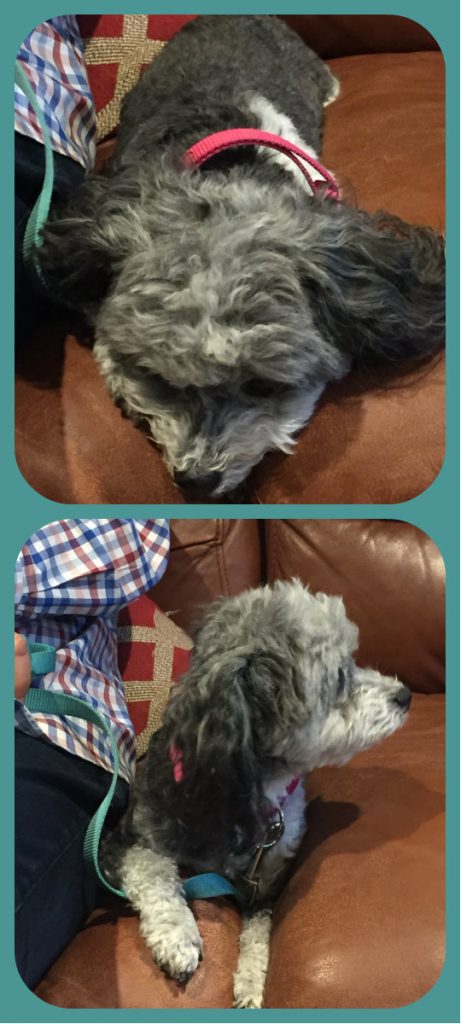 Morgan is cute, but for her, once was enough. 😉
Melanie and several of the therapists have listened to it at work.  The fellow TEDx speakers have heard it at rehearsals. Maggie, my house nanny, listened to it. Junior Tribe Members too. As someone who spends her life doing theatre, Teri-Lynn from church offered to spend an hour with me.  That hour was super helpful to understand more about talking to a large audience.  She reminded me to breathe, too.
I suspect that if the mailman doesn't leave our yard from dropping mail off in the mailbox quick enough, he might well be held captive to hear a full run through of the talk also.  🙂
People have been kind to let me practice, goof, and work to get better.  That's how we all get better–by having others have patience with us.  When we have a safe space to learn, we can learn–never have I been so sure of that as I am now..
One of the other speaker buddies suggested that I go to Closet Chick on Portage Ave to get something to wear onstage at TEDxWinnipeg.  I hate shopping, and I never know what works with what, and what works on me, and apparently they can be very instructive at Closet Chick.  The owner wasn't familiar with TEDx, but the woman she was talking to at the moment when I came in was. She said she was experienced at doing theatrical lighting and she asked me if I wouldn't mind her help, given her theatre experience.
Of course!
So she put down her shopping bags (only then did I realize she wasn't staff, but a fellow customer), and started hunting down tops and pants for what she knew would be the right look given how TEDxWinnipeg is set up. Who does that?
She was super helpful.
I don't know her name, but I will never forget her generosity.
This wasn't the first time that a customer came to the aid of another at  the store. The Closet Chick owner told us how, in the past, customers and vendors would come into the shop and help each other out in meaningful and significant ways.  She told a story of how she introduced two women to each other to help one get support after a recent diagnosis of serious illness.
The store owner is making the world a better place by connecting people so they could help each other out.
She called the timing of people walking into the store to make a difference in each other's lives kismet.
I call it beautiful.
Today, I received an email from Nicole, the head of TEDxWinnipeg–a volunteer, like everybody else.  She's someone with a full life that believes in making the world a better place by sharing ideas worth spreading, and so gives generously of her precious time. She troubled herself to send out an email to all the speakers, which said, in part:
THANK YOU. Thank you for all the time, effort, struggles, laughs, maybe tears and especially heart you dedicate to us. I will try to thank each of you personally on Wednesday but if I don't see you, know that I am immensely grateful for your contribution …I'm so grateful you're taking the time and energy to be there with your whole heart. It means a lot. Take some time for yourself this weekend –  make sure you're rested and don't over extend….Break a leg!
That's so typical of TEDxWinnipeg does things…encouraging and caring and grateful. Troubling themselves to be kind in a thoughtful way. All of the TEDxWinnipeg folks (all volunteers!) have been super friendly and supportive.
In this age where we are bombarded with 1000's of pieces of information a day, we can forget that fundamentally, we need meaningful human contact.  People taking time out of their busy lives to see each other. When we help each other with more than soft and fuzzy empty platitudes, but by actually taking a risk to hear another and be real, it matters. When we live of of the space that we care about making this world a better place one authentic conversation at a time, real people are impacted in wondrous ways.
My experience of TEDxWinnipeg reminds me that the message I believe is worth sharing is true: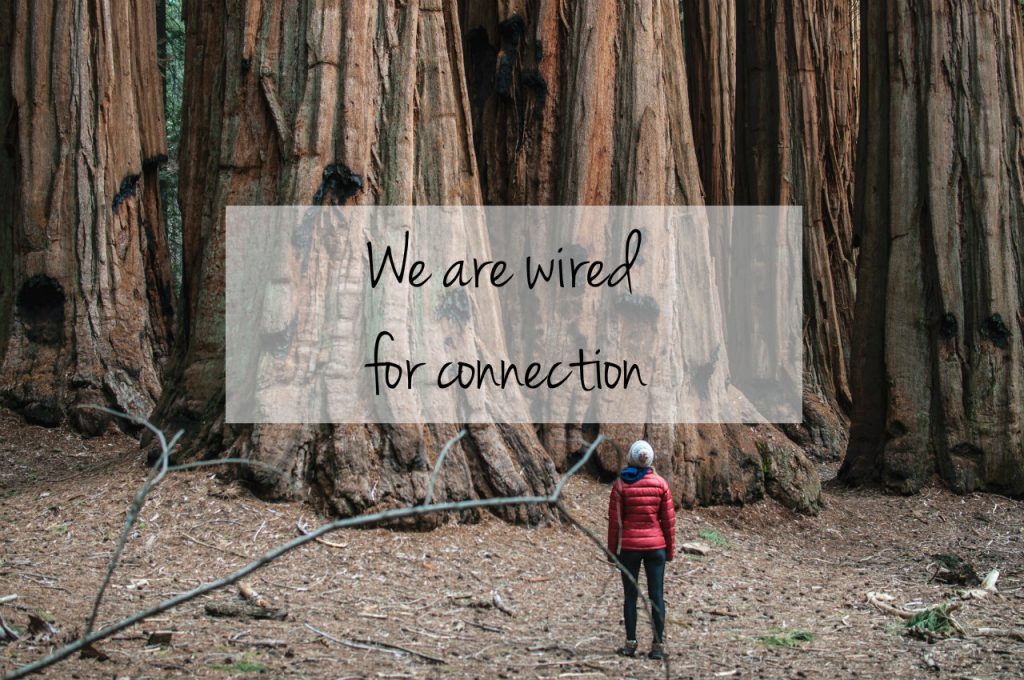 We are wired for connection.
We need each other to survive and thrive.
I'm living the truth of what I'm wanting to say next week. The people in my forest of humanity are helping me be strong when I need their help.
This week, I started listening to an audiobook that I've had my eye on for a while. In my life, in a way that might sound odd, except to fellow book lovers, good books become friends of mine.  I listen to them–books often understand me in powerful ways, and also teach me just what I need to learn.  In her book, Love Lives Here, Maria Goff read to me, just yesterday–just at the moment I need it–she told me this:
We all want to do things that will last.

Figure out what those things are and then do lots of that….

We can waste a lot of time waiting just for the right moment before making our next move. We might pause and wait for the perfect time or for the tide to change or for the stars to align. We might want to wait until we feel smart enough or good enough or have it all together.

The truth is if you know who you are, who you belong to, and what you want, your time is now.

Like racehorses at the derby, the starting bell has rung, your gate has been flung open wide.

It's time to take your next step.

Make it a lasting one. (emphasis mine)

I'm still scared.
But I go into next week's TEDxWinnipeg talk knowing I have an entire team of supporters cheering me on.
And, because we are wired for connection, that matters.
(TEDxWinnipeg will be live streamed on Wednesday, June 13th. Check the website to tune in!)