It wasn't an easy decision for our experience of love after heartbreaking loss being on the national stage in the Globe and Mail. We thought long and hard about sharing this story. The back story of our decision, the picture featured in the article, and another perspective of the same shot, from an entirely different angle: Composting Heartbreak
---
J. took me to Carolyn's grave on Sunday.  For the first time. He took me to the grave of his late wife.
I always thought that this might be space that would belong to him alone. I thought that he might want to keep some part of her private from me.  I live in the house she designed, and have moved into the kitchen she cooked in.  I still see her hand written labels on the red quinoa in the cupboard and on the frozen peaches in the freezer, and her handwriting is on the recipe card of family's favourite cookie recipe. I have my clothes in the closet where hers used to be.  There are so many ways in which I have moved in where she was. I thought he might want to keep some space where he could be with her–space that I wasn't in–space that continued to be theirs alone.
But when your husband asks you to go graveside, you go.  It's the sort of thing you figure out later, but just say yes in the moment.
I think it's part of us being married.  She was and always will be a big part of his life.  To be invited into the part of him that is still connected to her by visiting her grave is part of loving him by knowing his world.  It was a privilege that I was going to do my best to honour.
The air in the car changed on the way to the graveyard.  It became silent, a little stiff–definitely somber.  He was distant, remembering times past. I asked him once what he was thinking, and with a chuckle, he said that lately the triggers that brought her to mind happened when he entered the kitchen and the cupboard drawers were open. She always closed the cupboard doors when she was working. (I'm of the style of closing them once at the end…efficiency y'know?) He said the counters were often wiped while she working (yep…I'm one of those that wipes them once at the end).
He was careful to say it wasn't criticism…just a way that he noticed she wasn't around, and found himself getting wistful for her. She comes to his mind often…maybe sometimes I don't ask him about her often enough.
We arrived. I watched, helplessly, as his whole body shook with the sobs of the brokenhearted as we approached the gravestone.
Gosh, he misses her.
I watched myself watching him that afternoon.  At one point, he said to her, "I will love you always". And it struck me that I might have been jealous–but I checked myself and I wasn't. I was just sad…so sad. The crappiness of cancer personified-they loved each other and were two-people-become-one–and then would be ripped apart when she died. It's raw and harsh this stuff of grief. It's wrong. It's painful to watch…because I know it's even more brutal to feel.
It's an utterly helpless feeling to watch someone I love so deeply hurt so much…and I'm lost on the "right thing" to do in that moment. Do I, as his current wife, hold him as he grieves his late love or keep my distance and just silently witness his grief?
Dunno.
Just. Don't. Know.
I have to say that sometimes my head and heart rather threaten to implode and explode simultaneously as I have the fun joy of being newly wed to an attentive, kind and loving man after a decade of being a single woman.  It's delicious to be cared for after so many years of looking after myself all by myself. But I am aware that my happiness and our love only happened because of her death.
There was this cutely awkward moment when J spoke to her as he gestured towards me, "Carolyn, my wife…meet Carolyn, my wife." He and I both chuckled a bit.  I like to think that she heard that, and smiled too.
It was an honour to spend time there.  An honour to watch him talk to her about himself and each of the Junior Tribe Members, putting a rose representing each of them in the vase on her marker as he spoke of them. He included a sprig of pink baby roses for the JTM that whose heart only beat for a few weeks of life. He talked about me too…and laid that rose on the marker near, but not in, the vase.
I wasn't quite sure what to do, or how to be. There were clumps of wet grass and early fall leaves on her marker, messing up the stone.  It seems pathetically little to tidy up the marker…but it sorta seemed like something this door-closing, counter-wiping woman might appreciate.  I flicked the leaves, and rubbed away the grass. Yes, it was pathetically little.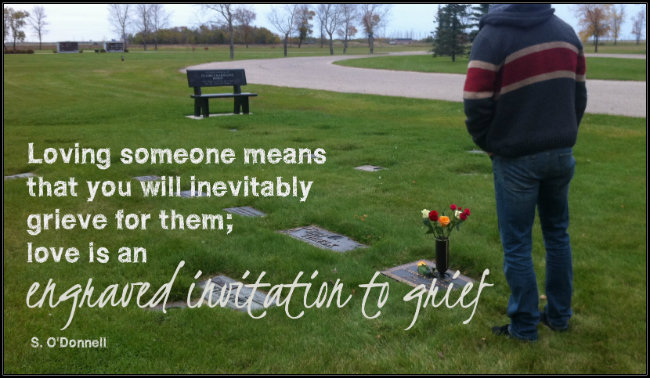 We came home in the evening, and he was tired. Wiped out.
But he said something really powerful to me that I hold as wisdom for myself:
"My missing her doesn't diminish the love I have for you.
These don't compete in my brain…I miss her a lot and I love you a lot.  I wish my sons had her as their mother still, and I'm so grateful they have you in their life now. I will always love and miss her…and I will always love and cherish you."
I love J for a lot of reasons.  One of those reasons is his ability to feel big feelings as they are–he accepts them. He doesn't try to fix, or judge, or shush one feeling in favour of another.  It doesn't torture him to both grieve his past wife while he loves life with his current wife. He doesn't have to let his grief go to love me, or put aside his love for me to grieve his love for her.
Wow, eh?
I'm learning from him on that.  I need to learn from him…because I love my life with him, and also so often wish that she hadn't died…that J wouldn't have this ache that is now a permanent part of his life, that her JTM's would hear her laugh, feel her care, and be guided by her motherly wisdom…and that so many to whom she meant so much wouldn't be living life without her. It's hard to watch the man I love ache–and to wish he didn't ache. But to know that for him to not ache–would mean I wouldn't have him as my husband.
Confusing, but possible to hold at the same time.
I'm learning from him how to hold those big feelings together.
I'm thinking that if all of us had the ability to hold big feelings that are so different, and could feel those big feelings all at the same time, our world would be a different place…a kinder, gentler, more compassionate place. Without judgement, with quiet acceptance, with a knowing that it is possible…we could change our worlds.
---
If you valued the story of this post, please know that I love to encourage others to think about their stories, and how they might write them down. To that end, I've written a book filled with more vignettes and stories, and provide creativity prompts to facilitate the reader to create their own memory journal of the COVID-19 pandemic: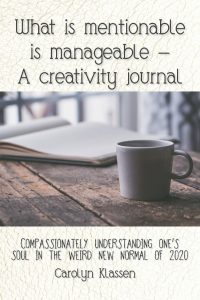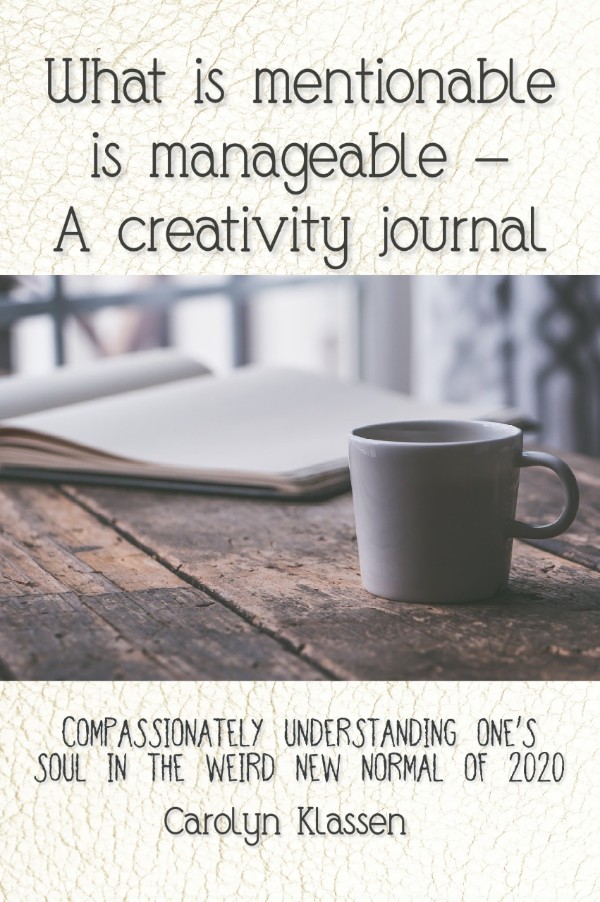 For more:
About the Widower's Club that Husband belongs to: Growing and Grieving…The Widower's Club
About marrying again: Were you happy being single?