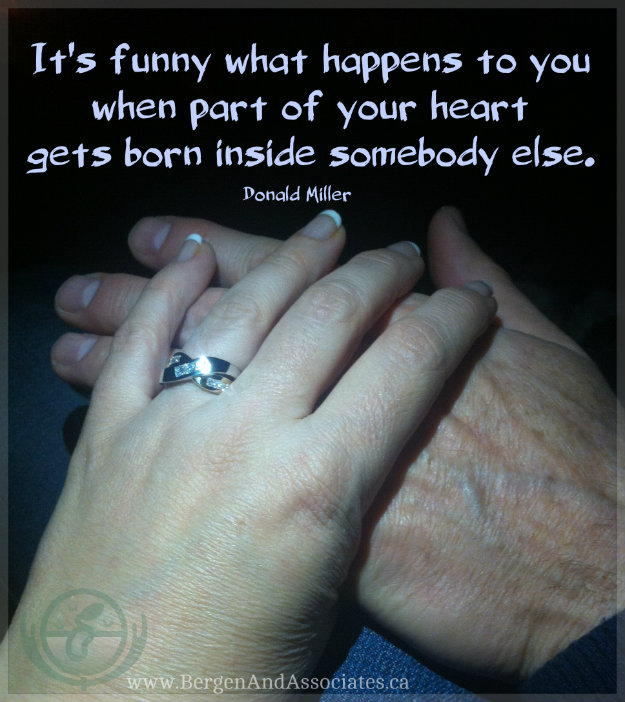 I've been on my own for about 10 years now.
I remember the first week I was alone rather like a blur…or maybe rather, I don't really remember it at all.  I wasn't sleeping; I had lost weight; I was just putting one foot in front of the other.  My friends were supportive and were checking in on me regularly cuz to say I was a bit of a mess is like saying the pope is a little bit Catholic.
However, I do remember one call that week very distinctly.  L called me Wednesday of that first week that I was on my own to check in.
I had known L for a long time and she was one of my best friends.  I had met her when she was a new single mom, and had walked with her through the adjustments and grief of being a single mom–with all the heartaches that come with trying to parent solo in the middle of one's own loneliness. Now she was walking with me.
It was in the morning…and she reluctantly told me about a date she had had the night before. I pulled it out of her–she was very hesitant to pour her joy over my sorrow and lostness.
But I needed good news.  I needed to hear of hope in action.  I was desperate to see somebody else's light at a time when I was in my own darkness. So, I made her tell me of this fantastic promising date in the minutest of detail. She was set up by a mutual friend.  He was friendly and warm.  He had a huge mustache.
L had met Gary…and over the months as I continued to adapt to my singleness, I watched L fall in love with Gary.
Our friends and I were like mother hens.  We quizzed her about him. Was he kind? Was he good? Was he good for her? And when we met him, while being friendly, we secretly did what we could to screen him. He had to pass muster with us. L had been hurt before, and we were gonna make sure this guy passed inspection.
He did.  With flying colours.
Gary is a gentle soul, made very wise in the school of life. He was a student of life experiences and he had learned much. He's the sort of person who helps people in incredible ways–but only when he thinks no one is looking. He reminded L of her value, and reminded her to slow down to take care of herself. He's so good to so many. He was good for her.
We approved (not that she needed our approval–but don't friends offer their opinions even when they aren't requested?).  And they got married. Gary and L have always been a couple of hope for me…with their beauty rising up as my world was crashing.
Gary is Oro de Rey, a concierge jewellry service.  He provides personalized service for custom designing jewellery of all kinds–remaking old heirloom brooches into funky modernized pieces. He helps couples design the wedding rings of their dreams, and then he makes it come to life.  Gary is a bit of a jewellery magician, really.
I trust Gary. So much so that I gave him my original engagement and wedding ring.  I told him that the ring had a history of many good years of a great marriage in it, and I felt it best that they continue to bless another couple in a great marriage.  I wanted my rings to find a new and positive reason for existing again.
Both Gary and L relate to all sort of people, including some that have little or no resources.  I asked him to give it to a couple who would benefit from a set of engagement/wedding ring but wouldn't be able to afford one. I asked him not to tell me when he did this, and to never give me details of it.  I wrote an anonymous note that could be passed on with the rings, inviting the recipient to celebrate her relationship with these rings that had been worn with love for so many years.
And every once in a while, he would tell me, "Carolyn, some day when you meet the Special One…and we are gonna design your ring.  That's gonna be some ridiculous kind of fun."
I knew he meant it.  I just never knew if it would happen.
It's for real.  It's my ring and it tells our story. J got down on one knee and slid it on my finger in the most romantic of moments.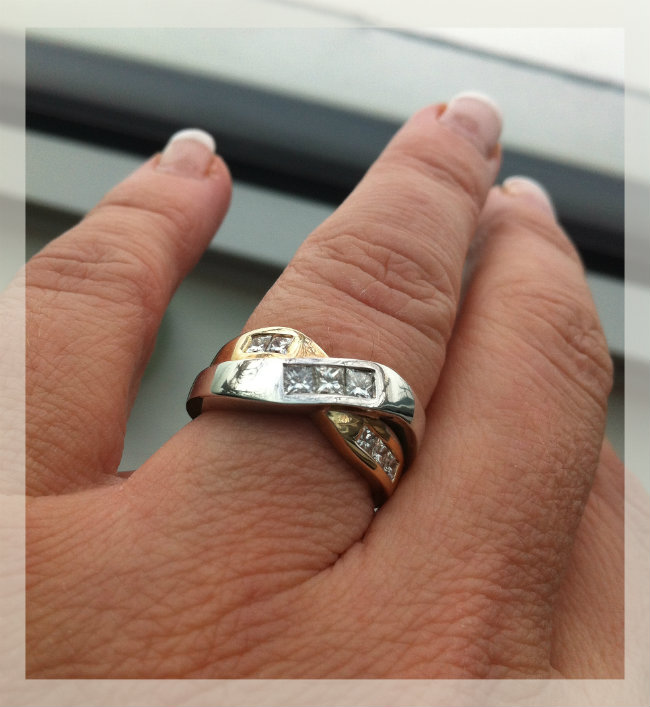 I wanted a beautiful ring–and I think it's incredible.
It's two rings woven into one–one white gold, one yellow gold–like two families, woven into one. Each unique and different–and exquisitely beautiful together.
There are three diamonds on top…our faith is important to us, and so it acknowledges God in the centre of us. He and I together with God on the ring, as in life. It implies a sense of unity and togetherness, mission and purpose.
There are three diamonds on one side, and two on the other…representing his Junior Tribe Members and mine. It's an family engagement/wedding band–we are two families marrying, not just a man and woman.  I am committing myself to his children, and he to mine. They are represented as important and critical components in the ring, just as they are in our lives.
To visit Gary in the planning and design of the ring was a dream come true.
To plan my life together with J is an even bigger dream come true.
To read more about the love story, born unusual and sweet as can be, read here:
Letters to Car: You, Him, the kids, her friends.