Dear Car,
If things had been different,
…the couch I sit at in this moment would have streamers and balloons above it. I suspect your mom would have had you over for the day to occupy you, while your husband decorated and fussed, while your friends came over to put up decorations and loaded food they had made into your fridge and onto the counters.
Then you would have come home around suppertime, perhaps absently wondering why there were so many cars parked on the street. And then, you would have been blown away by the friends and family that had come to wish you a Happy Birthday.
You often underestimated your own impact on your world…so I suspect you would have been blown away by the large number of people who would have welcomed the opportunity to show up to celebrate you.
You would have enjoyed the funny stories that your husband would have told about your years together. The kitchen island would have been overflowing with food for you and the guests…because that's your style. The whole party would have been relaxed and friendly. Probably, your husband would have actually 50 candles on the cake to see if you could blow every single one!
But things are different…
and so, instead, your husband will spend time at your graveside.
There's something fundamentally wrong to celebrate someone you spent half your life loving–at the grave. He will spend time remembering you in the space you share with your sweet Janna.
Then Husband will go over to your best friend's house. They will remember you  together with him. Out loud. Saying your name. Telling funny stories. Telling heartbreaking stories. Maybe crying. Maybe no.
He still misses you and loves it when people are willing to share memories of you. He will love being with P and B because they talk about you with him in a world that often avoids mentioning her.
Funny thing about our world: We talk a lot about a person in the week or so after they die. Lots of memories and stories at the funeral.
After that, not so much.
Often, not at all.
---
It will make him, as my niece likes to say, happy-sad to be with your friends, remembering you.
Happy-sad is that feeling when you enjoy the feeling of sadness. You knew that feeling too, right? Happy-sad: the poignant beauty is gone forever, but it was so fantastic that the goodness pushes through the grief that remains.
Tears are often present–and are welcome.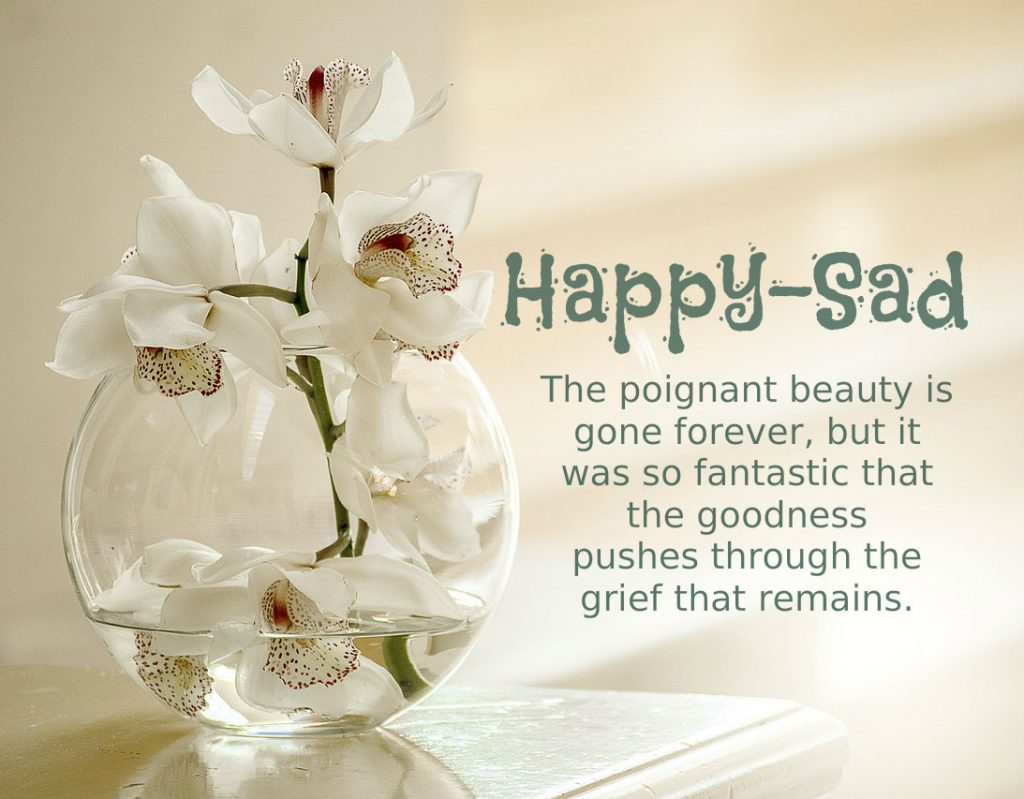 Happy-sad recognizes that when the broken shards of pain are held up together by multiple hands to the light, something resembling a stained glass window stuns those that are present.
It is a present–a gift.
Both happy and sad exist in the same moment because of the same memory: happy-sad.
It's complicated, this happy-sad feeling.
It's often easiest to feel big feelings all one way or the other.
Happy OR sad.
But life is quite often more muddly than that, I think.
---
Husband told me the other day that the sharp pierce of grief that came from your death is gone. It's now a dull ache. And he told me this as we were enjoying the last minutes of a beautiful evening in the crisp air of our back yard.
That was my own happy-sad moment. I was loving the time and space of that moment, even as I was hearing that life is still achey for him. I don't enjoy watching him be sad…but it was beautiful that he was telling me as together we wrapped up our day.
---
And so, Car, things are so very different on this, your 50th birthday than you and your husband would ever have imagined when you folks were half this age.
It's one heckuva messed-up and beautiful world when your youngest son has a picture of your grave as his wallpaper on his iPod. He remembers you in all sorts of visible but subtle ways…people in the volleyball world know him as "the player with the pink shoes". He has that "breast cancer" pink on his shoes and splashes of it in other parts of his life. His friends remind him of their solidarity in his grief of you with showing up with that pink too.
We make your Texas brownies often…we have it when your sons' friends come over. The Klassens were–and are–famous for this recipe. The first time I made it was for your funeral, when the email went out asking for people to help bake for the reception.
When we make them, it's a chance, sometimes without words, to make it known in the house that you were the nurturing and loving mother and wife that you were. This recipe is delicious on its own…and even better because we make it by looking at the well worn recipe in your handwriting.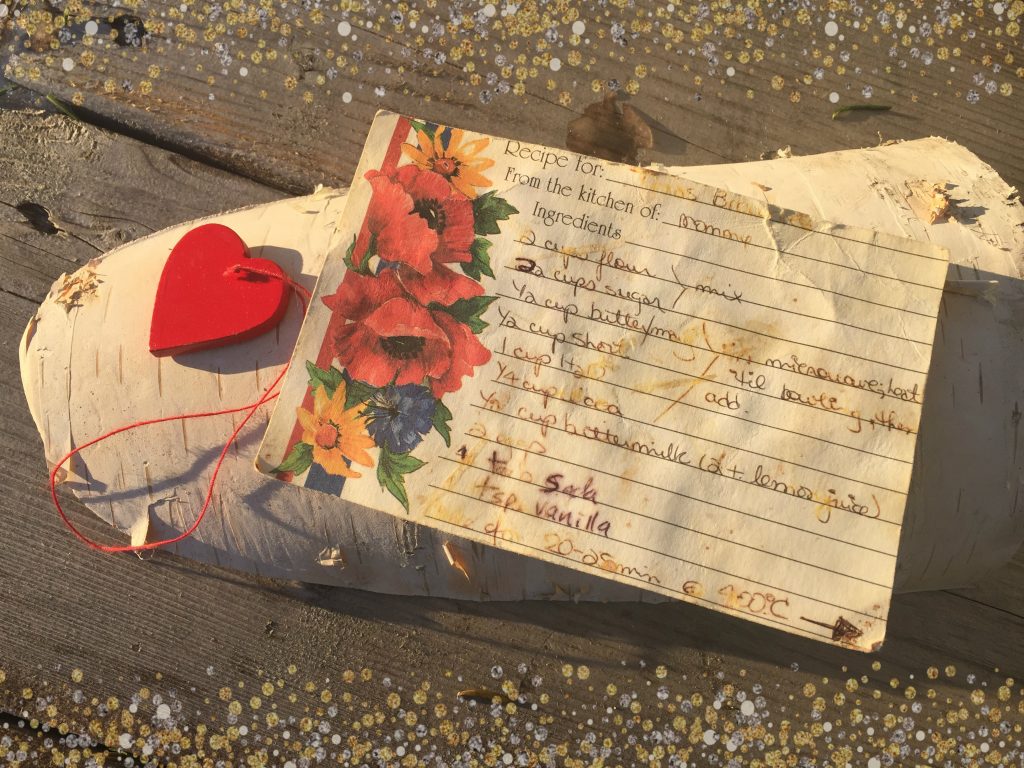 Texas Brownies
(made exactly how she taught them to make it which means sorta, but not exactly like, the recipe)
Ingredients:
2 cups flour
2 cups sugar
1 cup butter
1 cup coffee
1/4 cup cocoa
2 eggs
1 tsp. baking soda
2 tsp. vanilla
1/2 cup butter milk (or 1/2 cup milk with 2 teaspoons of lemon juice that sits for a few minutes)
Mix the flour and sugar together in large mixing bowl.
In a separate bowl, heat  butter, and coffee in the microwave.  Heat until boiling, then add  cocoa.
Mix the flour/sugar mixture with butter/coffee/cocoa mixture.
Add  eggs, baking soda, 2 teaspooons vanilla, and buttermilk ( or soured 1/2 cup milk).  Mix well and pour onto a large jelly roll pan.
Bake in 400 degree oven for 20-25 minutes.
While the brownie is baking, make the icing:
1/2 cup butter
2 tbsp cocoa
1/4 cup milk
3 1/2 cups icing sugar
1 tsp vanilla
Melt butter, cocoa and milk in a saucepan and heat to boiling. Add icing sugar and vanilla.
When brownie is baked, allow it to cool just slightly for about 10 minutes, before putting the icing on the cake. Putting the icing on while still quite warm creates a beautiful even shiny top.