We had an out-of-town family wedding last month. It was beautiful–great efforts were expended to look after every detail of the day.  On our way home in the airport, I asked everyone at supper about their favourite "memory snapshot". Some of the responses:
time with the other groomsmen while the couple was off taking pictures
holding the 5 week old puppies (which were at the farm where the ceremony was held)
sitting on the tail gate of our rented mini van visiting with the family outside as the sun was setting
exploring the out buildings at the farm we were staying at before the wedding.
mine: watching the adult kids play grounders on the play structure across from the church as Husband was finishing wiping the floor of the kitchen after the rehearsal dinner.
None of these favourite moments were fancy or planned.
No money was spent on them.
These moments simply unfolded as we spent time together in a new place where there was little to no cell phone signal.
Our family remembers the time fondly…for far more than the nuptials of the happy couple. 🙂
---
We are healthier when we have meaningful connections with others in our lives.  People live longer when they have meaningful connections. Our mental health is better. Without a doubt, we need human connection–it is what I spoke about in my TEDxWinnipeg 2018 talk.
Quite simply…we need each other.
Up close and personal. To be in each other's lives, in a way that matters. Knowing each other well enough to be up in each other's business:
"Hey, did you make the doctor's appointment like you said you would?"
"You look sad today.  Is something bothering you?"
"What mark did you get on that test that you mentioned you were worried about?"
"You'll never guess who I bumped into at the grocery store today."
Sharing lives with the people that are around us. And not just about major things, but in the small, hardly-noticed moments in life:
This zit is driving me crazy
<shared laughter at some small talk>
"Did you like that egg salad as much as I did?"
I forgot how much I need to…until just this moment.
Ack! The lawn needs to be mowed again.  I'm so done with yard work this summer
It is in the smallest of moments that relationships are built.
Actually, it's often in the "in-between" moments of life that relationships are solidly and gradually built.
While you're waiting.While setting the table. Between mouthfuls.   While one person at the board meeting finishes up and the next one gets their notes ready.
Technology–or rather technoference—the intrustion of techonology in every day relationships–is robbing us of these most important moments of life-giving relationships:
A 2014 study by Coyne and McDaniel found that 74% of women felt that technology interfered with their interactions with their spouse. 25% of women said that their spouse actively texted other people during their conversations on a daily basis.
Shalini Misra and colleagues identified the "Iphone effect". Looking at 100 pairs of people having conversations in a coffee shop, they found: "conversations in the absence of mobile communication technologies were rated as significantly superior compared with those in the presence of a mobile device"
For more thoughts…take a peek:
---
In my TEDx Winnipeg talk, I said:
"In this age of social media, roots go down and out, but they don't intertwine in the way that face to face encounters nurture and develop" — @carolynklassen on why we – like sequoias – must grow together to survive #TEDxWPG2018 #TEDxWinnipeg pic.twitter.com/ztTms2pKkn

— TEDxWinnipeg (@TEDxWinnipeg) June 13, 2018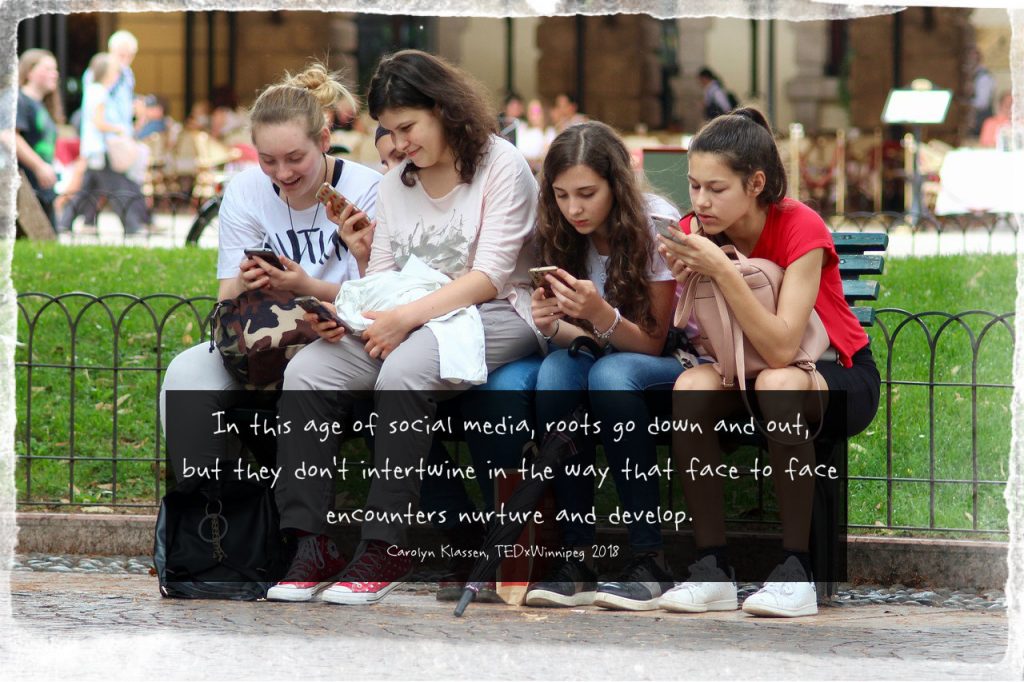 ---
John Gottman speaks of the importance of unstructured moments and minor interludes in building meaningful connection between people.
The beautiful inbetween moments that can't be planned, but simply unfold when there is an easy, relaxed space for people.
The ordinary, exquisite moments of life that happen inbetween the business and the busy-ness of life that we are inclined to remember as the most memorable…that's what I am looking for in my life.
---
I asked Husband to make our family a "Be all here" cell phone catcher. Husband carefully hand crafted it with authentically aged "barnwood style" wood. We hung it up in our dining room for all of us to put our devices in before mealtimes.  The cell phones stay there as we set the table, eat and laugh, with uninterrupted time to enjoy each other.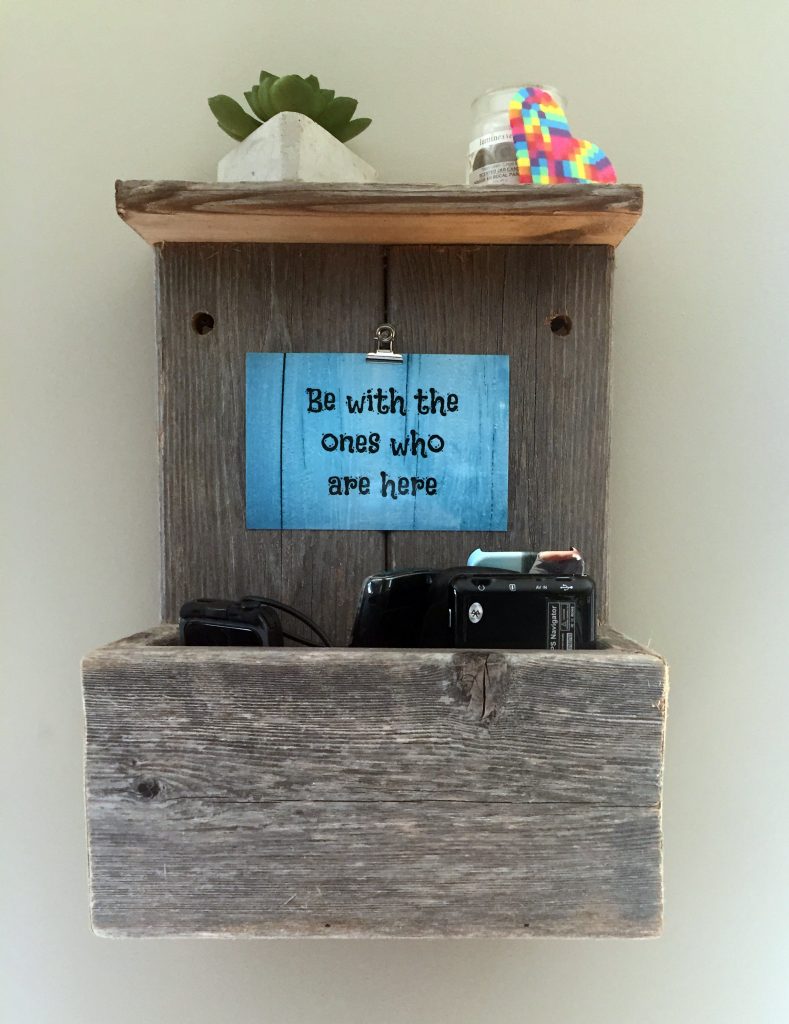 I thought some of you might like a Be all here cell phone catcher too!
Husband made extras "Be all here" holders  so I could make them available to you!  The introductory price is $45.00 (includes GST). You can pick it up at our office on Pembina (just let us know when you'll be coming) or pay extra for delivery within Canada.
Maybe your boardroom needs one of these just inside the door as a concrete reminder to focus on those at the table.
Maybe suppertime mealtimes will be a little awkward at first because everyone is so used to looking at their screens if you have one of these on your wall…but gradually, people will look across the table and remember what it is to have actual conversation at the table!
Put it inside the entrance to your apartment and invite guests to leave them there when they come to visit for the evening.  Pull out the board games and have fun!
The cottage is a place for people to put down their phones and be with nature and each other.  Maybe a cell phone catcher would remind you to leave your phones at the door?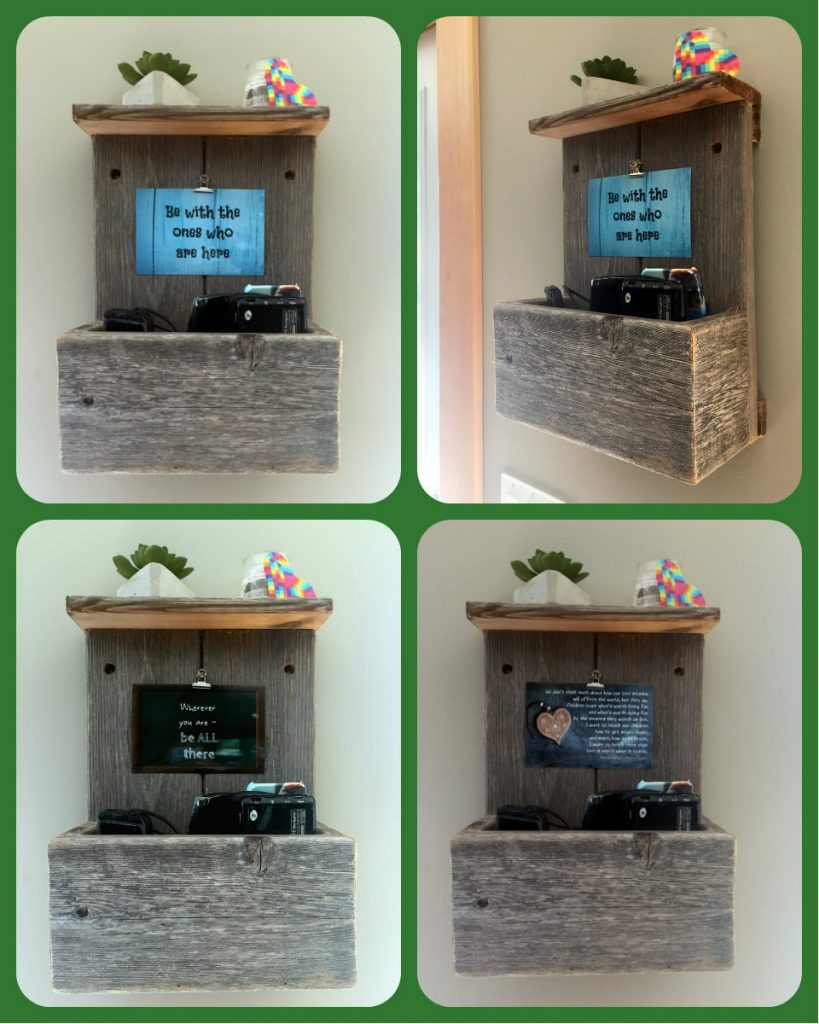 (cell phones not included)  🙂
There is a clip on it…you can select the picture you want us to clip in! Pick the one you want so we send you the right one.