I have a theory about Valentine's Day:
Valentine's Day is a crushingly discouraging day for those in the midst of heartbreak. A reminder of al that was lost. It is salt in the wound for those that are single, irritating the soul that seemingly everyone, save you, has someone to share romantic cards and dinner with. And for those in a satisfying beautiful relationship, it may be a one more day to acknowledge the shared love…but really, no big deal.

Ironic, that those in love often find Valentine's Day something underwhelming and hardly notice the day.

Valentine's Day is noticed in our house…but it is actually February 15th, the day after Valentine's Day that we remember more.
---
Three years ago today, this ring found a home on my finger, signifying our forever love.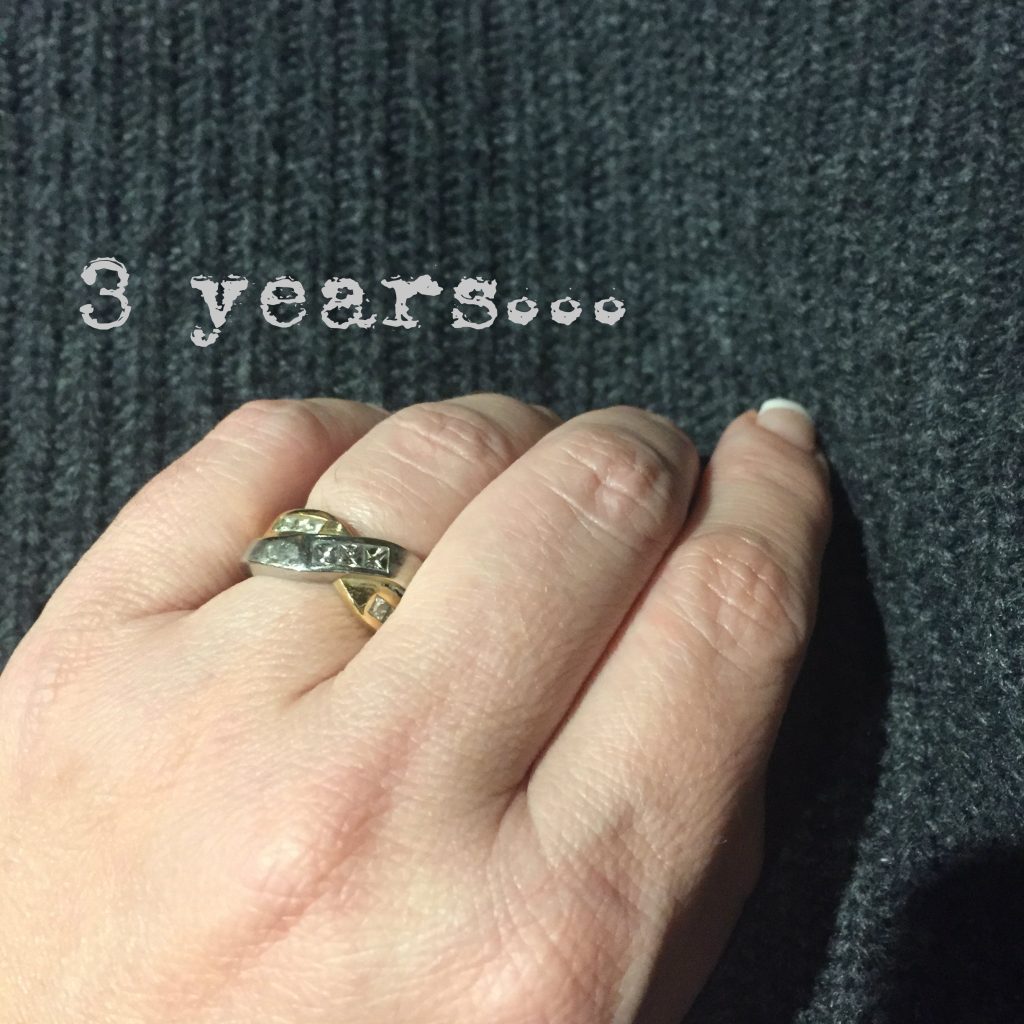 A diamond representing each of the original 5 Junior Tribe Members, two colours of gold signifying the joining of two families also becoming one family.
On February 15th, it wasn't a long romantic day leading up to the big moment.  He got down on one knee, to be sure, but only after he tucked his youngest into bed.  We waited until he had finished his parenting for the day before he proposed.
Practical doesn't take away from special. Being responsible doesn't reduce romantic.
I knew it was coming. We had planned and designed the ring together.  We talked about the pros and cons of getting engaged this month or that month, getting married in spring or in summer.
It's complicated planning a wedding when dealing with the school schedules of one's kids, the wedding planning of engaged Intermediate Tribe Members, and our own work schedules…three businesses between two people.  It all required careful timing.
He asked his kids for their input and blessing. I asked mine.  He asked my kids. I asked his (ranking right up there as one of the more brave things I have ever tackled in my life!)
The right timing was an engagement in mid-February.
But Valentine's Day didn't work.
It was our first Valentine's Day together, but on that day, I had supper club with my friends, and he had care group with his. Each of us has people that are important to us, and we spent time with those people on that day…we knew we would have the 15th together–after the little one was in bed.
On the morning of Sunday, February 15th, I was in church, and gave the message that morning to the congregation. A friend I hadn't seen in a long time…perhaps a decade…came to me that morning and he gave me a friendly hug, and said: "I understand congratulations are in order.  I hear you're getting married!"
I gulped, and told him he hadn't heard correctly…he was correct that I was seeing someone–but we weren't engaged.
That man, standing in the foyer, felt so foolish. He stammered, and got red in his face. Embaressed.
I felt a little foolish too–I knew he was only about 9 hours early!
---
We watched a movie together at his home that evening with his youngest.
His youngest, who was soon to become our youngest. I would not be his mother, but he would be my son.
It was February 15, 2015. While he went to tuck the youngest JTM into bed on February 15, three years ago, I sat in Husband's living room.  While waiting for him to come down, I sat, looking around at his house, pondering what it would be like as it also became mine.
I sat, looking around at the beautiful thick baseboards, the expansive windows. The touches that were hers…and those that awaited ours.
Husband and Car had built the house that is now ours. Car had spent years planning and dreaming for it. The house was sufficiently finished for them to move into, but the cancer got the better of her before drawer handles and banisters and fireplace surround were chosen and installed–amongst a dozen or two other little things to be finished. We had decided it was best for his JTM's who had lost their mother a year before to not yet have more change, more loss.  We would stay in the house…and together, Husband and I would select the remaining finishings. It would be the house that the 3 of us built. It would celebrate Husband's and Car's love and planning…and Husband's and mine's love and planning too.
Making their home into our home was going to be odd–but wonderful.
I looked around at this place, wondering how it would become my own. Wondering if it would ever feel my own.
Wondering what it would be like to share the everyday space of life with Husband and all of our JTM's…making supper and wiping the table, sharing the bills and the bank accounts, figuring out life and sharing the good and the bad.
I was excited, but it all felt so unknown.
Well…not all unknown.
There were some knowns.
There's a lot I didn't know. But I knew we would figure that out. Together.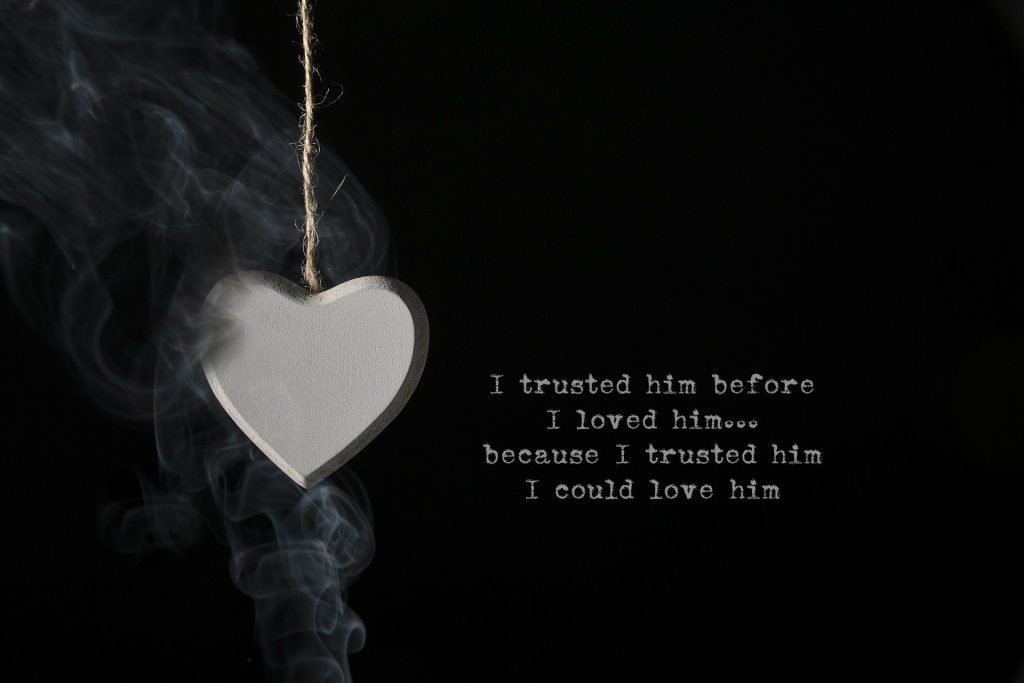 I knew I was looking forward to him asking to place the ring we had crafted together on my finger. I knew I was looking forward to the life that ring would invite.
In the quiet of the evening, after the youngest had been tucked in, Husband came down where I was waiting.
---
He talked…he prepared a speech.  Those who know Husband, sometimes ask if he can give the short version of the story…because you have to hang around for a while to hear the long.
He gave me the long version of the proposal.
I loved every minute of it.
He related how his life had no color in the months before he met me. Husband let me know of the reasons he called to ask me advice, and what had happened on those conversations that had him keep asking. He affirmed me. He told me that I was chosen–by him.
Husband let me know that I was his dream come true when he had no dream.
He invited me to share his life with him…and together to face adventures of family, faith, and friends.
---
I said yes.
And then I gave him the long version of why I wanted to say yes. And then I asked him the same question: Will you marry me?
He said yes, too.
And then we called the children.
After all, it would be a family wedding–two hearts joined as one, but also two-families-who-are-also-one-family.
---
That living room that was his that night we got engaged…it is that same living room I now sit in as I tap this blog. It is our living room.
It has a few extra cushions on the couch now…I like cushions.  And a throw blanket…I love blankets to curl up with. Same couch and chairs as before–he and Car knew how to pick'em, but it has
Pictures of us on the wall.  A new cherry wood cabinet in the corner.  A lantern I love on the cabinet. Candles burning on the table that I can see out of the corner of my eye. Pictures of Car remain on the wall–of course. But there are more pictures of us, of our enlarged family.
The house is ours. And it feels like home.
I am home with him in this house.
---
When and where we can, we celebrate Valentine's Day…who doesn't miss a chance to celebrate love? But life is full, and Hallmark moments aren't always possible. Yesterday, on Valentine's Day, Husband went to a team meeting for our son's sports. Intermediate Tribe Members were coming and going, creating a happy chaos.  We celebrate all kinds of love around Valentine's Day…I gave chocolate sugar cookie hearts to friends, colleagues, and folks at 680CJOB.
But it will always be Valentine's Boxing Day–February 15–that holds an extra special place in my life.