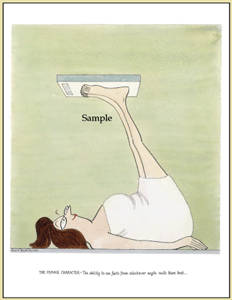 A woman lying on the floor flexing her legs up towards the ceiling, so she is in an L-shape. Resting on her feet is an upside down scale. Near her toes, is the readout…which predictably (as it is resting ON top of her feet, rather than bearing her weight UNDER her feet) the scale reads "0.00"
The caption reads: "The Female Character…the ability to see facts from whichever angle suits them best."
The picture is at first confusing, as one struggles to make sense of it. Then it is funny—very clever. Then it is heartwrenching…as one can identify with it.
How often don't we play with the picture to make it suit us? How often don't we tell ourselves lies to justify our behavior?
I deserve that piece of cheesecake because of how ugly that meeting was.
That dinner was disgusting, and then she criticizes me—she deserved that slap she got from me.
He doesn't care about me anyway—why shouldn't I have an affair?
Below are some myths that have been debunked by solid, peer reviewed research. The myths (and the evidence to refute them) are found in the December issue of The Journal of Marriage and Family Therapy. I've quoted them directly, but am only giving you an edited sampling. D. Popenoe, John Gottman, Waite and Gallagher, Amato and others have done solid peer reviewed research that says all the following thoughts are lies that we as a culture tell ourselves:
MEN REAP FAR GREATER BENEFITS FROM MARRIAGE THAN WOMEN

Recent research…has shown that men and women both benefit substantially from marriage, with benefits to men being largely health related and benefits to women being largely economic, though both sexes receive some of the benefits usually attributed to the other. In short, "Both men and women live longer, happier, healthier and wealthier lives when they are married"

SINGLE PEOPLE HAVE MORE SEX AND CONSIDER THEIR SEX LIVES MORE SATISFYING THAN MARRIED COUPLES

While single people may brag about their sexual experiences more often than their married counterparts, married people actually have sex more often and find the sex more physically and emotionally satisfying.

THE MORE SOMEONE GIVES THEIR SPOUSE INFORMATION, POSITIVE AND NEGATIVE, THE GREATER THE MARITAL SATISFACTION OF BOTH PARTNERS

Only positive self-disclosure increases marital satisfaction. More recently, Gottman has demonstrated that the quality of interactions, in particular the ratio of positive interactions to negative ones, is far more impactful on the satisfaction of both partners than the simple frequency of interactions.

COHABITATION BEFORE MARRIAGE DECREASES THE CHANCE OF DIVORCE

Couples who cohabitate prior to marriage divorce more often than those who do. No study has ever demonstrated cohabitation reducing chances of divorce.

THE MAJORITY OF COUPLES WHO DIVORCE ARE HIGH-CONFLICT COUPLES

Amato and Booth (1997) found that less than a third of divorcing parents had marriages that could be considered high-conflict. A mere 30 percent of divorcing spouses reported three or more serious arguments in the past month, and less than one in four said they and their spouses disagreed often or very often. Other studies have shown a variety of marital problems that are predictive of divorce, with conflict per se not on the list. For example, in a study by Amato and Rogers (1997), infidelity, drug use, and spending money foolishly were most strongly predictive of divorce. The presence of conflict in a relationship is relatively weak in predicting divorce; examining how couples resolve conflict produces much stronger predictors.

CHILDREN DO BETTER IN STEPFAMILIES THAN SINGLE-PARENT HOMES

While stepfamilies do offer advantages over single-parent homes, such as higher income levels and the presence of role models of both sexes, children seem to do no better and may in fact fare worse in stepfamilies than in single- parent homes after.

IF DIVORCED PARENTS PUT FORTH POSITIVE ATTITUDES ABOUT RELATIONSHIPS, THEIR CHILDREN ARE NO MORE LIKELY TO DIVORCE THAN CHILDREN OF MARRIED PARENTS

Children from families who experienced divorce consistently report more negative attitudes toward marriage than their peers, regardless of what attitudes toward marriage the parents attempt to communicate to their children.

THE FACTORS MOST OFTEN CITED BY LONG-MARRIED COUPLES AS REASONS FOR THEIR SUCCESSFUL MARRIAGES ARE ROMANTIC LOVE AND GOOD LUCK

Larson's (1988) review of literature concluded "most couples do not identify romantic love as the kind of love that helps maintain marital satisfaction over the life span" (p. 10). More recently, Gottman found that a couple's perception of the quality of their friendship is most predictive of their long term marital success.

CHILDREN ARE BETTER OFF WITH DIVORCED PARENTS THAN WITH PARENTS WHO ARE UNHAPPILY MARRIED

The effects of parental divorce in and of itself are pervasive and long-lasting for many children. Married parents—even unhappily married parents—can provide children with benefits divorced parents cannot, including greater economic standing, stronger family bonds, stronger connections with the community, more available time for parent-child interaction, and better over-all emotional health.

THE QUALITY OF A MARRIED COUPLE'S SEX LIFE IS THE SINGLE BEST STATISTICAL PREDICTOR OF OVERALL MARITAL SATISFACTION

Broadly, the quality of a couple's friendship is far more essential to their marital satisfaction than the quality of their sex life.
So, how many of these surprised you? The study itself was actually focused on how often marriage and family therapists were fooled–some of these are inconvenient truths.
Bottom line: work at your marriage, work at being friends with your spouse, find ways to be positive in your relationship, be aware that your kids will be permanently be affected by the divorce no matter how well you and your spouse handle things. When you make your decisions, make them without telling yourself convenient untruths.