I'm not a vegetarian, but I am learning lessons from eating vegetarian. I invite you to consider what eating a great vegetarian meal can do for you during this pandemic. We start a "strict red" level tomorrow–and while it's gonna be hard, we will get through it. Let's figure out how to do it well–or may just "less worse".
---
Lately, we've been getting a meal kit delivery service to our house. On Monday, we get a box with three bags–each bag contains all the ingredients for us to prepare a simple but delicious and nutritious meal. We've found it a good way for our youngest Junior Tribe Member to learn to cook as he follows the step by step instructions to prepare supper.
I've also been using it to try ingredients in recipes that I know nothing about: mussels, miso, different spice blends, shallots, halloumi, and gochugang sauce (that last one is not only tasty, it's incredibly fun to say!)
I've chosen several vegetarian meals as part of understanding other cuisines, stretching our palate, and exploring ways of eating that put less stress on the planet and are kind to our bodies.
The vegetarian meals have blown me away with how tasty and delicious they are.
Hands down my favourite meals of this kit delivery service have been: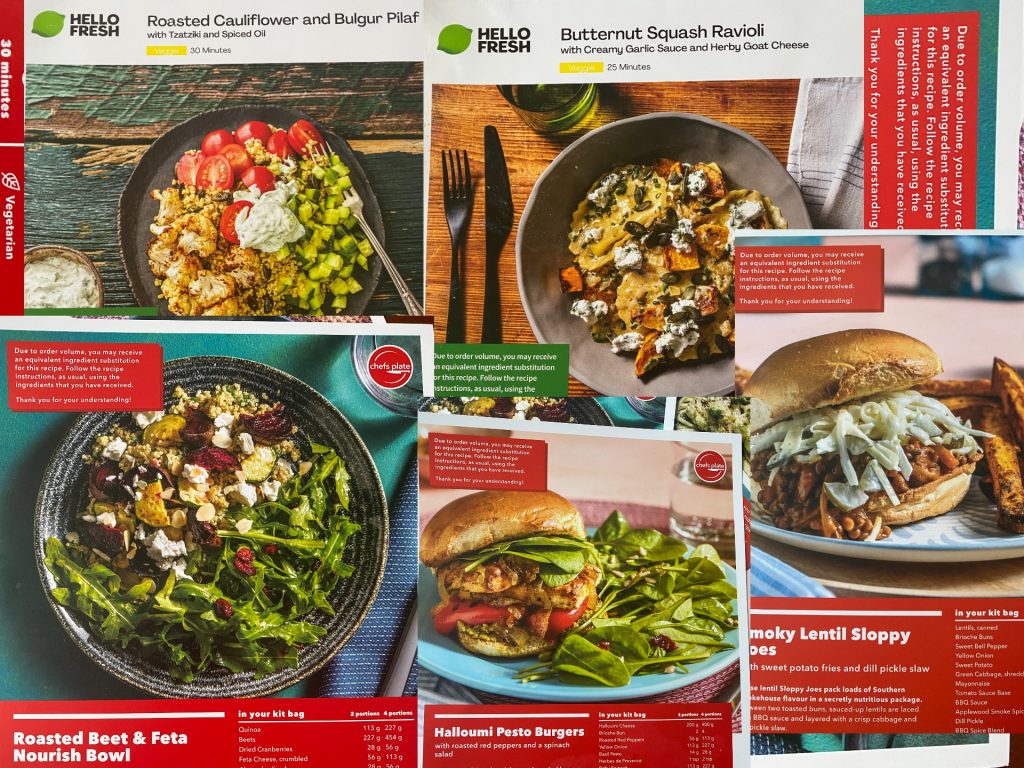 ---
What I've noticed is that the vegetarian meals we get from these companies are so tasty, so complete, one doesn't even notice that there isn't meat in it.
I'm a committed carnivore–the prime rib roast that we indulged in last week was a decadent treat I looked forward to for a week, and will savor for a month.
If I were to create a vegetarian meal, given that I am such a committed carnivore, it's quite likely that I would come up with a meal that looks like it is a complete meal minus the meat.
My untrained creation of a vegetarian meal would be a plate with food that essentially has a hole where the meat should be.
It would be a meal that I'm familiar with without the meat–in stark contrast to the beautiful plates of vegetarian food I have been consuming that are composed so that the meat isn't missed.
I'm wondering if we can figure out how to approach this next round of strict red restrictions like real vegetarians approach food.
---
In the spring, most of us adjusted our life style like a carnivore forced to suddenly go vegetarian.
We swapped out the meat patty with veggie patty: we did all the in person meetings on zoom like we would have done them in person. And we pretended it felt like the same–until we couldn't pretend anymore.
We ate the full meal we would usually eat, minus the meat, with just a hole on the plate where the meat should be: we continued our life as we had–except the trips to the gym, meeting friends at a restaurant, going to work, planning vacations and all the rest. We filled in the hole mostly with social media and movies.
Why don't we become like vegetarians–where we embrace a lifestyle that does not have the usual in-person contact? Waiting it out will make for a long winter–even after this strict hopefully-4 week lockdown, life will continue to be restrained.
---
I invite you to reconfigure your life for the next six months.
I invite you to figure out how to create a rich life without so many of the lifestyle choices that you have always made. What lifestyle choices could you make that are authentically you to fit the present circumstances?
This will require creativity. It will require an open mind.
We are wired for connection. We need relationships like we need food, water and oxygen. It is dang hard to not be able to get together with people outside of our home. Absolutely.
It won't be a carnivorous winter–but let's make it the best vegetarian winter we can.
---
I've been asking myself this question in the last couple of months. I had to ask, "What do I, Carolyn, need to be able to do this winter well? How can I spend the months of this winter richly? Leaving aside what I have traditionally done to get through winter, what can I create that is quite different and wonderful."
When I answered this question for me–"What will help me do well this winter?"– I have done the following:
I got two more bird feeders and a bunch of bird seed and suet bricks. The birds are providing me with entertainment and company this winter. The bird are aware that munchies exist in my back yard–bird party at the Klassen household!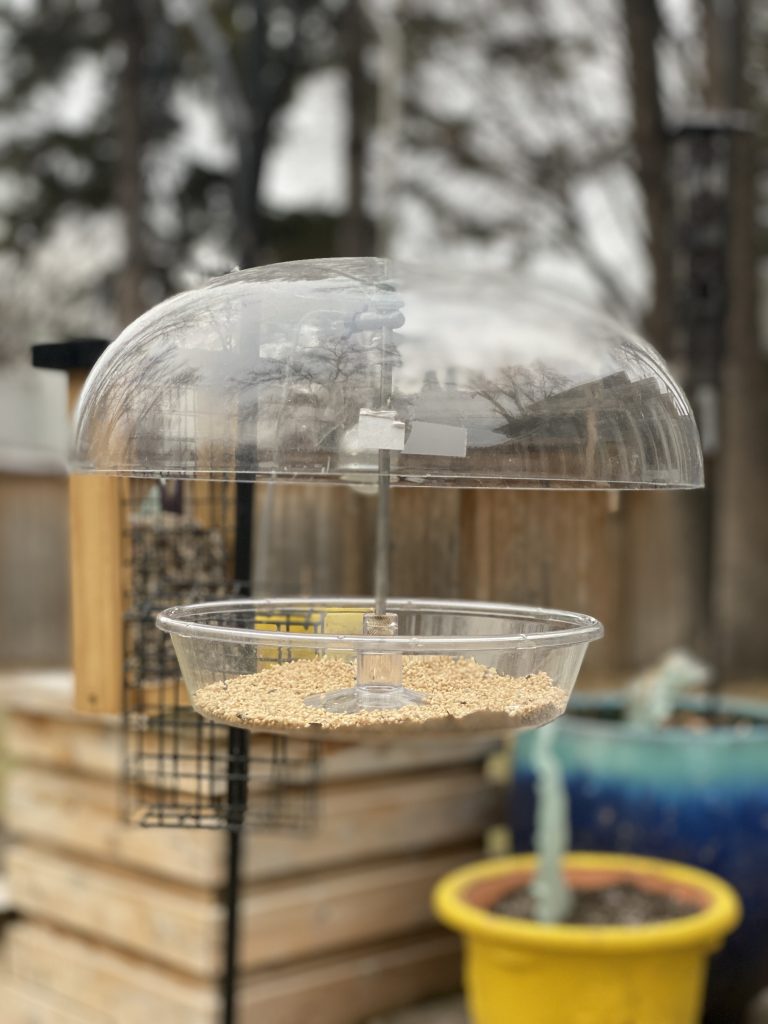 I have purchased twinkly lights that I (read: Husband) strung up outside in our trees. Twinkly lights do something for me–I can't explain it exactly, but my spirits lift a little when I'm around them. Candles too–and I got some of those. I think each little light is like a pinprick of hope in the darkness.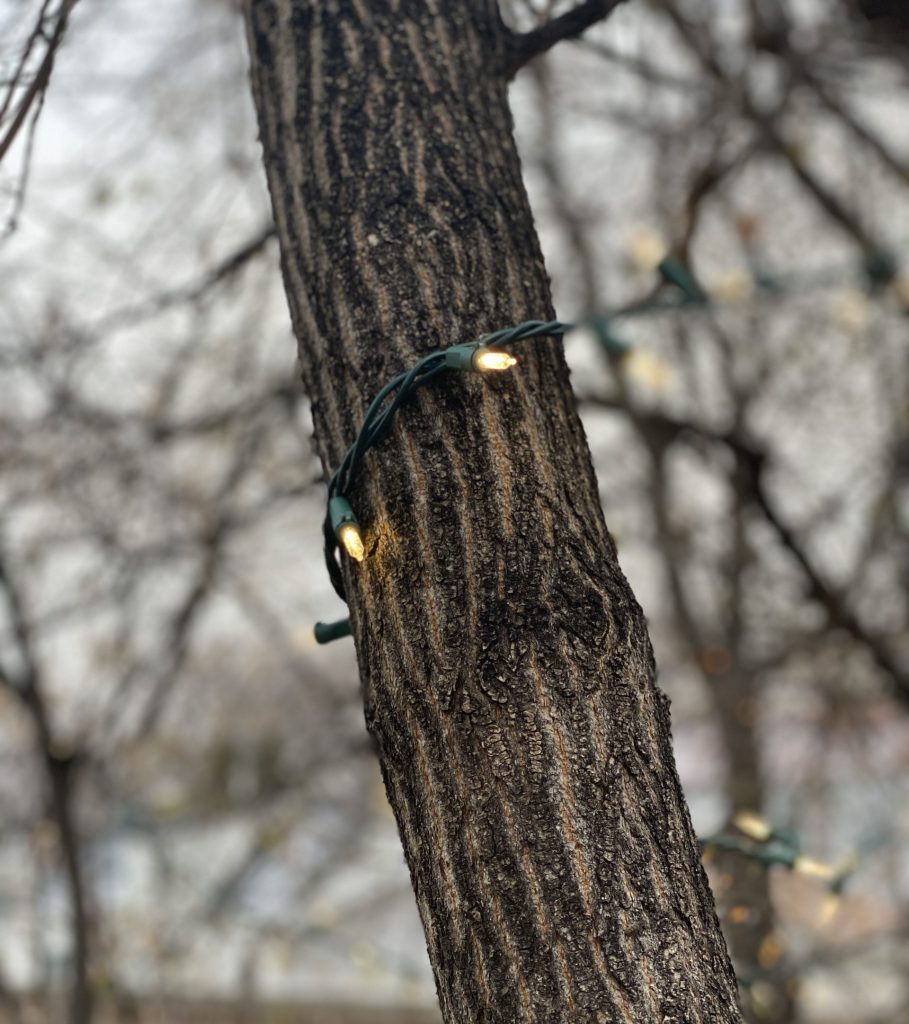 We've talked about getting a senior dog to keep us company this winter–we haven't found just the right one but we keep our eyes open
Ski pants. They arrived last week. I'm going to increase my ability to be outside more days this winter. Also, rice bags that heat in the microwave. And scarves. And thick mitts
A drive to the beach. Yes, seriously. Getting outside city limits to go for a long walk out in nature–trees, water/ice, the vastness of the sky–the incredible beauty of our world. I wouldn't have believed it would be as rich as it was. Nature is good for me–for us. And yes, an hour and a half drive each way for a walk in the cold takes some time–but we've got the time!
An amaryllis grows–a lot, and fast–and produces bright colored flowers. I need to see something growing in the winter and the amaryllis satisfies that.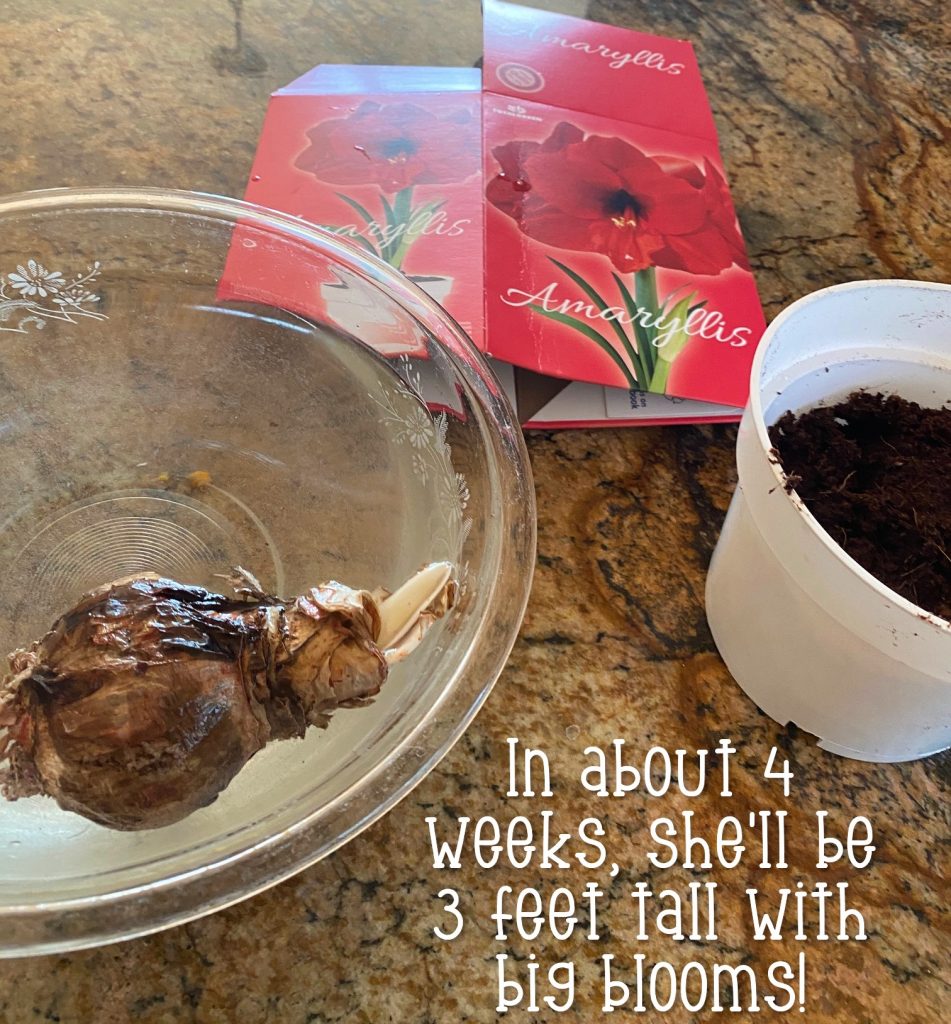 Routine–We're trying out some feel-good and healthier routines. We've been using a meal service three days a week–and we pick meals that are new to us–kinda fun. We clean up supper together, do our own thing for the early evening and then, we gather in the living room about 9:00 and watch one episode of a series we all like. Currently, it is Elementary on Amazon Prime. The household gather after some time apart fits us.
We made a candy cannon for Halloween and have some plans for a hospitable welcoming nook on our front yard for passersby to visit in a socially distant way. We look to incorporate some serious whimsy–silly, over-the-top sorts of workings that take an investment of planning and being together. Husband just shakes his head at some of my brainstorming–but I think he may just humour me and help me bring some of my ideas to fruition.
Special events. I need something to look forward to. The coming spring and vaccine–both things we know are coming–on the horizon are not enough. The light at the end of the tunnel is too far away. Two weeks ago, we ordered Bergmann's on Lombard for my parents, my JTM's and us. They picked up theirs and we picked up ours. We had dinner out, together. That prime rib roast was the treat of the week. I still have Thursday mornings with Mary. Our family can get silly about marking time. November 14 is National Spicy Guacamole day...maybe we can have a whole Mexican shin-dig at home.
This is my list–Carolyn Klassen's list. It is NOT your list. You have to come up with your own. Give it a shot–it will do you good.
Please, do some brainstorming to figure out what routines and rhythms in your life make sense. What can you add to your life? What can you set up? How can you configure your life so that it is more than resenting all that you can't do? How can you plan so that you don't spend the winter eating junk and watching screens?
Share your ideas on our facebook page or below in a comment. We have to put our ideas together and share them. Your ideas may not suit somebody else, but they will spring board off them to something that does fit! Let's help each other out.