Dear COVID,
Can I call you just "COVID"? We are getting to know each other, so I'm gonna drop the 19.
Covid, you think your nastiness will decimate the world. The damage you are doing is substantial. You are killing people, making others desperately sick. But you will not win. Love will.
Love always wins.
Covid, when you skipped over to humans from animals, thinking you could defeat us–you were wrong. Dead wrong.
We were created to defeat you, COVID.
It's true, we are wired for connection. I suspect you were planning to exploit that–you wanted to use those connections to have child infect mother to, in turn, infect co-worker to infect uncle to infect neighbour. You were going to use our inherent need and desire to be close to each other as a tool to defeat us. I bet you thought you were being really clever.
But we are going to use this strategy of interconnectedness to defeat you.
It is in our wiring to use this connectedness to unite us against you. COVID, you will not win.
In a TEDx Winnipeg talk I gave long before I heard about you, I knew we were preparing for the likes of you when I said:
We are wired for connection—we need each other to survive and thrive. We were meant to grow in a forest of humanity…to have lives around us intertwining with ours. People enjoying each other in the everydayness of life, and also ready and steady when circumstances threaten to bend us, ensuring we don't topple over completely in the inevitable storms of life.

Carolyn Klassen, 2018 TEDx Winnipeg
We have extended roots of stability and security and support over our lives. We were preparing for you by eating, exercising, working, and playing together–by enjoying our lives together. We are now relying on those relationships to get us through. We've been preparing for adversity–and so, COVID, you will be defeated.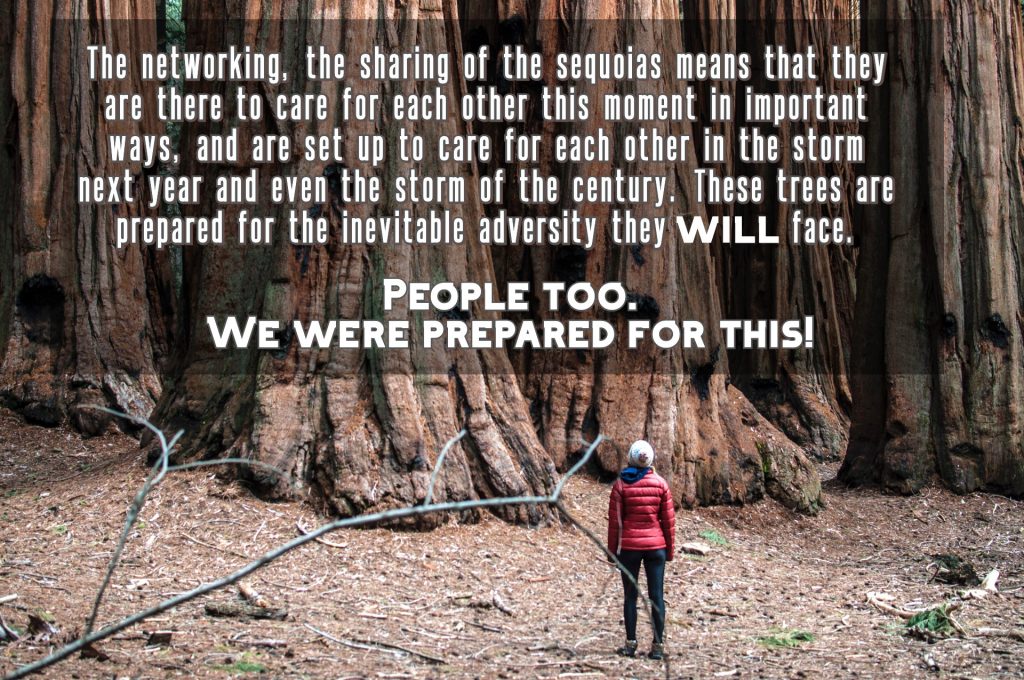 Needing to be physically distant complicates closeness–but we humans are smart and creative enough to figure out ways around the physical buffer we create around each other. You think you've pulled us apart…but you soooo have not.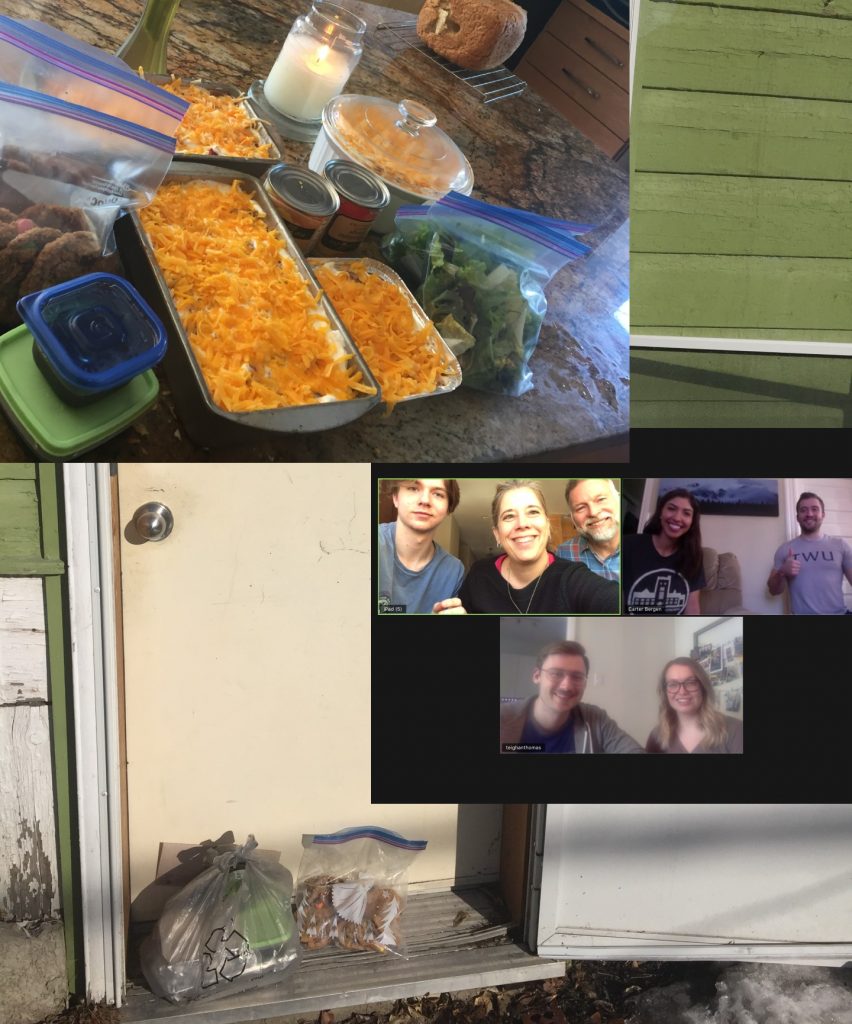 You thought you could stop our weekly family supper at our house. Well, you didn't. I will not let some virus take away my favourite meal of the week. Cooking for my family is the way I say I love them. I dropped off supper the homes of the Junior Tribe Members At suppertime, we gathered together on ZOOM to talk about the day and enjoy being a family. It worked…and we will do it again next week and the week after, for as long as it takes.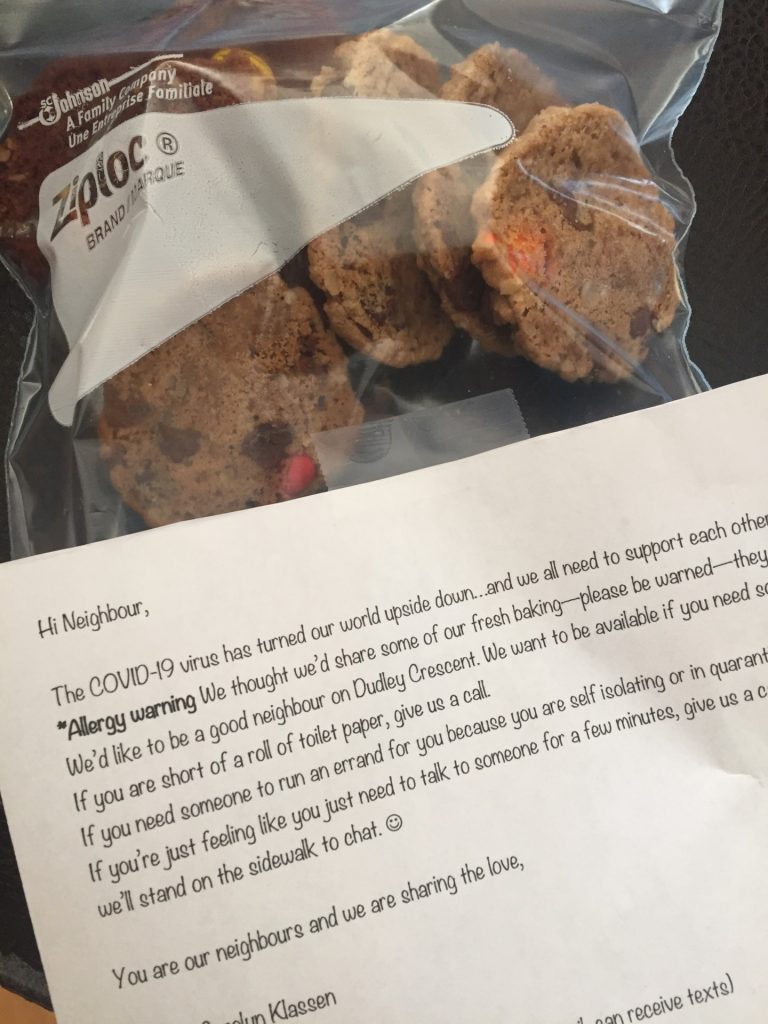 You thought you could get neighbours to turn on each other. You can't. We dropped off bags of cookies with a note to several houses near by (and chatted with a few from the sidewalk). I got the loveliest texts from neighbors the next day. Want to know why I did it? Because friends of ours did it and had so much fun with it, I copied them!
Another's idea of kindness spread to us and we passed it on. That's how us humans work at our best.
Kindness, frankly, is what is most infectious in this world
You thought that you could separate people. Well, you haven't. We just got creative:
The Rotterdam Orchestra played apart, together. The soaring melody could just about melt a stressed heart–leastways, it melted mine after a long stressful day this week.
COVID, you have challenged our creativity to laugh in your face. You will not defeat you. We will see you as fodder for giggles:
I'm still meeting my friend Mary, as always, on Thursday mornings for coffee. Husband makes me a latte and Mary and I have our regular visit–just on Facetime now.
Mary was out today to celebrate a wedding. More than a hundred people parked up and down the block and around the corner. They each got out to stand outside their cars to honk and wave at the happy couple who walked along the opposite side walk to greet the well wishers.
You may win some battles, but. COVID, you will not win the war. We will grieve when those battles are lost, to be sure. Ultimately, you will not will prevail.
Sure, you may point out the few who aren't distancing. COVID, you want to point out how some and are being reckless. But I can show you the many, many more who protect those that are vulnerable by isolating, even at significant cost to themselves.
---
We will become stronger because of you. Families are growing stronger together. Neighbours are helping each other out. Individuals are connecting with themselves and when faced with the adversity you are throwing at them, they are finding capacity within themselves they didn't even know they had.
A decade from now, we will be able to look back and reflect on how we distanced ourselves to defeat you. We will look back on this time as a period when we learned and grew and got stronger and gained a deeper level of love for each other. We will refer back to this time as the period where we:
became aware of our own strength
felt fear that that felt like it would surely finish us off–and it didn't. After that, so much more was possible
learned how to struggle through the discomfort of spending more time with family with more irritations and crankiness that was comfortable–to a place where we reached a closeness. Some will remember this as the time where we got our family back
remember the community feeling–where collectively we all did something important together by helping each other out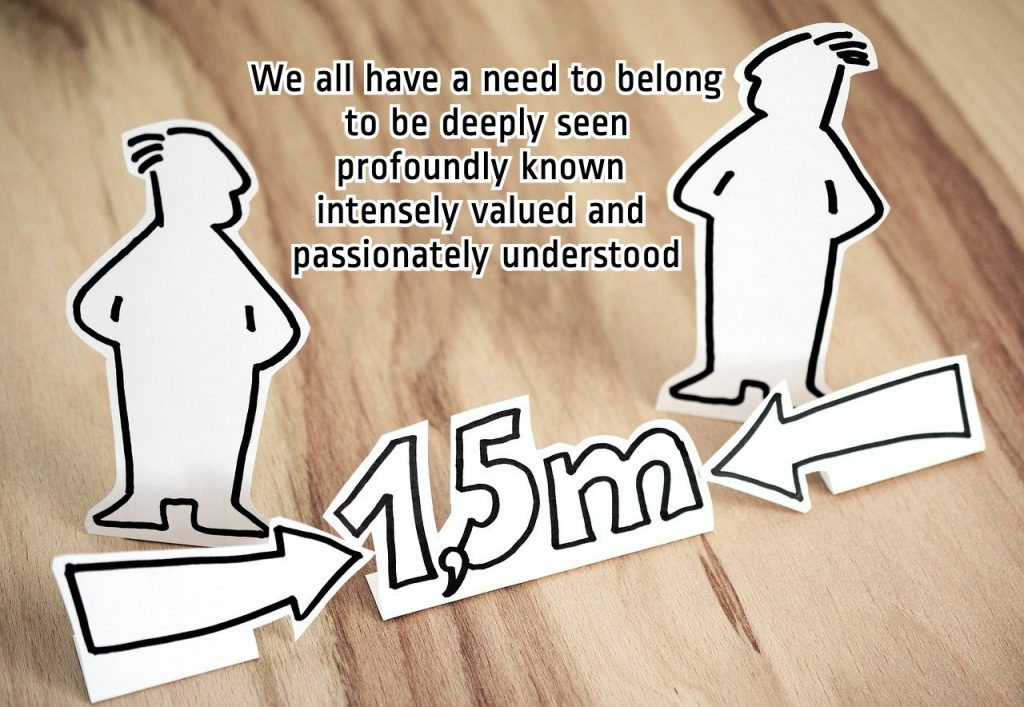 So, COVID, watch out. Your plan is going to backfire. We will be stronger and closer than ever before.
Kind regards,
Carolyn