The ideas in the article were included in my book, as a part of my passion to help people make their marriages better. Finding ways to change destructive patterns are important…sometimes, small changes can make a big difference. Sometimes, a big change is required to open space for the important shifts that are needed. For more, considering purchasing my book:
---
Sometimes, a marriage is in such bad shape, it needs a coma.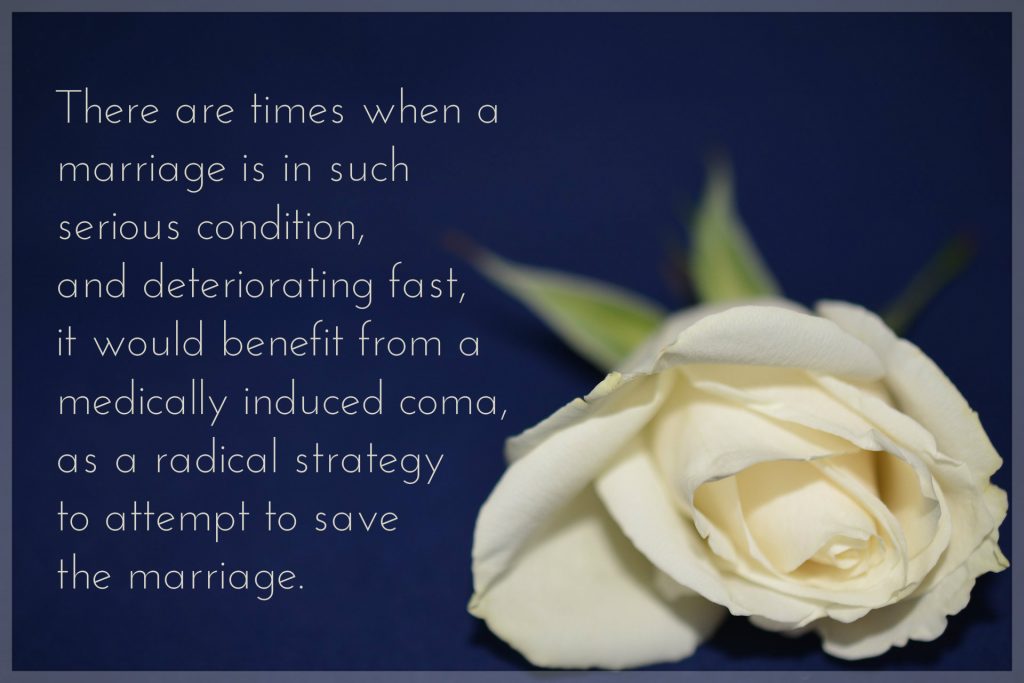 A Controlled Separation is to a couple, what a Medically Induced Coma is to a severely injured patient.
Let me explain:
Scientific American wrote an article about Medically Induced Coma. A medically induced coma is a state of unconsciousness created by highly trained physicians using medication. It slows the body's metabolism down to allow a brain that is swelling to heal. The coma protects the brain from further damage that could be caused by further swelling.

Medically Induced Comas are a drastic measure that attempts to save a life. They are used when the injuries are life threatening.

The article also goes on to say that although the medically induced coma is carefully done under the full supervision of physicians with medication used in surgery, there are risks, and an effort is made to make the period of coma as brief as possible.

The subtitle to the article: Medically induced comas are only used when other options are lacking.

In other words, it's a last ditch effort. And when nothing else is working, a medically induced coma can save a person's life. Not nearly always. But sometimes.
There are times in some marriages where the relationship is so raw that even attempts to save it create further damage.
Sometimes, the raw reaction to a relationship crisis catches one or both spouses off guard. Yelling, throwing things, saying nasty things that are out of character, waking a spouse up in the middle of the night to ask questions for which there are no good answers. A person may feel powerless to stop, even though it's clear that this isn't helpful. The collateral damage creates another whole level of crap to have to work through.
Other times, a person is going through their own internal turmoil that creates distance within the couple. The couple is having trouble connecting, while one spouse is overwhelmed with their own internal suffering. It feels too much to work on themselves as an individual and within the marriage. They can't breath or think or live one more day like this.
Still other times, the couple has been struggling for years. Distance. Anger. Disappointment. Disengagement. They can't remember how they got here, they only know it can't continue. It's bad, it's been bad for a long time…but there are no bad people here. But there are kids…and calling it quits doesn't feel like an option either.
In these situations, a marriage coma may be just what is needed to stop the damage.
The marriage coma creates an opportunity for:
Recovery for one or both spouses to better allow the marrige to have a chance. People can do their own individual work steadily and solidly without couple dynamics creating complications
The collateral damage stops. No more yelling, throwing things, people saying things that can't be unsaid or unheard. The agony is felt by the individuals, and shared with a therapist or friend, but the marriage isn't frayed by nasty behavior between spouses.
Sober second thought. Ending a marriage that has lasted for years is a very big deal. Children are affected. So are in laws. So are retirement plans. Mortgages, friends, traditions, Christmas morning, and family weddings–so much is impacted when a marriage dies.
Ending a marriage is a huge decision. Divorce, a decision that will affect you for the rest of your life, is best made calmly from a place of strength, rather than a desperate decision to get out of an intolerable situation.
A Controlled separation (i.e. marriage coma) is very different than a "trial separation" where people feel out what it is like to be single. A trial separation is like an experiment to see if singleness works. A trial separation and a Controlled Separation are not the same.
A Controlled Separation is deliberate. It's hard work.
It's a desperate act that says, "We're not going to give up easily. We are not giving into divorce without giving it everything we've got."
It's an opportunity to say: "The marriage we had is over. That wasn't working. Is it possible to get a new and viable marriage to rise out of the ashes?" It's often recognizing that divorce might be on the table, but it's not rushing to divorce.
At Conexus Counselling, we often refer people to read Lee Raffel's book, Should I stay or go: How Controlled Separation can save your marriage.
The book outlines how to set up a controlled separation. There are a few basic components of a Controlled Separation:
It recommends it be written clearly so as to remove fear and improve understanding.
A couple figures out how to create that space–renting an apartment, creating space within the house, one spouse living with family/friends
Practical matters are negotiated: looking after the children, finances, etc.
Contact with each other is negotiated. Dating? Therapy? Texting? How much?
Intentional work for each spouse is outlined. Reading books? Resting? Therapy? Journalling? Retreats? Getting together with friends? The Controlled Separation
A time frame is established.
Cool things can happen in a Controlled Separation as there is space for discovery and healing:
A spouse can realize that she isn't bringing her best self to the relationship because of how she pushes herself so hard in every area of her life…she is harder on herself than anyone else. She starts to talk to her husband differently, once she begins to live a healthier, less stressed life.
A spouse might realize that he hasn't taken initiative to create the marriage he wants. He hasn't told her what works for him. He starts to have conversations where he lets her in on what makes him sad and happy and excited and angry. She loves that he is opening up and now doesn't have to guess at what he's thinking.
A spouse might realize that it's the marriage he hates, not the spouse. The patterns in their lives are killing their relationship…and once removed from the day to day destructive patterns, the underlying love is felt. The patterns start to emerge.
A spouse, now living alone half time in the house with the children and their schedules, now realizes the unfair distribution of labor before the separation. That spouse is overwhelmed with responsibilities that normally fall to the other. The spouse understands the resentment in a felt way that just wasn't possible during the fights about emptying the dishwasher and laundry folding.
With the distance created in the separation…not sharing the bed, no morning pecks, and no evening television together, one has a chance to find the part that misses their spouse, and feels affection and longing that is buried under the anger that is buried under the fear. That part is too easily buried in the everyday nattering and nitpicking of life.
In other words, Controlled Separation creates space for healing, for exploring, for feeling all the feels more freely. Sometimes that space allows for new hope to emerge, and the fragile coals of the relationship to reignite into flames that haven't been around for a while.
Sometimes, to be clear, Controlled Separation leads to growth and clarity that makes divorce the best choice. It can't save a marriage that isn't save-able. Sometimes, the Controlled Separation makes it clear to one or the other that marriage is no longer realistic. But it can save a marriage that might end prematurely because, it feels too painful to stay together in that moment.
Insanity: Doing the same thing over and over, expecting different results.
Einstein didn't say it, though many sources say he did. Doesn't matter where it comes from, this much is true: When a marriage is struggling under the weight of
regular fights,
squabbles in predictable and painful patterns,
agonizing distance,
excruciating disengagement,
doing the same thing of hanging in there endlessly doesn't make much sense. The fights get worse, the patterns deeper, the distance greater, and the disengagement more impenatrable.
The alternative doesn't have to be: this ugly marriage or divorce.
There is a third way. Look for it. Controlled separation. New marriage. New patterns. New ways of relating together.
Stop the hurting. Allow for healing.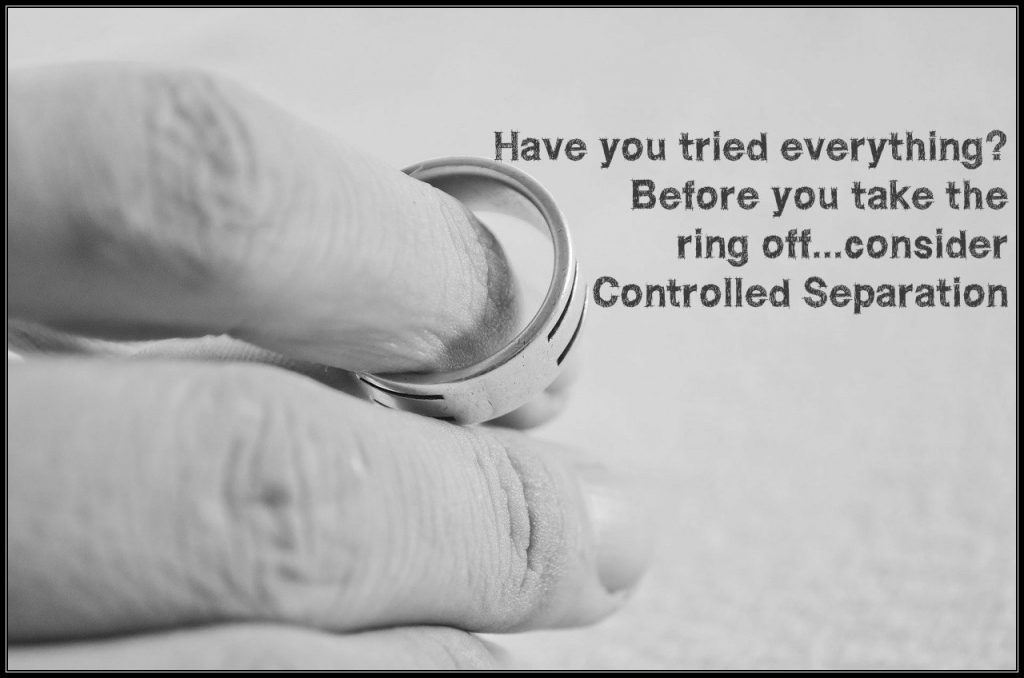 A medically induced coma is a desperate measure to save a patient's life. If a doctor doesn't try it, it would be negligence. Don't we owe our marriages the same opportunity for healing?
Call us at 204-275-1045 or email us to set up a session to discuss if Controlled Separation might be a helpful option for you and your spouse.
For more information on how we work, and to get a head start before your first session…purchase our book via Amazon. In print or on Kindle!