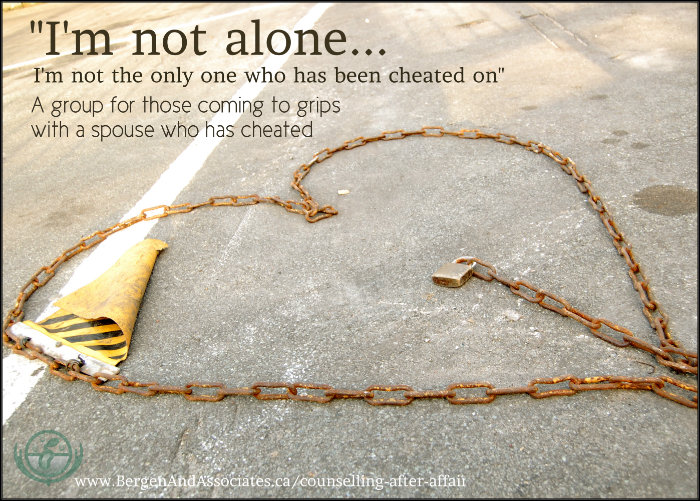 The raw, savage pain of betrayal by one's life partner is something that can hardly be witnessed.  Experiencing the pain of knowing that the one who committed his/her life to you was in the arms of another is something that can have a person feeling:
like one is going to literally "lose it"/"go crazy"
agitated, sleepless, at "wit's end"
confused, seeking consolation from one's partner one moment, pushing that partner away the next
lonely, foolish, wanting to run away with a sense of humiliation
angry, furious, wanting to throw or hit something (or even someone)
at a loss of how to go on, what to do, what to say, how to heal
It's lonely to be in a long term relationship and experience the ultimate betrayal of infidelity.  Because of request of several, we are offering a group entitled, "I'm not alone"
"I'm not alone…I'm not the only one who's been cheated on"
A group for men and women who have been in long term relationships and have experienced their partners disclosing an inappropriate relationship with another, and yet choose to stay in the relationship and work towards reconciliation.
A time
for sharing and support.
Deanna Carpentier, an experienced Marriage and Family Therapist, will lead discussion on topics that participants find significant.
Topics will be generated by the group and may include:
-dealing with the grief and anger of betrayal
-feeling at peace and confident with your decision to stay
-living with the reality of the broken trust…and contemplating how to rebuild
-the struggle to hold space for both anger/hurt and the love/reconciliation
-working to determine where forgiveness fits, and what that means
This group will meet 3 times on Thursdays, January  9, 16, and 23 from 8-9 pm.  
Group size will be between 3-6 people.