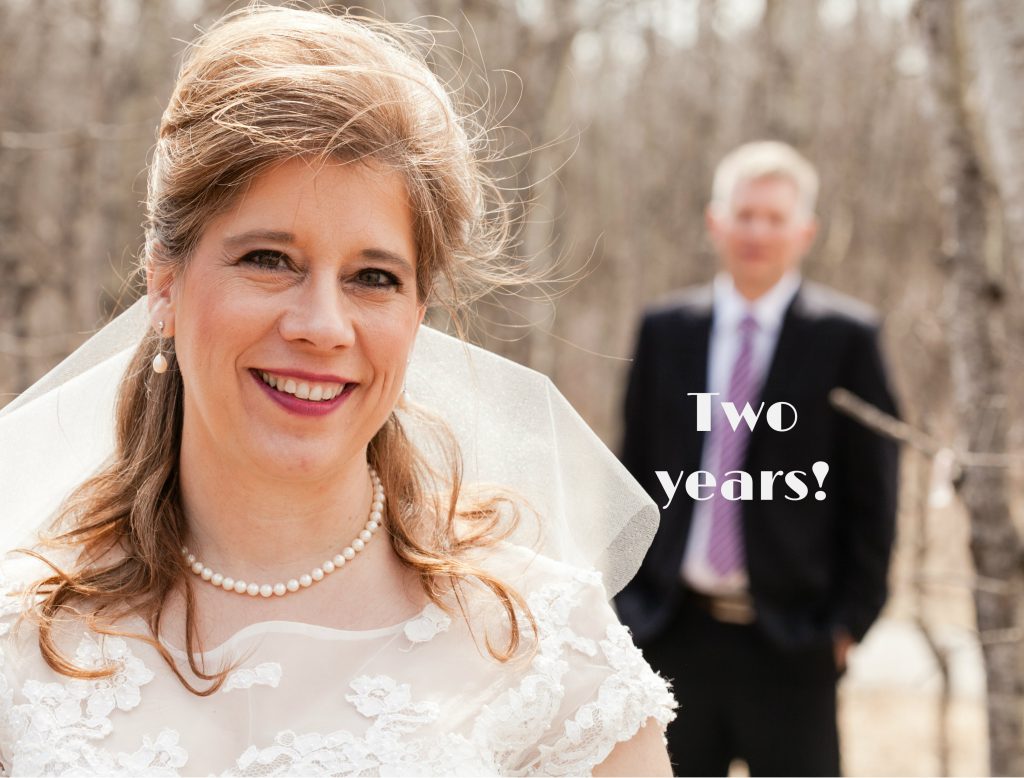 Dear Husband,
Two years ago this week, we put the Gerber daisies on the tables, and set up the volleyball nets in the gym. The friends we invited came, and the relatives we invited but didn't think would come came too and gathered around as we exchanged vows of commitment to each other.  Our kids surrounded us and they "rock/paper/scissored" to determine the ones who would be our witnesses.  The cupcakes were thick with icing and there was lotsa hearty food for all of the hungry young men that came to celebrate the day with our children. We laughed and visited and enjoyed the joy.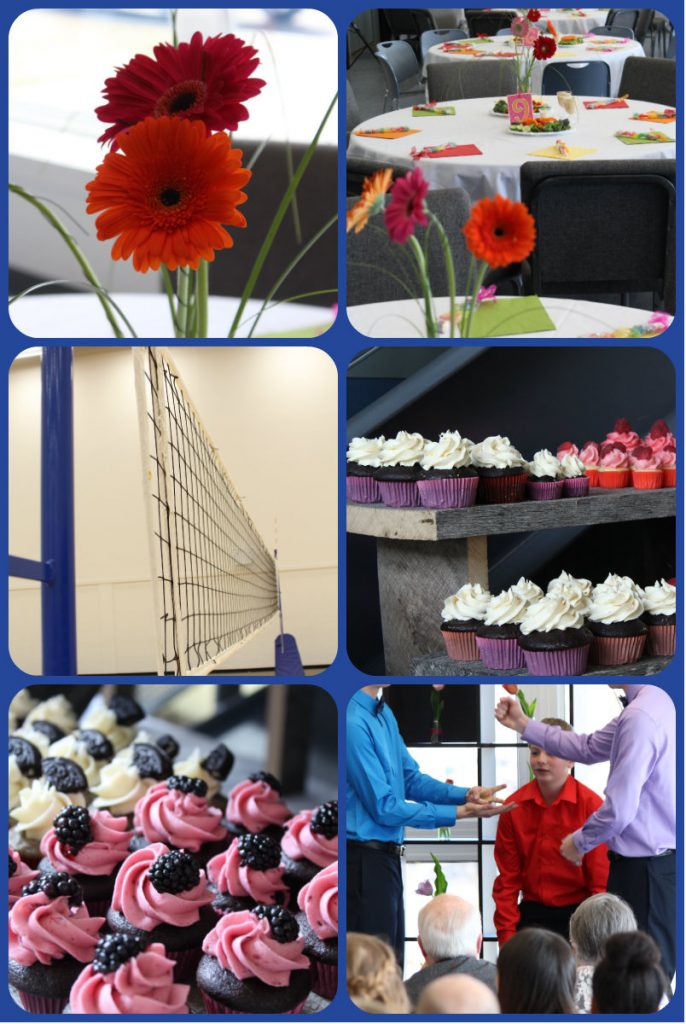 Wasn't it a great day?
Best. Wedding. Ever.
How many times haven't we said that to each other?
(And hope that our friends and family can all say that about their own days too!)
We're a little older and wiser…and more committed and in love with each other than on that day.
It's been an adventure to start a life together surrounded by multiple children with multiple interests and challenges. Lots going on. All the time. Kids coming and going, moving in and out. Car pools and tournaments locally and afar. Engagements and weddings.  We added two children to our tribe in the first two years!
The honeymoon is over.
We are living the ordinary days of routine and schedules.  The shine has worn off everyone's politeness. We live with the reality of a two-families-who-are-one-family. I remember  internally cheering when our youngest stomped his feet and yelled, "No" when I asked him to do something…a sign of comfort and safety to defy me so boldly. (And yes, he still had to go practice his clarinet)! There are days though, when its impossible to revel in the complexities of these bonus children…and why shouldn't there be? We grow by working at and figuring these things out.
The honeymoon is over. We pay bills. Solve problems. Rake the  yard. Wipe the counters. And buy milk…and yet more milk. I know, from experience, that I can carry 16 litres of milk from car to fridge in one trip. Go me! Mundane and beautiful tasks of a ordinary, exquisite life of everydayness that has a richness to it that once I only dreamed of.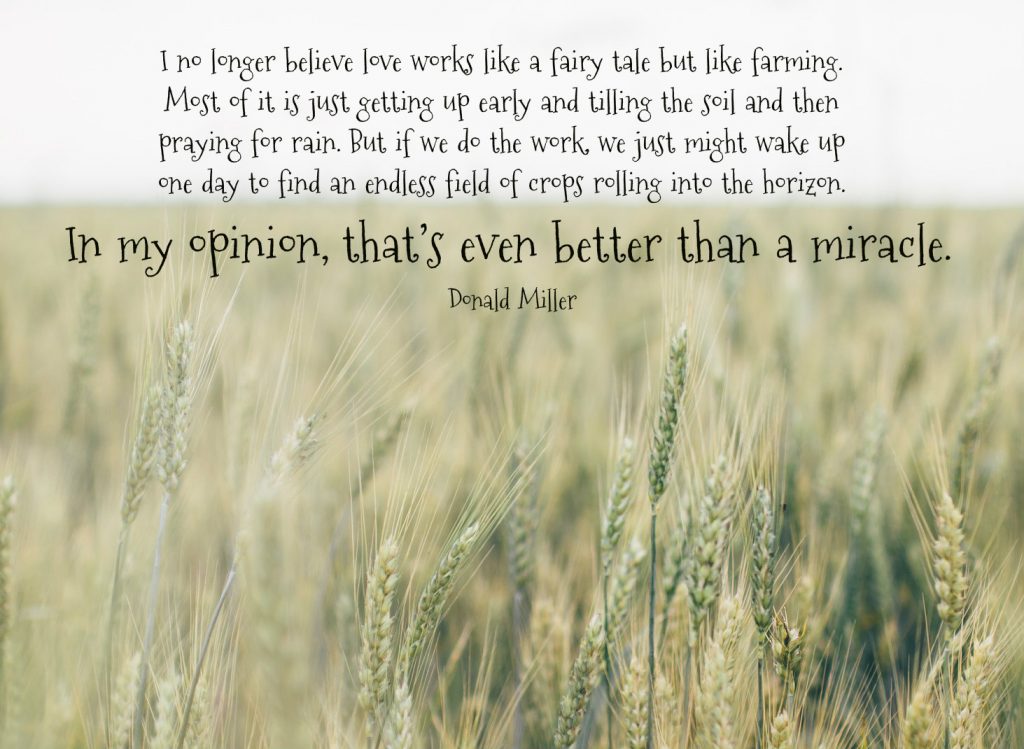 The honeymoon is over. But the romance is not. Some people don't like to hear that you still make me a latte and wake me with it most every morning…I sit bleary eyed, not yet able to speak, sipping the milky goodness, while you chat with me about the insights of the morning,.  I wouldn'ta thought 2 years in, I would still be finding little notes slipped in from you in my bag of Cheerios for lunch.
The honeymoon is over, but the novelty of being married to you has not yet passed.  I still look over at you, as I'm doing something, startled yet to think, "We're married!" because for 20 years you were someone else's husband, and we lived our lives parallel in the same community.
The second anniversary gift, I'm told is "cotton". Cotton, for it's natural strength and adaptability. It's practical and durable.
The second anniversary is sorta like a great pair of Levi's I think…I think that's us.
We each came into this marriage strong.  You understood that I was a single momma bear for 10 years, having survived by persevering and hard work. You have cheerfully offered to share the load of grocery shopping, cleaning, and cooking…it still amazes me when I come into the kitchen, and it is is cleaner than when I left it last, or when cookies that I haven't made are cooling on the counter.
You came in strong too…worn out but strong. It's not easy to walk beside a woman you love to her death, but you walked her all the way home.  The adversity increased your capacity and wisdom. One of the reasons I fell in love with you was because I watched how well you loved her.  Part of loving you is giving you space to grieve her. Part of loving your kids is to make her recipes and keep pictures of her up and often ask myself how she might handle something. I don't nearly have her insight…but I try.
I could never have imagined eating under a picture of my husband kissing someone else every day just above the dining room table, but it somehow seems oddly right. You've found a way to remember and mourn the love you shared, while simultaneously clearly loving me–and doing both well.
We've been adaptable too, figuring out, on the fly, how to make this family work.  Those weekly family suppers where everyone comes home are fantastically chaotic and fun. It's comfortable to be married to you. Figuring out holidays with all the variations of family is just something that unfolds with grace. Your kind acts multiple times every day just build who we are, and keep us strong.
The best pair of comfy cotton Levi's are ones that are worn often and long.
We spend a lot of time together,  and you seek to make my life better because we are in it. I write this blog on a desk you made for me, and painstakingly put on 8 coats of finish, while overlooking the backyard firepit where we had a wiener roast last week, and looking at a wedding picture of us framed in rustic barn board that you crafted. Everywhere I look, I'm surrounded by your love.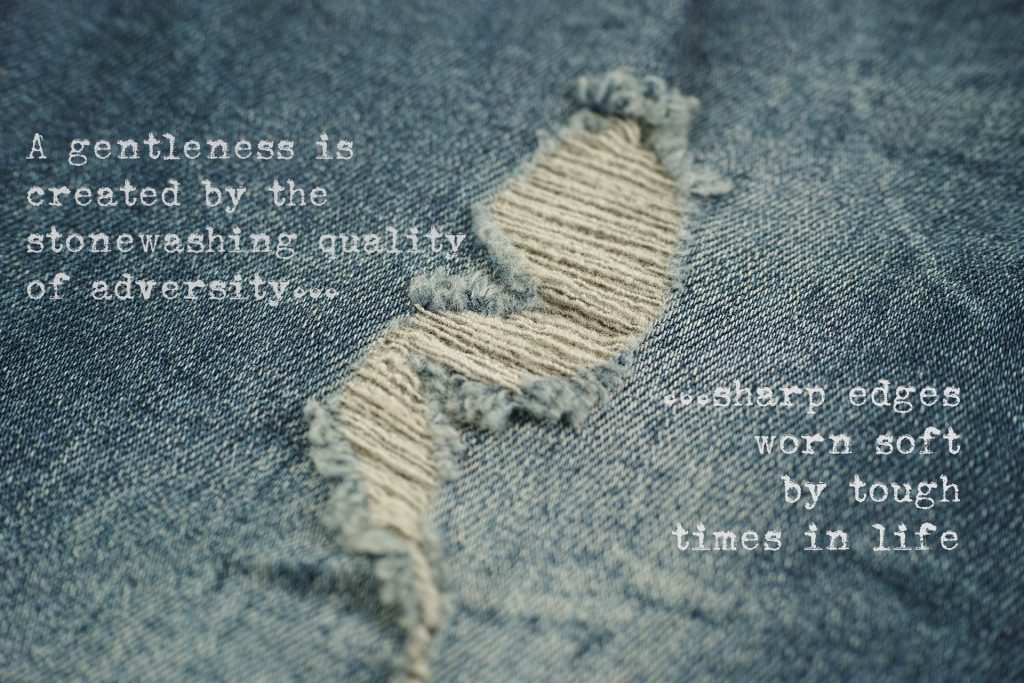 There's a gentleness we have with each other, sharp edges worn off by the pain of life. We've a stonewashed quality to us, worn soft by the cruel circumstances that can befall people in life. Even the worst of our arguments holds a sort of "benefit of the doubt" where we trust that the words that stung came from a place of pain, not malice. We have learned to fall asleep together even while we wait for the fresh minds of the morning to finish negotiating the disagreement.
We trust we are on the same page even when it does not feel like it. I really like that about us.  It means we aren't scared to broach the tough topics because we trust ourselves to handle it. I think that's our secret sauce…we find a way to stay connected deep even when the surface would seem ugly.
We aren't going anywhere, except together.
Love always,
Carolyn