My travelling buddy for my Oprah Lifeclass adventure in Chicago last week, J, is quite simply, a force. J and I sat in on the taping of two episodes featuring Dr. Brene Brown…and it was a moving experience for the audience…most of us caregiver types.
Being J's friend is a little risky and a lot wonderful.  She is an extrovert that embraces life. It gives her a wide circle of friends.  I notice that gives her more opportunity to be kind because she's not afraid to call someone up who might need help. It means that when I offer to hang around Chicago airport for a few hours to wait for her arrival on a later flight so we can take the train into town together–well, it means she forbids me to wait.  She insisted I get on the train, and start exploring without her…and it meant this introvert found out she was quite capable of negotiating the train in Chicago and saw parts of downtown I woulda missed if I'd quietly waited for her at the airport, as would have been my natural bent.
And it means J's not scared to ask.
She traded shifts at work to be able to come to Chicago with me.  That shouldn't be possible in August on 3 weeks notice…but J pulled it off. When she needed an electrician for a wall to be knocked down the next day, she asked around…and got one that day. She makes things happen.
When we were deciding what to do on our free evening the day before the Oprah's Lifeclass with Brené Brown, we put our heads together in the hotel lobby…tossing out ideas, realizing which ones weren't possible because of the time of day, and determining which ones piqued both of our interest.  We both love theatre, and she had a play that she'd heard was great…and which I had seen on ads on most light poles in downtown Chicago as the play to see.
Me–Carolyn, the introvert, looks for theatre tickets in the way most natural to her...she quietly googles for tickets electronically. This was an unexpected, unbudgeted trip for both of us, so we were looking for discounts.  I found tickets for $90…third balcony.  A chunk of change for sure, but we were in Chicago, after all…should we just go for it?
J looks for tickets in her way.  She finds someone and asks.  When she goes off to get us each a drink, she doesn't come back…for a long time.  When she does get back, she let's me know about her new best friend, Anthony, a hotel staffer who knows stuff about Chicago. She asks him what the best way to get tickets for the play is.
He tells her how to get tickets for $25.  And not nosebleed seats either…we follow Anthony's instructions by racing over to the theatre and hanging out in the lobby to get the great seats that haven't been sold yet.
We sit in the 10th row in a huge theatre with three balconies in seats that put us back $25 even…no extra fees. The guy beside us…he paid about $250 per ticket.  The Book of Mormon was an ironic commentary on religion vs. faith and on pride, and on cultural arrogance.  It was also hysterically funny, and had great songs with tight harmonies, and dancing that took my breath away.
J. taught me more on a lesson I've been working on all summer…a lesson on the power of the ask: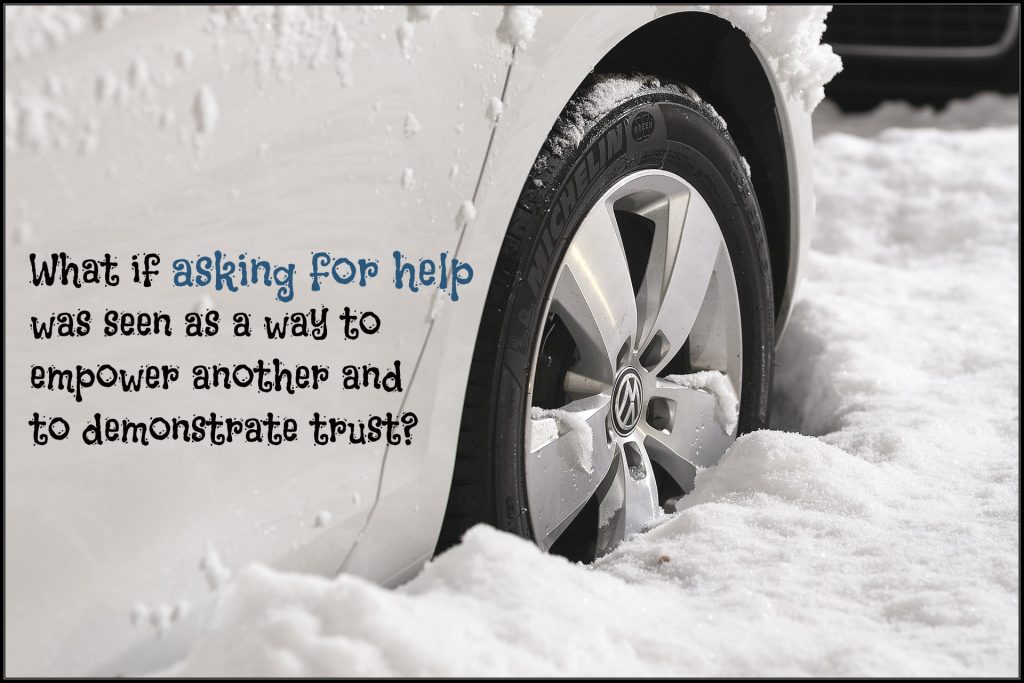 I've been thinking on this ever since I saw Amanda Palmer talk about "The art of asking" on a TED talk this spring:
She talks about the exchange that occurs with asking…about profoundly seeing another…that asking creates a relationship and connection…"a falling in love a little bit".
Amanda Palmer, a musician changed the question from, "How do you make people pay for music?" to "How to you give people an opportunity to give you money for music?"
Amanda Palmer creates direct connection with people with the power of the ask.  It became an exchange.
J. made it an exchange as well…the day of checkout, she asked around at the Allegro to search out Anthony. She gave him a jubilant high five, and thanked him for the info.  She was radiant as she gushed about our evening at the theatre, and expressed her gratitude.  He loved it.
It. was. fun. to celebrate Anthony's most incredible suggestion with him.
So…as I've said, I've been working on asking as a matter of trust.  The most deliberate effort on my part–gotta pick something manageable to start–is to engage servers in restaurants. I have been asking servers what is the sandwich they recommend, or what their favorite salad is. I've enjoyed their recommendations (who knows better than the servers which dishes are the yummiest!), but even more, I've enjoyed the engagement. Servers emerge as real people who have courses of study, or are from another country with a story to tell. Conversations arise that simply wouldn't have happened otherwise…which, I have to say, has qualitatively changed the experience of my travels this summer.
"Asking" is a means of respecting the other's thoughts and opinions.  It acknowledges that they have something to offer you…which is a powerful posture of respect. Asking gives the other person a choice about how they might respond, rather than you deciding for them that you won't give them an opportunity to share what they have with you.
Asking empowers another.
That's such a different way to look at asking than how I was raised. But one I'm gonna keep working on.
Maybe you too?