I have spent Thursday mornings with Mary since 2005. I talked about our visits in my 2018 TEDx Winnipeg talk. Mary gets a mention every time I speak to a group–even this week, she came up several times as I gave workshops to various groups. When I talk about how I learned to talk to myself like a good friend would talk to me as a principal of self compassion, I let people know that I use Mary's voice to remind me of what a kind conversation looks like.
Susan spent a year of Monday mornings with Mary–and they published a book about it. 53 weeks of meeting on a bench. Enjoying a muffin or an apple–or both together. Chatting. And then getting down to the creative work–Mary is an illustrator and would paint the scene in front of her. Susan is a writer–and she developed her poetry skills with a weekly poem.
They shared their work with each other at the end of each morning. Yesterday, they shared it with the world: Benchmark: Countering COVID through Painting and Poetry, the book, was launched.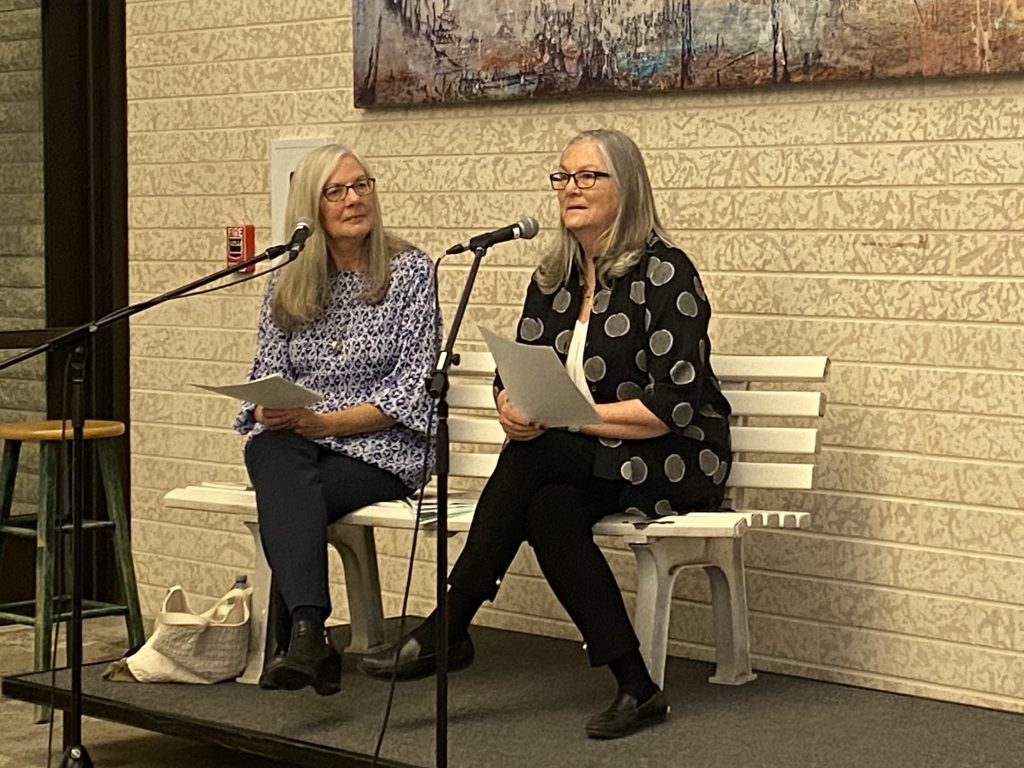 I've heard Mary talk about their mornings together. Sometimes, she would show me the picture she had painted that week. It was a gift to see the culmination of their year long project yesterday–to celebrate the book–and to buy my own autographed copy!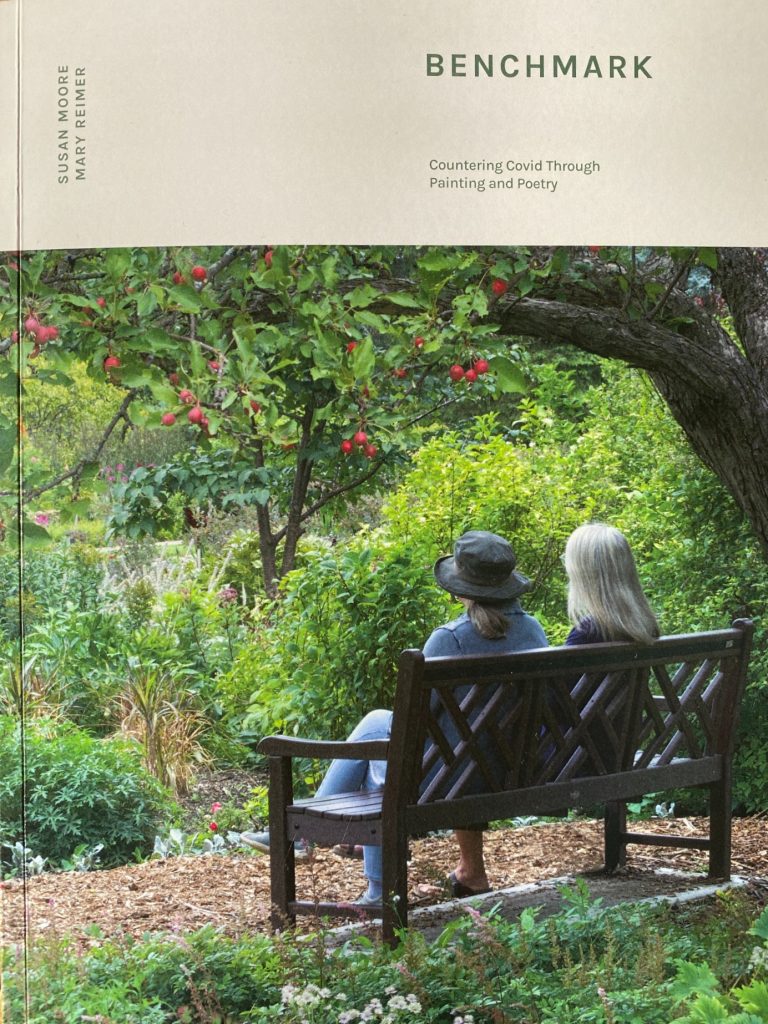 Mary and Susan began the "Benchmark Project" as a way to deal with the loneliness and isolation of the pandemic. When the going gets rough, Mary gets creative–and anyone having a conversation with her in the moment will get swept up in her creativity. (I have a dozen stories of being in the right place at the right time for Mary's antics.)
The plan was to admire the views from benches outdoors during the spring and summer of 2020 and then move inside for the winter.
Would they have begun this project if they had known that restrictions would mandate they be outside all winter long?
The project took an unexpected turn when Mary's husband was in hospital–a serious health crisis that got more critical with an added diagnosis of hospital acquired COVID-19. Mary sat at home alone for weeks and weeks, not being able to visit him, and, in some particularly dark days, fearing he might succumb to his illness.
Monday morning bench time was the one time Mary was with a person–Susan. Other visits–with family, and every Thursday with me–were all on Zoom. Susan sat vigil with Mary as she awaited news of her husband's health. Mary sat vigil with Susan as long-planned retirement travel dreams fizzled and faded, as health problems worsened with pandemic stress developed.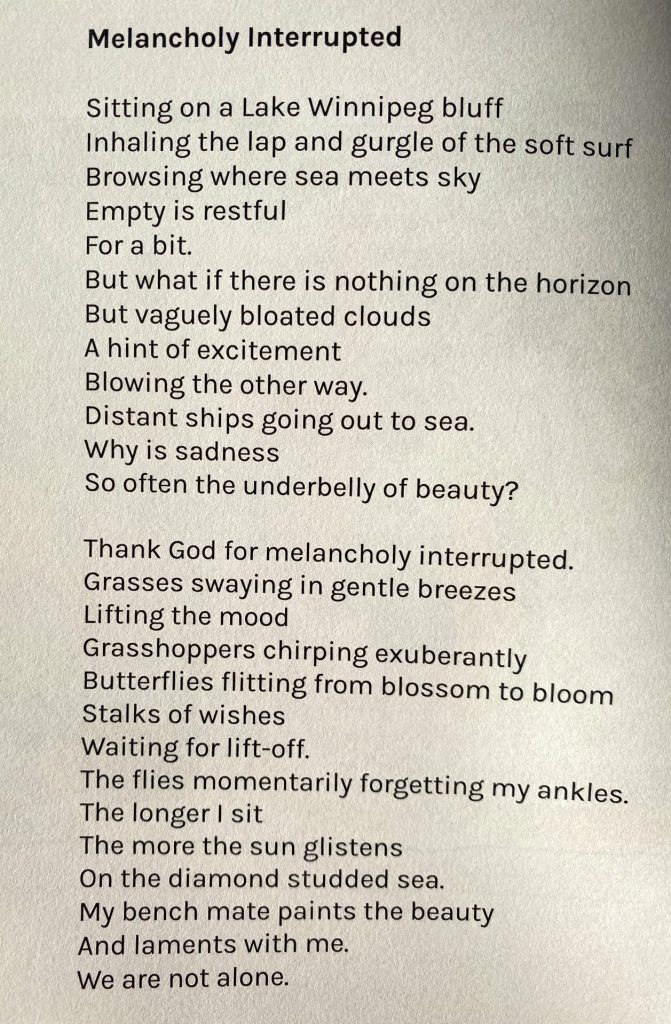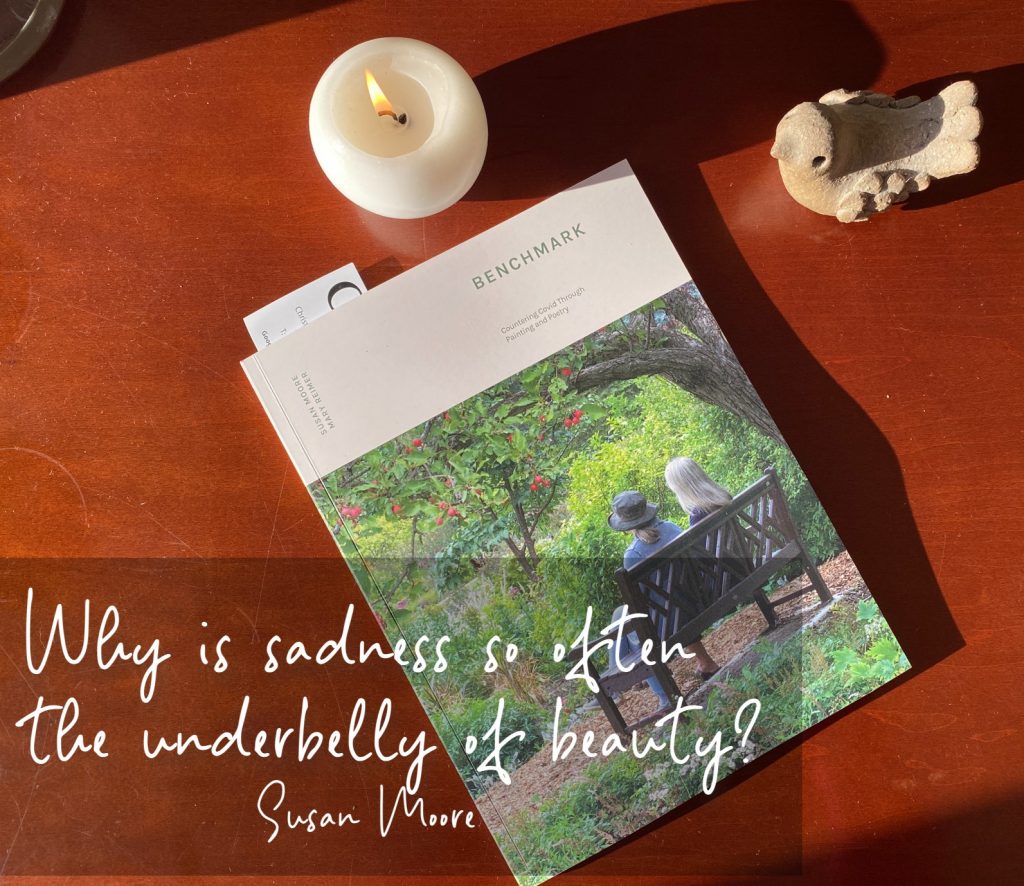 Last winter was bleak, wasn't i? It was hard for Mary and Susan too–but the Benchmark Project got them outside every Monday morning from June-June of the first year of the pandemic. Some weeks it was so cold, their ability to create outdoors was thwarted and after 30-40 minutes they went from the park bench to the car seat where the water for Mary's paints could thaw, and Susan's fingers could wrap around her pen again.
They write:
Both Mary and Susan are women of faith, and in their language, the Monday morning times on benches in Winnipeg, and surrounding areas provided space for lament–for questions, doubts–but not despair. The time on the benches, looking at deer, or having a bird land on their finger were times to find hope.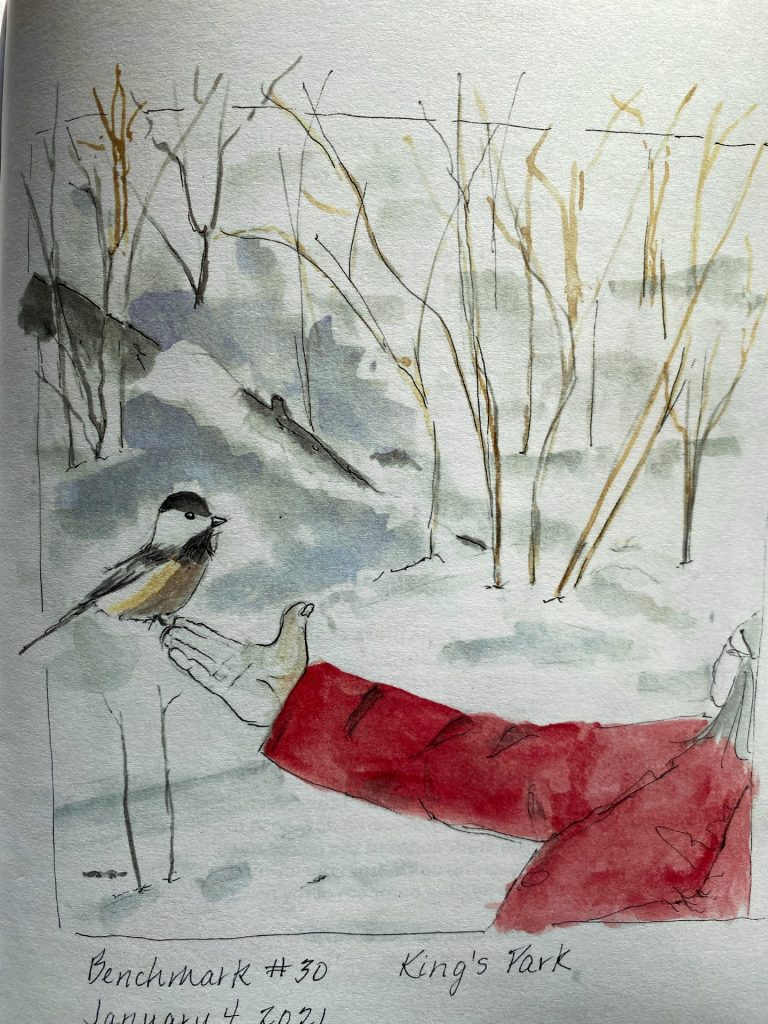 They went to places to write and sketch and paint to all the places we all know and love.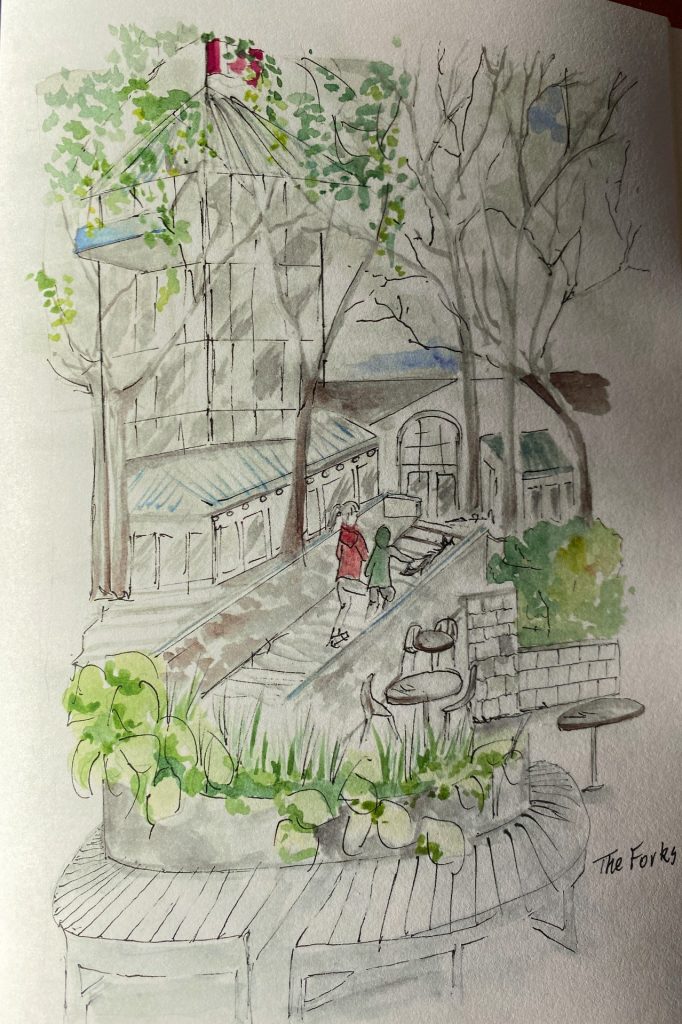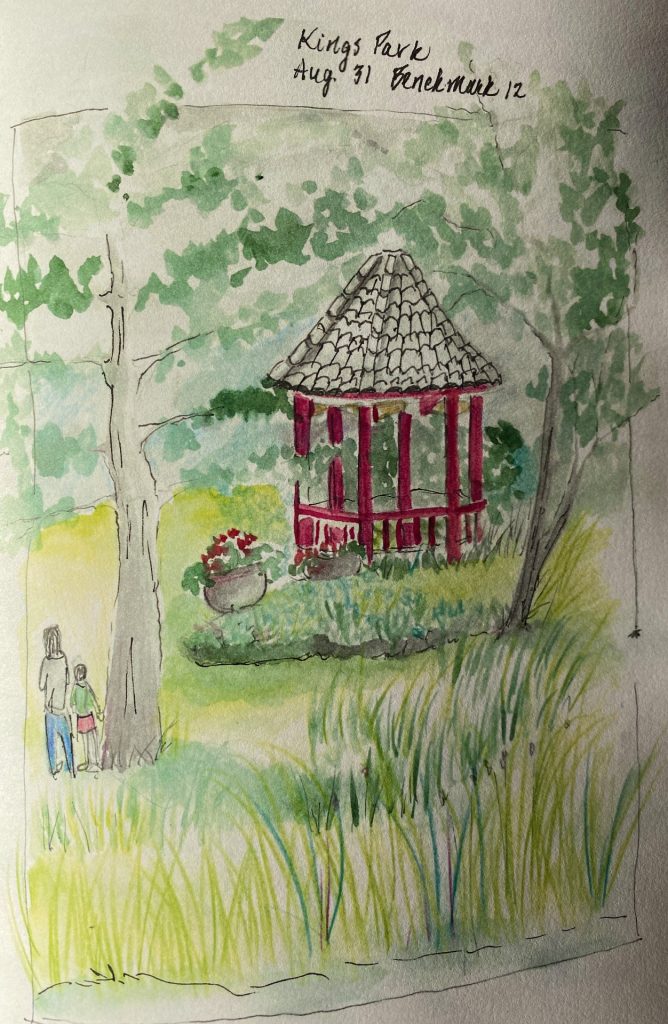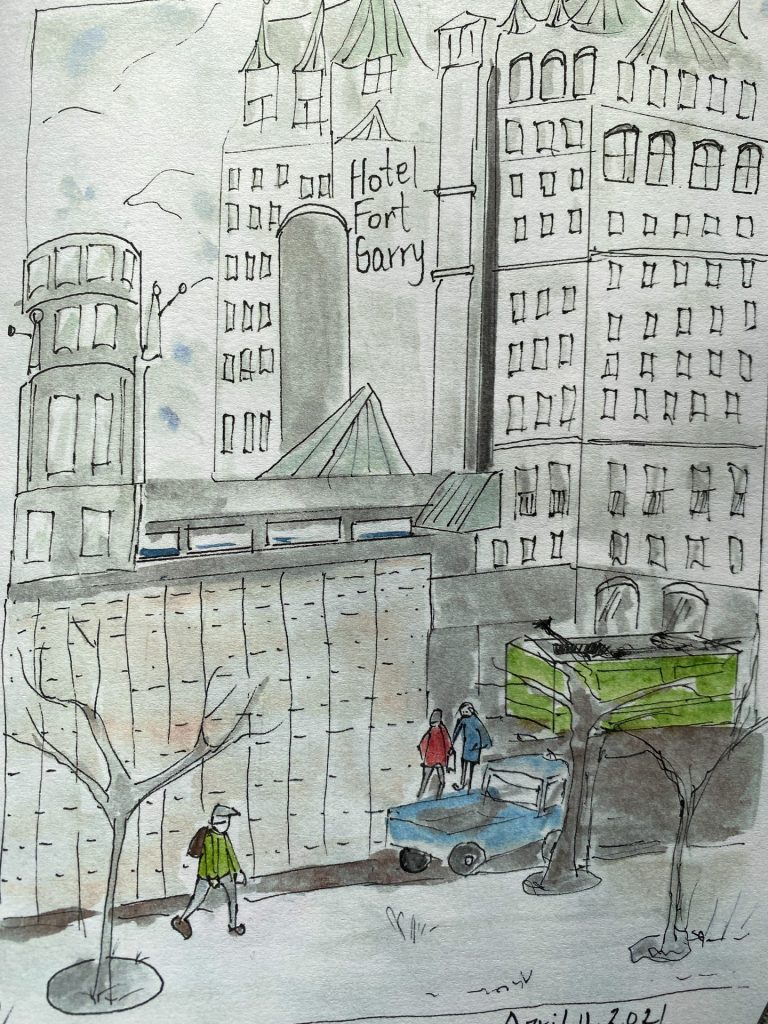 The back of the book says this:
A message from me to Susan:
Susan, we both love Mary. Last year was hard on all of us–and uniquely hard for her. I'm so grateful that she had Benchmark Mondays with you. We are wired for connection–created for deep and meaningful relationship. Those relationships give us routine and rhythm during regular days, and hold us steady when life circumstances threaten to bend us to breaking. The sequoia trees teach us to spread our roots and interconnect with others. Their roots actually "hold hands" with each other to give stability and nourishment during times of struggle. You were an important tree in Mary's forest last year–giving her strength and hope. Thank you for risking to write your poems and read them to Mary–your courage inspired hers. Susan, I'm so thankful for you.