Six years ago today, Husband and I merged our families, our households, and our lives together.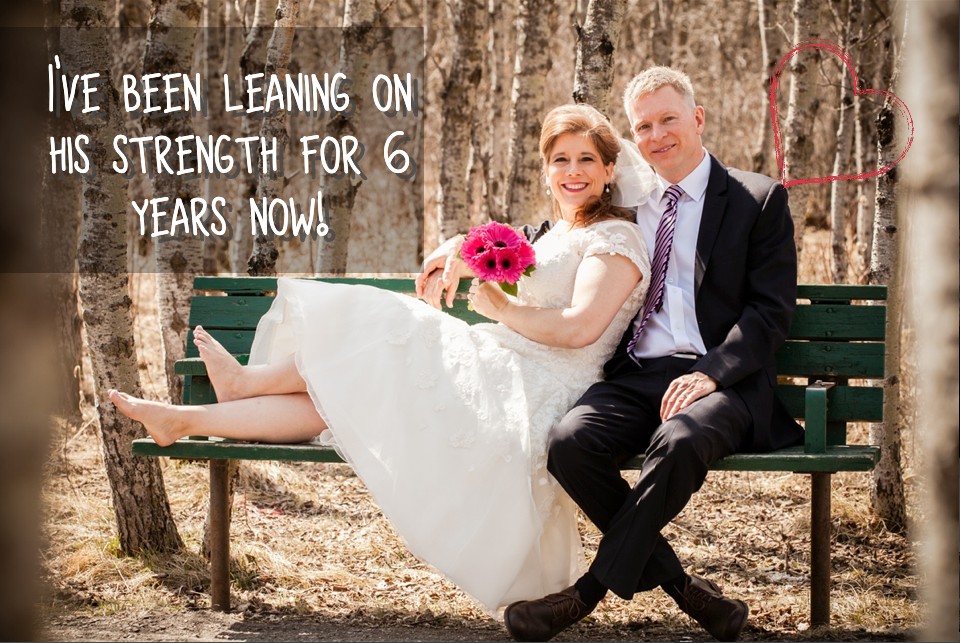 It was more than a little crazy to do what we did, at least on surface level:
Husband's wife had died just over a year before. He and his sons were still grieving the loss of a wonderful wife and mother
We hadn't dated very long
Our engagement was even shorter
We had two houses, three businesses, five kids, a fiancé, and an almost fiancé between us
There were a LOT of moving parts. So many reasons that our wedding was too quick, too intense, too much.
There were a lot of reasons our wedding looked wrong.
During the two months we were engaged we:
got one house ready to sell and sold it—this included painting most of the walls and putting on a front porch
got another house ready for us all to live in it—this included building out a bedroom and bathroom in the basement, and building shelving/cupboards in two other rooms, and repainting a few rooms
figured out how to decrease two households worth of stuff into one household
planned a wedding complete with 5 active young men in the wedding party, a cupcake testing event that included most of said young men, meeting with caterers, finding a church that had a gym that was available on short notice (yes, a venue with a gymnasium was essential for a wedding involving five active sons), and shopping for a wedding dress with two wonderful friends who know I hate shopping and made me promise I would have a good attitude for the occasion—they were great!
ramped up for the summer busy-ness of one of the businesses while keeping Conexus Counselling (then Bergen and Associates Counselling) going
I went to Saskatoon for the 5 days to watch one son play in the National Finals of U sports volleyball and give a Sunday morning teach at our church two weeks before the big day
We fed, housed and parented the remaining four sons in Winnipeg
It was NUTS!
And, with 20/20 hindsight, I wouldn't have done it any differently.
It looked wrong—but it was ABSOLUTELY right.
---
I knew that Husband had loved Car, his late wife deeply. What I didn't know when I married Husband was of the other great love in his life: Wood. Husband loves wood.
When we go to:
craft shows, he stalls out completely at the booths that sell items crafted from wood.
old buildings in Quebec city, he stares at the intricate wood flooring and the finely carved walls of the stately buildings
any part of the city, he admires the decks and fences of the houses we pass by
Living with Husband is to spend a lifetime chatting about and admiring all things wooden.
Husband has given me any number of gifts crafted from wood these past six years. At Christmas, Husband gave me a clock—it marks the passing of time in our living room.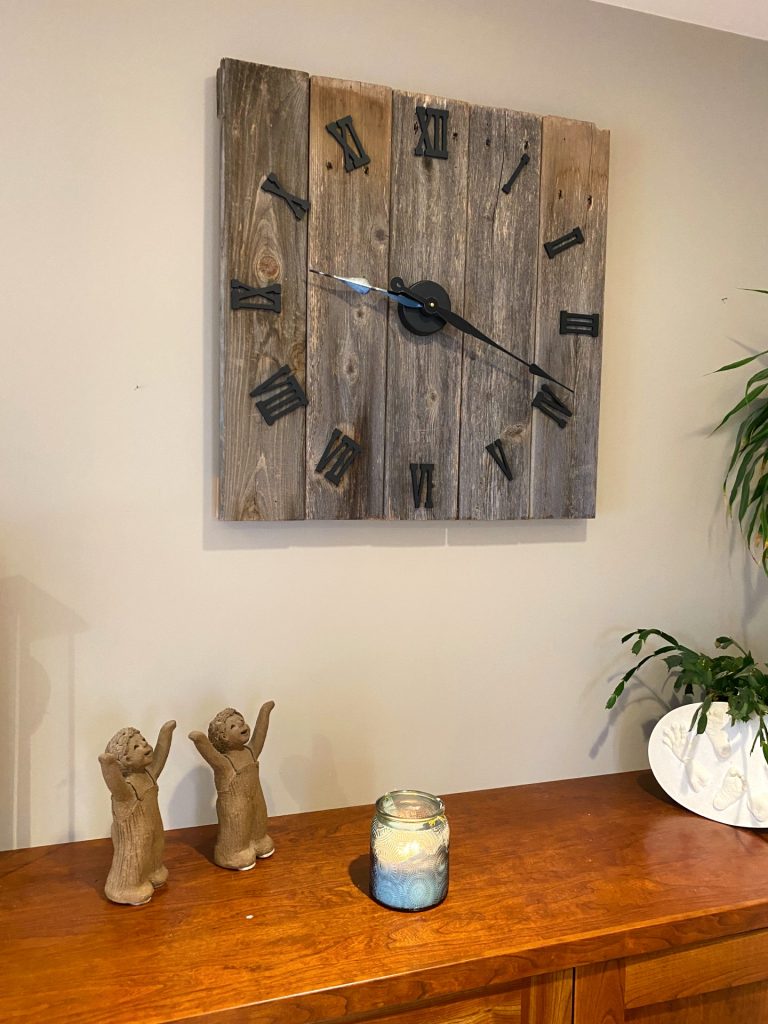 ---
Wood signifies a "long lasting and strong" marriage.
I don't take for granted Husband's enormous contribution to strengthening our marriage.
Husband's strength makes us strong. But it is not the typical brawny, brute strength that generally comes to mind.
Let me explain.
---
First, I don't think I'm an easy person to be married to. I'm told that contemplating marrying a marriage therapist would be intimidating for many.
Us therapists work with relationships for a living—we see patterns, and speak with expertise about relationship dynamics. I believed it might exclude me from ever being married.
A therapist can be easily silenced in a difficult conversation with the words: "Stop therapizing me."
It's an automatic out for a partner to say this. Stops any meaningful concern in its track. No matter what I say, I can't win. This is not an easy position to be in.
Husband has always seen my profession as a bonus in our relationship. He welcomes any insights I have. I can bring things up in conversation that help make us stronger.
It is a strength for him to recognize a strength in relationships that I have–rather than a threat.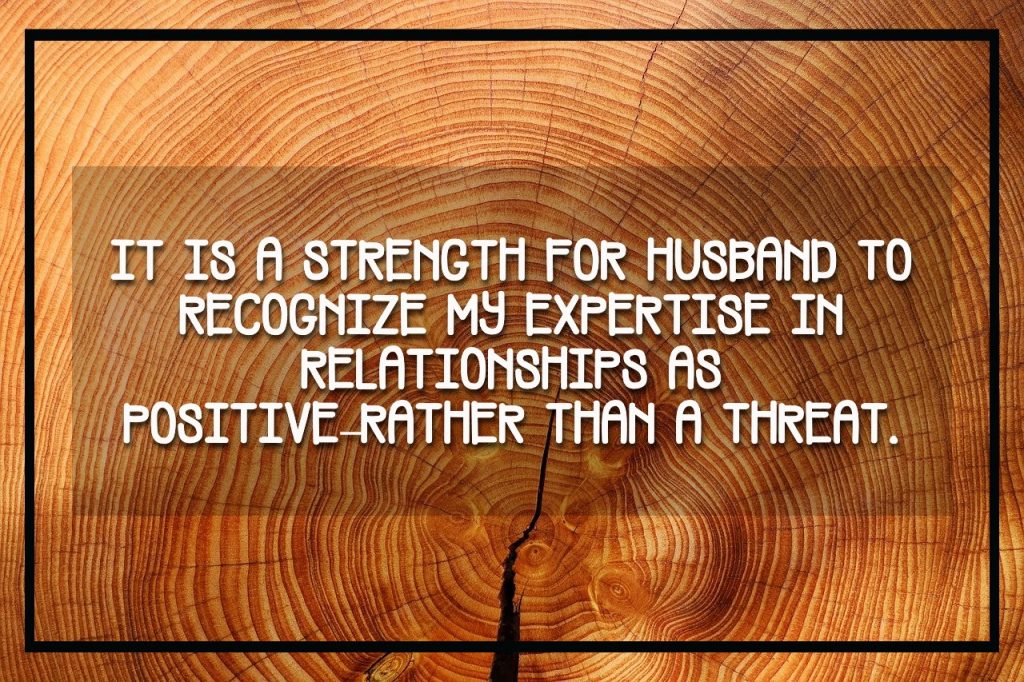 ---
And second: Husband's strength shines bright when he takes a step back to be a cheerleader for me. When I receive an invitation to centre stage in some sphere, he is the incredibly supportive.
It comes pretty naturally to me, as a woman, to support Husband in his life and in his career. I want to hear what his plans are, to brainstorm with him, to clean up supper when he is off for evening meetings with clients, pick up his portion of life during his busy season and generally help him in whatever way I can. Women are raised to be helpful supporters. It is as automatic as breathing for me to help Husband in his life.
Women, you know what I mean–right?
Husbands—not so much. It's not in our cultural DNA for men to take a back seat to help their wives be successful.
Here's the thing: We live in a world where the expectation for men to have a bigger career than their partners. Somehow, as the world measures importance, men are supposed to be more important than their wives.
There are names for men whose wives are higher profile than they are, have a "more important" job/more public/greater leadership than they do—and they aren't kind.
This might not be popular or easy to say—but I've worked with couples where the female outshines the male in the couple—and it is often not easy for the male. Men often perceive (rightly or wrongly) the judgement of others when their wives have a career that society would say outclasses theirs.
And that's where Husband is like wood—long lasting and strong.
His strength is more like wood than concrete or steel. Wood has warmth and flexibility to it that other strong materials don't have. It's unique grain gives that strength a natural beauty.
One of Husband's many strengths is that he is so confident in himself that he doesn't find it intimidating that I have a more public profile than he does.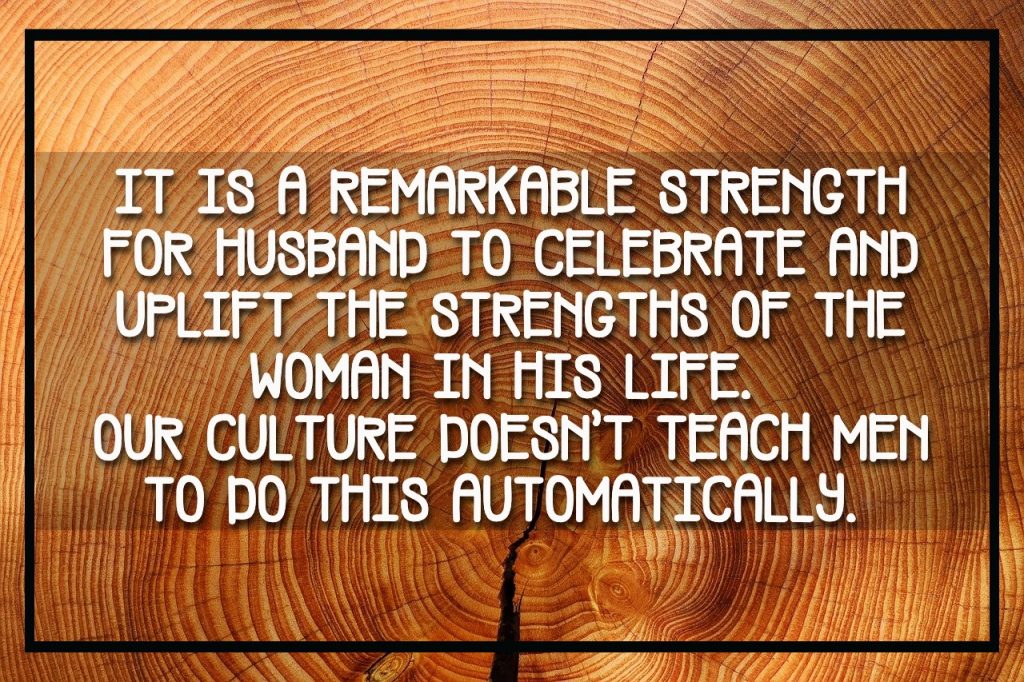 I have an unusual life where I speak weekly on radio, speak frequently at conferences (now webinars online) and ran a clinic with a dozen people on staff. I get asked to be on boards and to consult with organizations.
He is proud of me—and supports me at every level. Husband has his phone set to ring 5 minutes before I go on air on Thursdays so that he can listen to me while he works—and then we chat at supper further about the ideas I spoke about earlier with Hal Anderson. He shops for groceries when I need some to deliver a workshop, he built out Conexus Counselling's space to develop another clinic space and storage area, and he is my first listener when I have developed another talk. He makes cookies when I have a board meeting.
Husband says to me: "If you need me to carry your bag while you go into your next adventure, I'm there." And he means it.
He's all in on helping me be the best me that I can be.
I didn't know I could find a guy like that—one who would celebrate me as fully as he does.
It's not just good for me—it's good for us.
Husband and I married each other 6 years ago today. He gives me gifts crafted from wood which are beautiful and practical. However, even more importantly, he constantly gives me the gifts that wood symbolizes—strength and perseverance.
We often tease Husband about his love of all things crafted from cedar or oak.
Today, I'm celebrating him–his sturdy strength and how much that strength makes us better.