My mom was a nurse and when I was young, she would make visits to people in our community who were ill. She is just a caring person who would be kind in a thoughtful way by checking in with them.
I remember once she came home and spoke of visiting a couple where the man had advanced cancer. The husband was in agony. The pain gripped his body in an uncontrollable way. My mom was horrified to see his face contorted as he writhed on the bed.
My mom urged them to call the doctor and ask for medication to address his pain. He needed medical attention because the pain level was out of control.
This couple had immigrated to Canada years before, and English was an additional language for them.They spoke in German to mom–who is also fluent. They told her they would not call the doctor. There was no point. That's what the doctor told them.
That seemed odd. Why wouldn't the doctor want to help his pain?
My mom phoned the doctor to figure this out–it didn't sound right. (Nurses get all up in a person's business when they see suffering.)
She called the doctor and suddenly understood. The doctor had let them know that the husband's was terminal–his care was now palliative and they could no longer expect to remission or be cancer free. The words the doctor had said were:
"There's nothing more that we can do."
In their broken English, they heard that the doctors were done with them. They took one sentence they could understand and took it literally.
The couple missed the explanations about palliative care, pain management, and comfort care. Their broken English meant they missed all but the headline.
They got it sorted out, and within a day, the man's pain was managed.
A common turn of phrase–heard in a literal way–was very harmful.
---
Thursday starts a heightened level of red in our province. Tough restrictions come into force–likely for 4 weeks.
The CBC news story says this:
Non-essential retail stores, gyms, movie theatres, salons and churches will close.
The specific wording in the document is that all businesses not deemed critical are to not allow for patrons indoor service.
This will be hard for all of us, as we are not able to go to the gym to work out, attend services, get our nails done, get Christmas shopping done and so on.
But for business owners, this is a gut punch.
---
Husband is a small business owner. His business is largely outdoors, with peak season in the spring, summer and fall. This pandemic has largely not impacted his particular business. That wasn't planning–just dumb luck.
But he sees himself as one of the legion of business owners.
When I came downstairs to ask him if he heard the news of the increased restrictions, he was somber. He looked me in the eye and slowly said:
See, when a business owner pays the mortgage and buys the groceries with revenue generated by a business–what business could possibly be non-essential?
How painful it must be for a business owner to hear that their business isn't seen as critical.
When a business is how you feed your family, isn't it absolutely critical?
A common turn of phrase, "non-essential businesses to close" can be heard in such a destructive manner.
---
I completely understand that Premier Pallister and Dr. Roussin do not mean to be disrespectful to business that, as of Thursday, are told to shut their doors.
But I suspect that the language that is used to make it easier for the rest of won't be easy for business owners of the gym, the salon and the local dress shop to hear.
---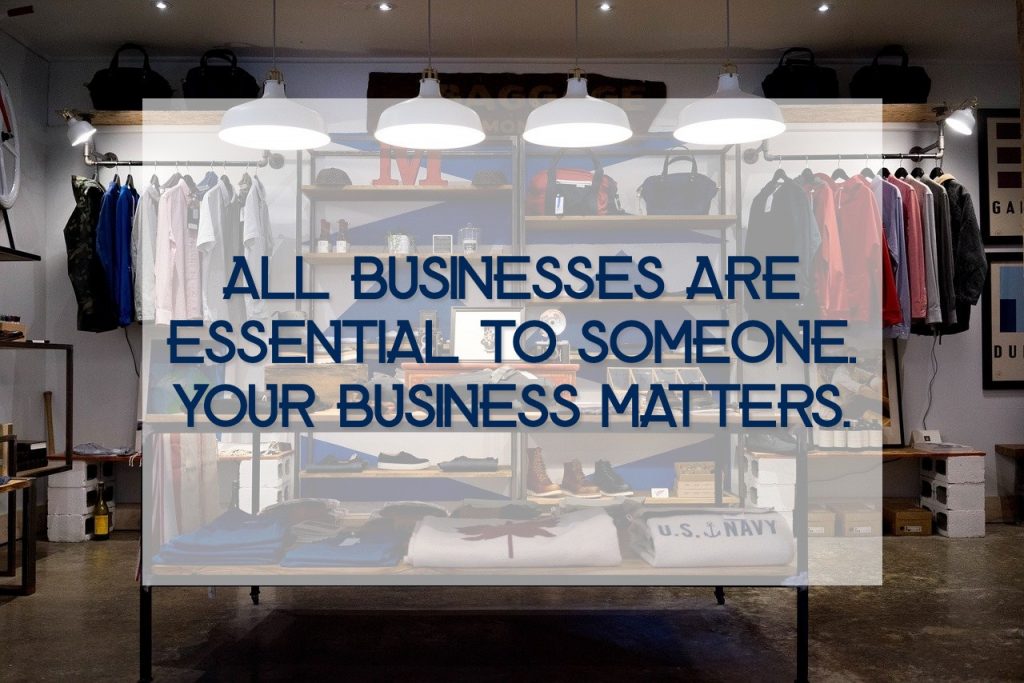 Dear business owners,
Our hearts break with yours today. The Christmas shopping season, the "Black Friday" sales, the regular business that would happen in the next weeks won't be happening.
The terror is about to grip you again–you remember that feeling from last spring, don't you? How will you keep the doors open? Will the support from the government help you limp through? How will you pay for expenses at home when you can't draw a salary? How will it be to lay staff off who are counting on extra hours before Christmas? The questions are many, and consoling answers are few.
This pandemic impacts your livelihood. The ones who had Thanksgiving gatherings and have been going to parties have been spreading it around–and now you pay the price. And it's not fair.
It's small consolation, but us Manitobans know that your business is important to you because it's your business.
What is important to you is important to us.
Your business is vital. It's critical to your well-being. We know that. Please don't think, for even one hot minute, that we don't think your business is important.
We plan to shop local this Christmas. We will look for ways to call and see if we can pick up things from your shop. And you gotta know we will get regular mani's and pedi's when the crisis has passed. And you can bet we're gonna need gym memberships to work off our Covid fifteen! 😉
It won't make up the hurt and fear you feel. We know that.
Most of all, know that we care.
Take care,
Carolyn