This week, she walked out of the office on her last day–but her place in our hearts remains.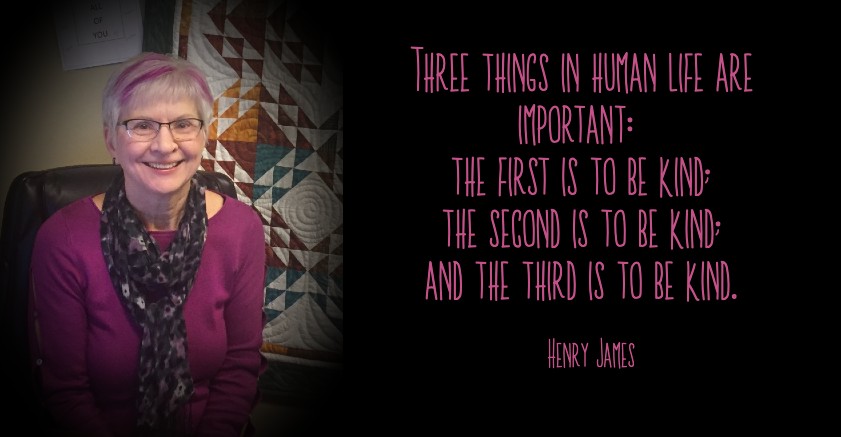 We wanted Del to answer the phone when people called to inquire, do some photocopying and general office tasks. She absolutely did that.What we never realized was how she would warm the whole office by her quiet, kind style. She changed us in the best of ways.
Del doesn't do anything with a lot of volume. She quietly goes about her day and it's only later that the impact of her work emerges.
Del updates our bulletin board every week. She changes things up. She finds things to post. Sometimes, I see pictures that are from a recent blog post show up on the board. The pictures she posts are full colour. Only thing is that we don't have a colour printer at the office–she does them at home.
Our plants get watered weekly. We leave Del totally in charge of watering–because too many gardeners kills the plants. Sometimes, a plant has disappeared and shown up in a pot that is better sized.
Del is like that. She sees something that should be done, and she does it. She doesn't announce it or seek praise. It just gets done–and always with excellence.
All of a sudden, something that needed doing gets done–without fanfare or announcement. Things just run smoother when Del is around. Sometimes she does something before anyone else even noticed it needed doing!
Del has always been one of those people that shows up half an hour early and stays half an hour late–despite my gentle suggestions to leave on time. She dotted the i's and crossed the t's on all the tasks of the day, leaving the office ready for Melanie to seamlessly pick up the next day.
When Melanie has been busy with bookkeeping or a funeral, or takes vacation time, Del fills in. She has always been incredibly collaborative and supportive–she has just done more than her share to help Conexus Counselling run smoothly.
We're gonna miss Del–a lot.
Melanie and her grandchildren were busy on the weekend making creations to decorate Del's workstation for her last day at the office. Isn't this adorable?
And Del left our office a whole lot more beautiful, too. Del knows how much I love wood (not unlike Husband!) and she certainly knows how much I love trees…and so she gave me parting gift I will treasure for many years to come: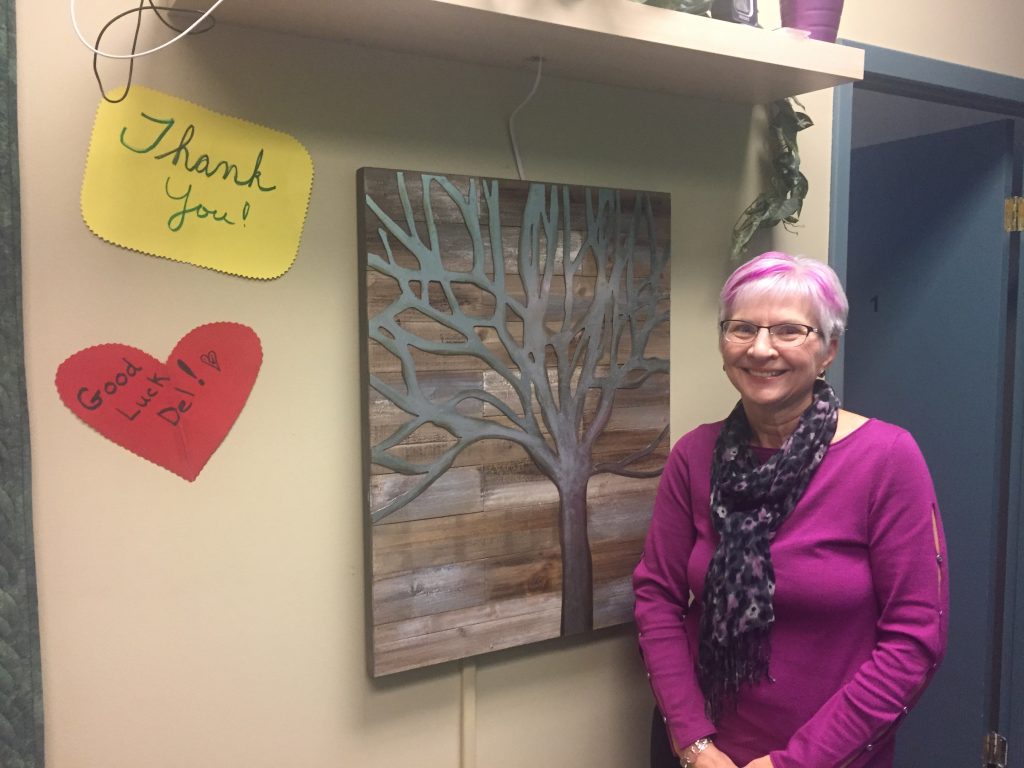 We never could have imagined how much she would do to make our office a better place. Her generosity and kindness left an imprint–not only on the therapist team, but I highly suspect with our clients as well.
I took one last snap of Del and I this week to hold firm the memory of her with us. It will remind me of all that I learned from Del about courage and thoughtfulness, about perseverance and dedication, about stealthily pursuing excellence in ways that quietly improves the lives of others.
Thank you, Del Gatherum, for all of what you've done for us…but even more, all of who you have been for us. We are better versions of ourselves because of you and your influence in our lives.