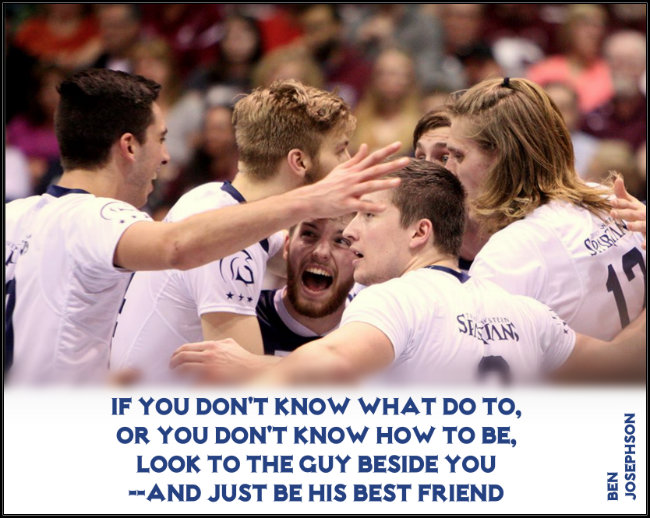 Photo credit:
Trinity Western University
Trinity Western University Men's Volleyball team won the national finals this weekend.  They are the top university volleyball team in the country this week…and 6 weeks ago they were struggling to make the playoffs. They have a young team–only one athlete was in his final year.
They got to a place that was unfamiliar and important…potentially a place of anxiety and pressure.
How to be?
What do to with the nerves?
How to handle the pressure of the national spotlight?
How to handle the raucous noise that would fill the packed house with 99% of the fans cheering for the other team?
The biggest games of their lives…and they were the inexperienced underdogs playing on the other team's home turf.
And their coach had just a simple piece of advice for them, as he met with them in the locker room before the big game:
"If you don't know what do to, or you don't know how to be, look to the guy beside you…and just be his best friend."

Ben Josephson
And then he said:
And that will be enough.
 Bam!
Ain't that powerful truth, right there?
I'm kinda thinkin' that's great advice for most of us in unfamiliar and challenging situations, where the demands are high, and the uncertainty enormous.
That's easy to remember.
And being someone's best friend? That's enough.