Apparently, money can buy happiness.
Research has proven it.
But it means spending money in different ways than you might expect.
Research was done where college aged folks were given money ($5 or $20) to spend on themselves.  While they appreciated having some funds to purchase a treat, or pay a bill and, at the end of the same day, they felt the same.  No happier, no sadder.  Spending money on themselves had no effect on their mood.
Then a different group of folks were given money, and asked to treat another person with the funds.  Coffee, a scarf…some sort of gift.  At the end of the day, the folks that extended generosity to others were happier.
This was replicated in Africa…where the money was used to give to a friend to buy food for the family, or buy life saving medicine for a child. These folks were no better or worse off when spending money on themselves, but measurably happier when making the life of another better.
If you have a few minutes…hear the scientist himself explain it (in a kind and warmly humorous style):
The researchers did similar studies with teams…gave each member of a team money–the individual members of the team were told to spend the money on themselves or on others of the team.  When they spent money on themselves…no impact.  When they spent money on a fellow team member…well, the performance of the team sky-rocketed…whether it was a European business team who suddenly became wildly more successful, or an American dodge ball team that started to clean up in the league.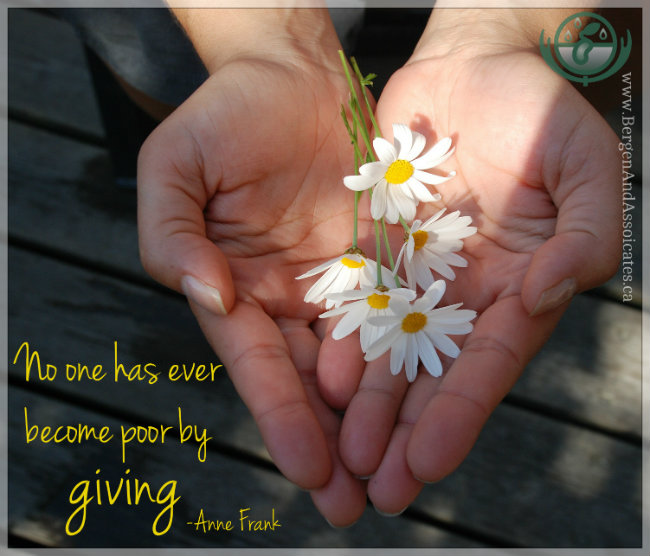 Kindness creates joy, and creates stronger bonds that increase collective strength.
Kindness to others
releases chemical in your brain
, which create a feeling of personal satisfaction.
One gets a little buzz'o'joy following a good deed.
 You are one of your own beneficiaries of kindness when you release neurotransmitters that give a person a feeling of happiness.
Kindness is about spending our money on others…and giving of ourselves in non-monetary ways too.
A few weeks ago, I was out for drinks with a
friend, J.
 J. asked me what I was wearing to our junior tribe members' graduation…and I shrugged.  I reminded her of my aversion to shopping for clothes for myself.  I suck at it.  It scares me.  I
just know
I'm going to buy the wrong thing, and the anticipation of certain failure for the purchase drains all the fun out of shopping.
 I dread it
…I laugh about it…but truthfully, it's not a laughing matter. We laughed, and she reminded me that shopping is one of her favourite things
(and it goes without saying that she is darn good at it).
Isn't it cool when one friend's gifts and another person's deficits collide in the most incredible way?
J. texted me the next day to ask what size I was. The next day she texted me the name of a store at Polo Park and told me there was a dress on hold with my name on it.  I walked in…and the woman asked if I wanted to try it on.  I put it on, snapped a photo of it to send to  J. and she approved.  I walked out of the mall with a dress that I humbly say, rocks, in 10 minutes. Done.
Like Friedrich Buechner says: "The place God calls you to is the place where your deep gladness and the world's deep hunger meet."
I'm not sure good ol' Friedrich meant love of shopping as a deep gladness any more than he meant "deep hunger" being a need for a great dress in the middle of great shopping angst…tho it might be a lighthearted, non-essential kindness, I can tell you that her giving kindness out of a strength of hers to a frailty in me, affected me on deep levels, and altered my outlook on life that week.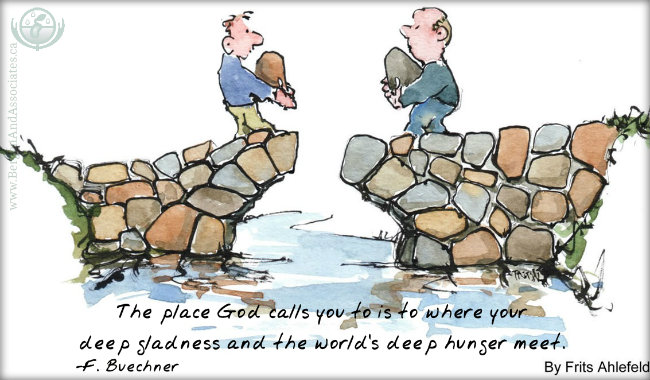 Or maybe that's exactly what he did mean…when you use the best of what ya got to do something meaningful for another…
some people like to cook so they volunteer at a soup kitchen,
some folks like to walk, so they go to the Humane Society to walk the dogs
some folks like to visit, so they play scrabble or host the bingo at the personal care home down the street
some folks enjoy their work and making money, and then they give funds to places who need it.
some folks just like to be kind, so they notice a need and fill it if they can
…and all of them get that buzz'o'joy.
(and who doesn't like getting a good buzz on, huh?)
I can tell you that this act of kindness has shaped me, and I'll be powerfully reminded of it whenever I wear that dress. Acts of kindness, no matter how superficial, affect me on deep levels that change who I am, and alter my outlook on life.
Arvid does this out of kindness…out of a deep and profound belief that "every child deserves a family".  He is raising funds for Mulli Children's Family, which takes orphaned children off the streets and feeds them and loves them and gives them hope and an education.  MCF is forward thinking in working to increase it's level of self-sustainability, with holding reservoirs in the difficult climate to raise vegetables for export.  The fields provide work (and therefore valuable income) for many people in the surrounding villages, and the funds raised provide food and other resources for the children. 10,000 children are/have been raised by MCF…therefore 10,000 kilometres–one kilometre in honour of each child that was given a family by MCF.
This level of kindness to others (only some of whom he has met in brief visits to the Kenyan MCF's facilities) challenges me to be kind to others.  To live in a world where such kindness is extended to others reminds me of how there is so much more right going on in this world than wrong. The
kind of gritty determination he's has sot be kind simply blows me away.
What do you like to do? How can you use this to benefit others?
In being kind to others,
you will also be giving joy to yourself
…does that make kindness a l'il self serving? Dunno exactly…what it does do is make kindness meaningful and sustainable and desirable and enriches the lives of everyone.
Kindness is a win-win for everyone. Go and get the buzz'o'joy?