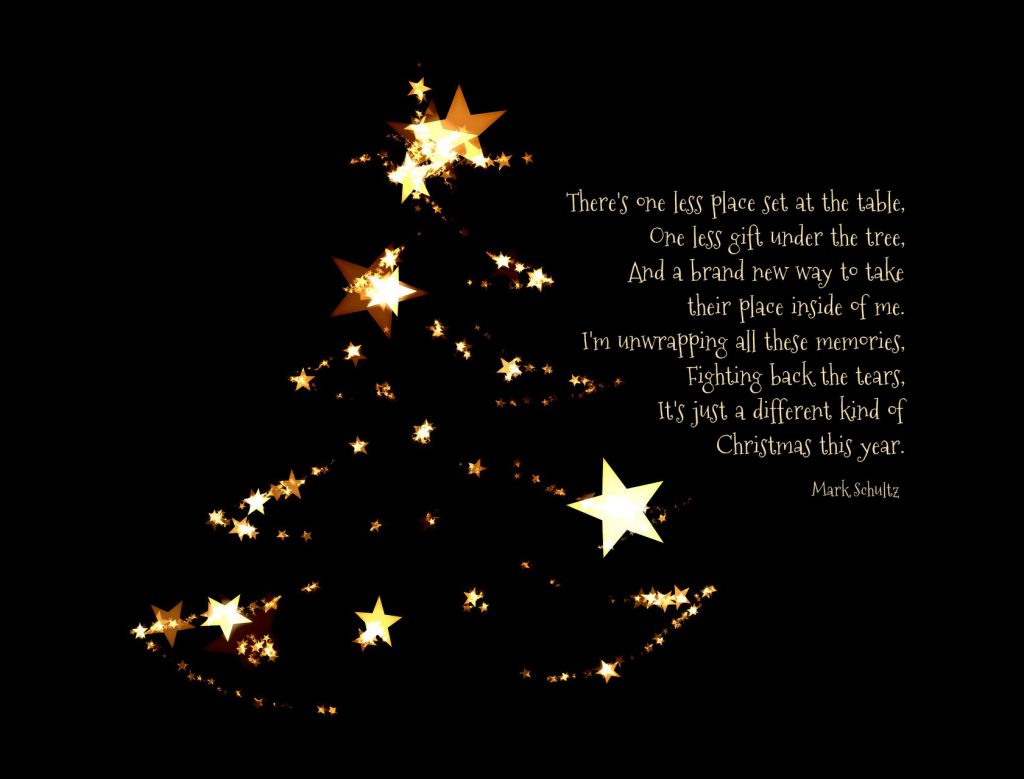 Today is the shortest day of the year. The day of the year with the most darkness–just a few days before Christmas. The day I know annually as "So low down is up" day. I suspect that for many, it is fitting that day that feels bleakest and is, indeed, the darkest, falls around Christmas. A day without hope.
This is a hard time of year for many.
Because of traditions and rituals that happen once per year, it feels particularly obvious when:
Baba isn't around to make her special cabbage rolls or melt-in-your-mouth shortbread
Dad isn't around to make the lame dad jokes as you decorate the tree
The kids call on your cellphone to video chat from half way round the world, rather than gather and chat at the foot of the tree.
The neighbors who you used to have a family making gingerbread house decorating event have moved away.
Christmas is a time of highlighted grief. Even when a person has been gone for years, Christmas is a time when their loss is often acutely felt in fresh and vivid ways.
---
Folks might wonder why you are short tempered and irritable. They might tease you and call you, "Scrooge". They might want to pull you into their festivities and merry-making, not understanding that you aren't rude or trying to wreck their party–you're simply not in the mood.
May you'll respond grumpily, with attitude–and they will be hurt, not understanding that you are feeling raw and in fresh pain for a covered wound. Things others say will feel offensive, when at other times, they might be overlooked.
Your body is present, but your heart is with memories of times gone by; with moments of celebrations past with someone who isn't here.
---
My parents called a family meeting this week. Just my siblings and I along with my folks. We sat in a downtown board room for a pre-death meeting. My dad, forever the accountant, had an agenda on a handout made for each of us.
My parents talked us offspring through their wishes and plans and paperwork in light of their upcoming deaths.
Matter-of-factly.
My parents are not dying.
They're not even sick.
But they recognize that their lives, like all lives, will have an end. And when the end comes, we can be caught unawares and unprepared, or we can go back to all the details they have outlined for us and be able to get things done well at a moment when we might not be at the top of our games.
They gave us some codes and some locations of important documents. They let us know about power of attorney, executors, and medical proxy. They let us know what is in their health care directives, so that if and when they are not able to make medical decisions for themselves, we can make the decisions that we know are in line with their wishes.
There were moments of loud laughter and giggles as we talked about the importance (or non-importance) of good views from the burial plot, the advantages and disadvantages of cremation–my dad said that he thinks it will be really hot! 🙂
Maybe some of the laughter was to break the tension.
I know some of the merriment was just because we are family with a similar sense of humour and we were enjoying our time together.
My parents invited questions, and so my brothers and I asked. Often it started with, "Don't mean to make you uncomfortable…" or "I hope this doesn't sound too strange to ask…". We asked about their wishes around their funeral services. We talked about what it would be like to take over decision making should cognitive impairment occur–often when the person who is impaired doesn't realize it, and therefore, doesn't appreciate the need for help. We spoke about passwords for social media accounts to shut down the account after their deaths.
Our time together was profoundly respectful. Curious and clear, in a calm way. Almost sacred, I think.
We assured them that we would hold onto their plans and hopes and follow the intent of them through. They related stories of fights and disagreements between family around dispersing the estate. My mom asked us to be generous with each other, and work to get along. She said it meant a lot to her that the things that needed to happen after their deaths wouldn't push us as kids apart from each other.
It was all profoundly normal and ordinary, even as it was unusual territory.
The only distasteful part of that lunch were the pickles in my sub.
I picked them out.
We are all going to die, my dad said. He still plans on living a good long while. But he wanted us to be prepared with the practical stuff taken care of.
It was interesting having this meeting the week of Christmas…recognizing that in all likelihood, they will die before I will.
There will be a Christmas when I am here, and they aren't.
Our laughter over the subs and cookies was life-affirming even as we discussed their deaths.
There was something life-giving about talking about the sad-inevitable.
It made death a part of living. Talking about death's eventuality made it real, but in a way that wasn't scary, but normal. Kinda like my parents looking after us, as they have done from the beginning–and thought to continue to do so after death. It was hopeful, planning for what is inevitable, in a way that says, "Life will continue".
That was a good feeling.
---
We had our 13th annual Christmas Stocking Extravaganza Experience last Saturday. Supper out, then a movie, then sledding, and then hot chocolate and munchies. It felt familiar and special. It felt good to be together, even as we knew some were out of town and missed it; one had to cut out early for another party. The traditions continue, even as there are losses with the passage of time. Junior Tribe Members get older and develop lives of their own!
It can be a challenge to figure out a movie that everyone can live with. After a round of texting with JTM's sending in their votes, we ended up going to the Justice League movie. I'm not much one for super hero movies, but I can enjoy my kids enjoyment.
My favourite part of the movie were Lois Lane's reflections on the experience of the battle between good and evil, between light and darkness, between death and life: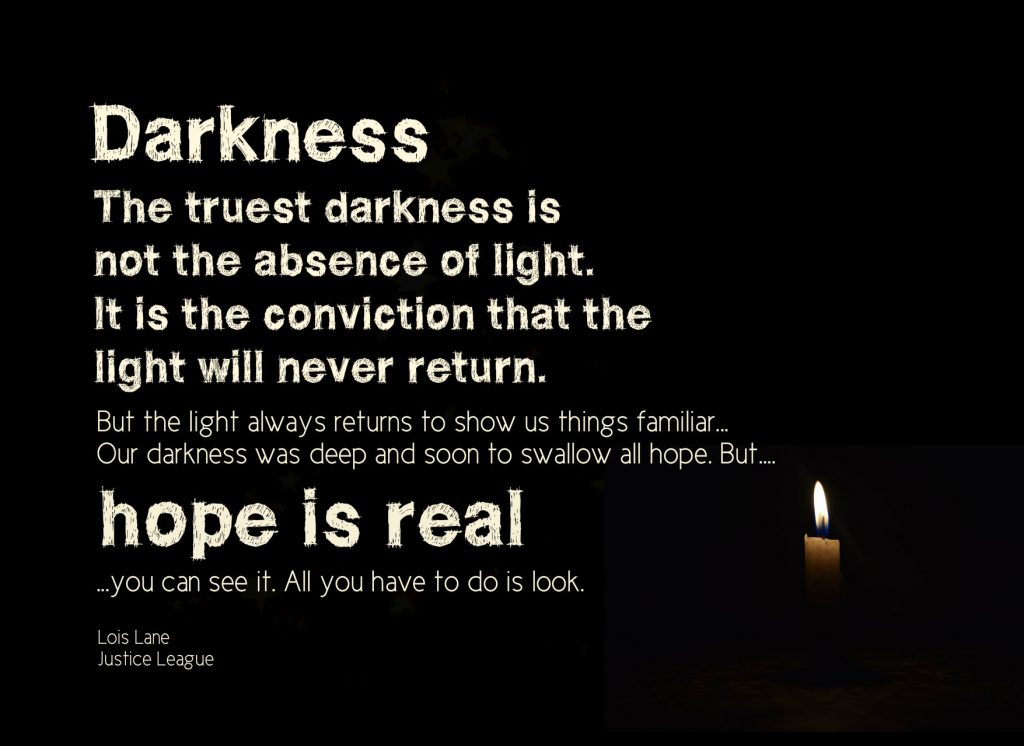 In a promo video on Justice League's site, there is a reminder that while "Hope never dies", knowing this is only possible when we realize:
"No one saves the world alone"
I would suggest that as a mantra, we need to say: no one goes through grief alone.
Grief is lonely and hard and difficult. No one experiences the loss you do. No one can. But they can share it with you. The burden, even for a while, can be shared.
And with sharing, come stories that are different on the surface, but similar on the core: A seemingly impenetrable darkness, a pain that won't relent, an irreplaceable loss that feels hopeless…until sometime, much later, it's not.
The loss continues, but hope returns.
---
I remember, after the stillbirth of my sons, feeling hopeless, quite convinced that life would be colourless and dark forever. And ever. But I went through the motions (because I couldn't think of anything else to do, and someone pointed me in that direction, and I didn't have the strength to resist). One of those motions was to go to church. I remember looking around at all the people in the pews in front of me. I knew this one had lost his mother, that one had a disabled child, a couple's child had succumbed to cancer years before. There were people who had experienced tragedy sprinkled all around me–real, heart-stopping, heartbreaking, heart-wrenching loss.
And I remember, watching in puzzled amazement, that they were singing.
Singing!
It startled me and I couldn't understand it. How could they have undergone such loss in their lives, have known the same depths of grief as I, but now be able to sing? And it didn't look forced, or done through gritted teeth. They had found hope and joy, even though they lived in the shadow of loss.
I remember watching their singing–knowing it meant, that even though I couldn't imagine it, or understand how–I knew it meant that the song would return for me, too.
And it did.
Not right away. And further loss has silenced my songs for times since–but the song returns.
And my singing has depth that comes from knowing heartache and living to tell the tale.
Those people singing after heartbreak will never know the hope that they provided in being part of my community.
I never told them.
But I am grateful for the light they were in my darkness, giving me the conviction that all would not be dark forever.
---
May those who are grieving this Christmas borrow hope from others.
I gave a gift from Magnolia to one of my friends for Christmas last week: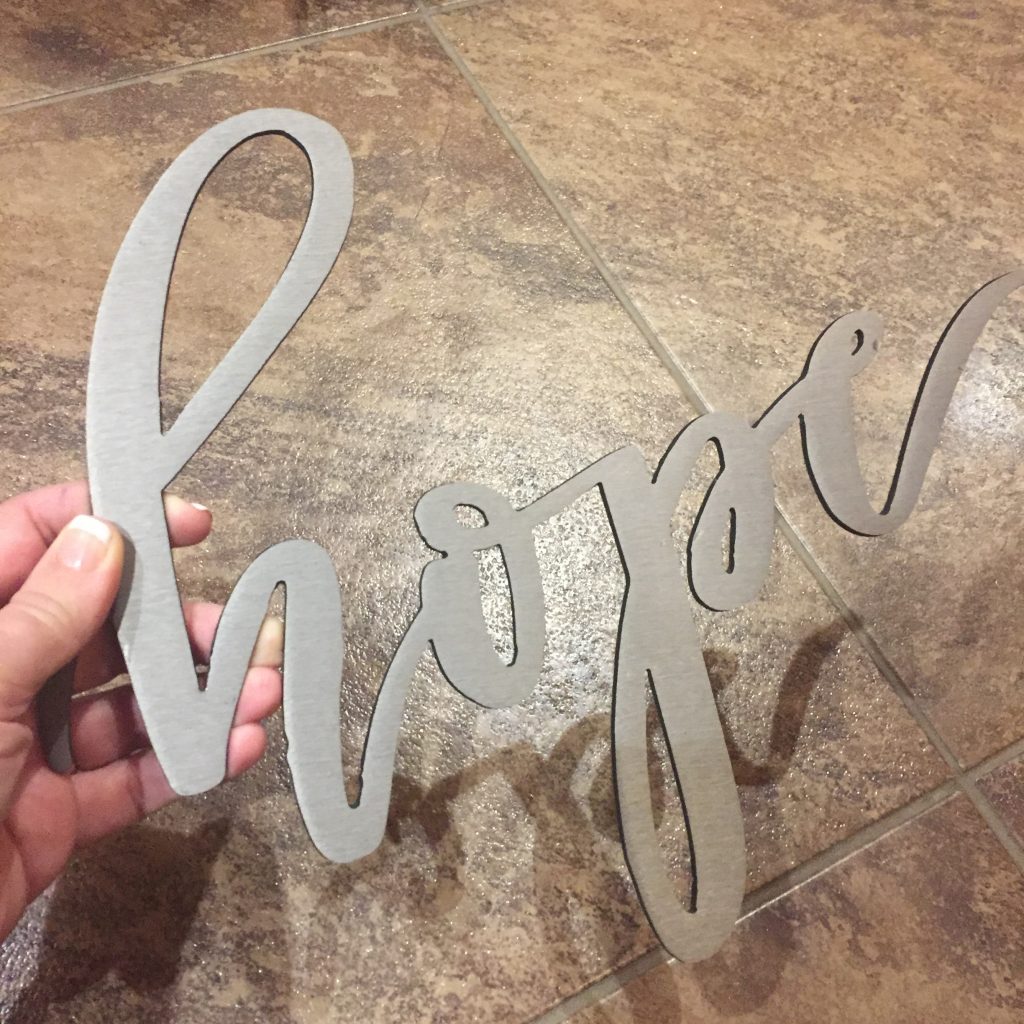 When G. opened the gift, she held it up to admire it. Then her eyes filled with tears and she grabbed it in her arms and embraced it tight against her chest.
She said:
You just gave me the gift of hope. I am clinging to hope very literally because of you. I can hang hope on my wall, and touch it when I go by. I can see it when I look up. I have hope because you gave it to me.
Can you grab hold the hope of others if you're short on it yourself? If you have some hope, let people grab some of your? I promise you one thing:
Sharing hope doesn't decrease the amount you have…you can lots of people use your hope and you will still have it!