I spoke with Eleanor Coopsammy on January 15, 1014 about revitalizing troubled marriages…to use January as a time for saying, "The marriage can't continue like this.  Let's make it better."
January is known in family law as "Divorce month".  Few people initiate divorce in December…though I understand family law lawyers are often kept busy as parents are scrambling to negotiate visits with children over Christmas.  January is the peak month for divorces. 
Why?
many parents determine to put on a good Christmas for the children, and agree to set aside their differences and make the Christmas season one that the children will remember.  And, given the hoopla and warmth of the season, issues can be put on the back burner as family gatherings, office parties, and yummy nibblies take centre stage
many people come out of the Christmas season with significant relationship stress…

many have spent more than was prudent compared to their income,
 the extra days off mean more family time which can be a stressful change of pace for the family that has only intermittent contact all fall, and
there tends to be an increase in alcohol consumption which can precipitate fights and inappropriate hurtful actions

the onset of the new year is a time of reflection and goal setting, and spouses can decide to take action on a relationship that is not doing well
Divorce isn't easy.  Quite bluntly, it sucks.  It's expensive:  financially, for sure, but relationally, emotionally, and psychologically.  It's hard to end a relationship that at one time was filled with hopes and dreams, that has been tied together with in-laws, debt, assets like RRSP's cars and/or a house, and often, a couple's greatest legacy, children.
January is also the peak month for couples to say, "Let's work at this." In the therapy/counselling business, we see even more couples than usual choosing to invest in
couple therapy
in January.
Many couples feel the strain of relationship, feel they have lost the connection with their spouse, are feeling the crunch of finances and other life pressures and use the relationship tension as a cue to see a marriage counsellor.
Here's the deal…
we give our cars regular oil changes,
we mow and fertilize the lawn,
we take certifications and continuing education to improve our ability to move forward in our job,
we watch Youtube videos to learn how to increase our proficiency to cook a turkey, unplug the toilet, or braid hair…
when there is a rip in the coat, we take it to the tailor
when there is a big pothole in the road, we expect the municipality to repair it
when the squeak develops in the car, we take it to the garage for a $400 bill (ouch!) before the engine seizes and the bill quadruples (bigger ouch)
…so why the heck wouldn't we be deliberate about working on the single most important relationship of our lives???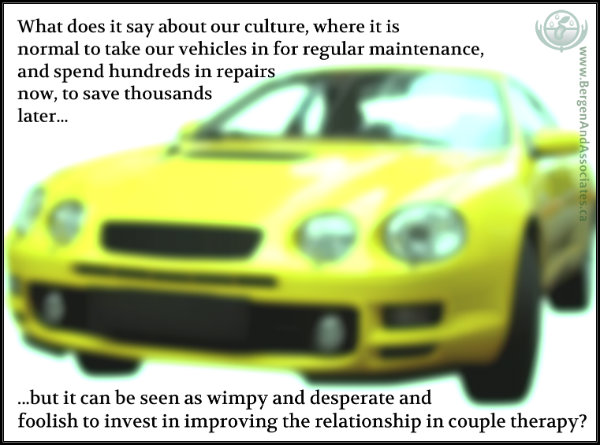 Here are some ideas to get you started:
No one gets married thinking divorce is an option…yet for about 40% of first time marriages, that is what will happen (higher for subsequent marriages).  Premarital counselling builds in the practice, before marriage, of having a consultant. The PREPARE/ENRICH tool gives solid feedback to a couple about areas that may need addressing in the future. We offer a great program which I think is of great quality.
Read a book together.  Harriet Lerner's Marriage Rules is a great one to start with.  Chapters are two pages long, practical and bite sized to think about. John Gottman and Susan Johnson also have great books. Watch YouTube videos.  Have some fun with it…look at what needs addressing and find fun ways of making your relationship stronger…
Build in ways to make ongoing deliberate attention to the connection between the two of you a habit…like, every time the clock springs forward or moves back (i.e. twice a year), ask your partner to sit down and evaluate your marriage together…to celebrate the strengths and improvements (who doesn't love to have their efforts noticed!) and to choose an area or two to focus on with some practical plans to address these. Alternatively, January is a great time to evaluate and set goals for the year.
Think about going away for a weekend, or attending a retreat for couples to improve their relationship. Bergen and Associates is planning a weekend in spring for just this purpose…to improve the connection through authenticity and vulnerability as a couple…not easy to do, so maybe having some structure would help. Contact us if you would be interested in attending!
Know that every marriage has tough seasons…and that working through these has the potential to strengthen the relationship.  Linda Waite, a sociologist front he University of Chicago in a large study, found that two thirds of unhappily married spouses who stayed married reported that their marriages were happy five years later. If things are rough, that's a cue to work at things.
There are, absolutely, indicators that divorce is the wise choice. When there is violence, out-of-control addictions, repeated infidelity, and other factors that make staying in the marriage dangerous to body and/or soul…divorce is a needed solution.  However, very often, when it feels bad, it's a sign to work on things.
Marriage therapy
isn't easy…and I watch couples begin the painful road back to marital health take risks with each other, practice forgiveness with each other, be vulnerable with one another, apologize for hurt…and it's sooooo not easy for those couples.  But if you would ask them, they would tell you that it's worth it.
Try it?
Let's get you started on one healthy pattern to reverse a negative trend in your relationship.  Watch this, practice it regularly, with intention for a month (with or without your spouse) and it will make a difference: