I blogged here and here a few weeks ago about domestic violence…looking at the roots…understanding that our culture assists in shaping men's behaviour towards violence.
Gail Shaver, the therapist that works most closely with those who engage in our Transforming Destructive into Constructive-Intimate Partner Violence program reminded me that I missed something big in the first two parts of this series…and thus, the third. I dropped the ball…and she sensitively reminded me of something important…that needs to not be missed.
While my first two blogs in this series were about understanding the pressures of men in this culture that predispose them to violence…fact is…a significant chunk of violence has men as victims.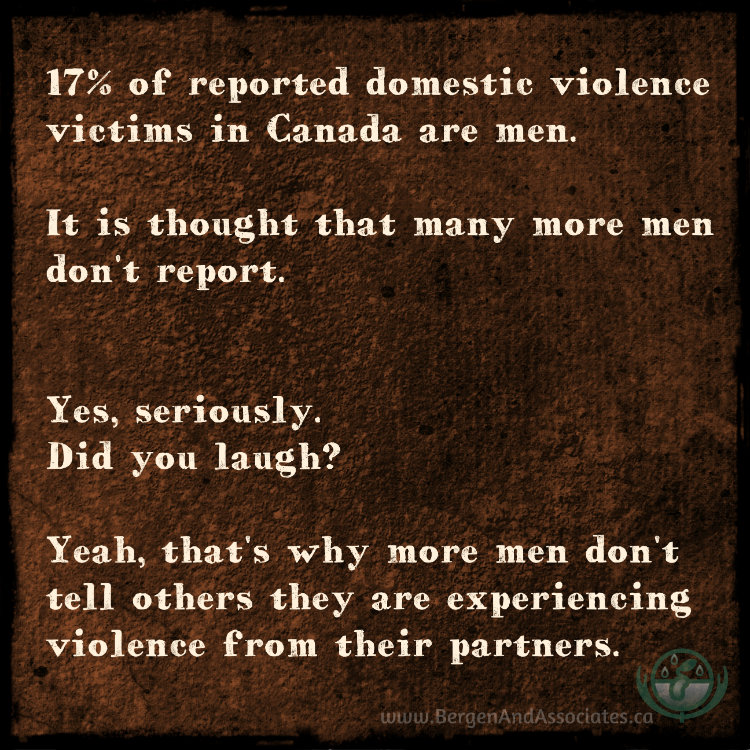 In April of this year, Earl Silverman killed himself.  His house was the only privately funded shelter for male victims of domestic violence–it closed for lack of funds.  The "Mean's Alternate Safe House" (MASH) didn't light up switchboards…didn't garner a lot of attention…and didn't attract enough bucks to stay open…and Earl Silverman was about to lose his house…and all that it stood for.  That was ultimate devastation for him.
It's not easy for a guy to say he was hit.  When a man gets hit by his partner he is in a "no win" situation:
he hits her back.  NOT. COOL.
he tells someone and gets help.  And risks being called a wuss…or worse.
That traps a guy in a violent relationship…in ways that have him feeling really stuck.

Women have been told not let guys push us around.  We should stand up for our rights.  We need to stay strong.
As a gender we've only been doing that for a couple of decades.
And sometimes, women overshoot, and in compensating for millennia of oppression end up swinging or throwing or screaming horrible mean things.
And…sometimes it's hard to tell who threw the first punch.
No punches are ever OK.
There is a zero tolerance in our culture for any violence…so  yep, women get arrested for domestic violence.
Women who hurt men experience the same sorts of things that men who hit women.  Women who hurt men need help breaking the cycle of violence as well. Female batterers need treatment too…give us a call.