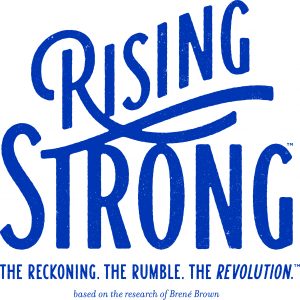 "If we are brave enough, often enough, we will fall; this is the physics of vulnerability." Brené Brown, Rising Strong
Rising Strong™ is a course developed out of the research of Dr. Brené Brown. Through a series of videos of Brené Brown, individual experiences, and discussion in a small group, with the facilitation of a certified facilitator, Carolyn Klassen, the material is processed, worked through, and experienced.
Rising Strong™ works through:
The Reckoning. The Rumble.  The Revolution.™
This course may be helpful to deal with a fall in your life, recently or in the past, as you seek to become the author of your story. This course is not designed to replace therapy or complete the journey of an experience. Rather, it is designed to move you forward in your life by reckoning and rumbling to move towards a revolution in yourself and in your world. It builds on material in The Daring Way™, but attendance at The Daring Way™ is not a prerequisite to attending Rising Strong™
This current offering of Rising Strong is being planned for November 22-24, 2019.
Friday, November 22, 5:30-9pm
Saturday, November 23, 9 am-5 pm, and
Sunday, November  24, 9am- 2:00 pm
Registrations now being accepted
Cost: $395.00 (including applicable taxes) if registered prior to 2 weeks before the course; $445.00 if paid within 2 weeks of the course starting.
Included in the cost are all sessions (with videos by Brené Brown and facilitation by Carolyn Klassen),  beverages and nutritious snacks, a beautiful Rising Strong™ workbook, "working supper" on Friday, lunch out on Saturday and "working lunch" on Sunday. Call us at 204 275 1045 or complete the form on our contact page to inquire about attending! Class size is limited to ensure seminar participation and individual processing, so please register early to ensure you have a spot.
Rising Strong Trailer from Brené Brown on Vimeo.
---
The Daring Way™

The Daring Way™ is a highly experiential methodology based on the research of Dr. Brené Brown. The method was developed to help men, women, and adolescents learn how to show up, be seen, and live braver lives. The primary focus is on developing shame resilience skills and developing a courage practice that transforms the way we live, love, parent and lead.
Carolyn Klassen is a Certified Daring Way™ Facilitator (CDWF) and offers The Daring Way™ and Rising Strong™ seminars knowing that we do our best healing and growing when we surrounded by people on the same journey.
The Daring Way Course Completed...please call or email the office if you would like to be contacted for the next offering, planned for Spring 2020.
Cost: $395.00 (including applicable taxes) if more than 2 weeks prior to the onset of the course. $445.00 if paid within 2 weeks of course starting. Included in the cost are all sessions, handouts, beverages and nutritious snacks, a beautiful Daring Way coffee table book, working supper on Thursday, and lunch on Friday. Call us at 204 275 1045 or complete the form on our contact page to inquire about attending! Seminar size is limited to ensure adequate discussion and processing, so please register early to secure your spot.
Hey…the thought of exploring vulnerability with others is, well, really vulnerable. But, as Brené Brown says, exploring vulnerability on one's own is actually not possible.
Please know that we do this exploration of daring greatly mindful of the how intimidating it can be…we make it do-able, and know that you will actually be encouraged to share only as much as makes sense to you. An important part of vulnerability is not pressuring oneself to overshare! A lot of folks are interested in exploring more of what Dr. Brown is about, but feel like there is no way that they want to explore their own vulnerability with others, because it is…well…its vulnerable (duh!). It's quite common to dread the "group experience" part of the process and by the end of the experience, appreciate that as the most valuable part of the process!
So…I get that to come to a weekend, you're gonna have to get your courage on, and be vulnerable ("uncertainty, risk, and emotional exposure"). It'll be hard to register, and even harder to show up the first day.
And I'm gonna admire that. I know how hard it was for me to walk into The Daring Way™ the first day when I did The Daring Way ™ myself.
Share this with a friend and come together?…
Group Discussions
We require a minimum of 7 people to run the group (the max size will be 14), and reserve the right to cancel the group if insufficient registrations are received. Please call our office at 204 275 1045 to register or contact us via our contact page to express your interest. Melanie and Del, our client care managers, will take down some basic registration information, and will ask you a few screening questions, to ensure that this group is appropriate for you. Please know that we ask all potential participants these questions as part of ensuring a successful experience for all those who experience The Daring Way™. Your attendance is confirmed once payment has been received. Payment is via cash, cheque, debit, Visa or Mastercard.
All participants will have the ability to choose when and how to participate. However, the "secret sauce" of the experience is members being willing to develop an increasing level of vulnerability over the course of the group. This is intimidating…but trust me, folks that have gone through this course generally reflect on how the group discussion is the most powerful component of an overall powerful experience. Folks that are in acute distress because of recent trauma, are in the first 60-90 days of substance use/abuse recovery, or otherwise in significant distress are encouraged to take the course at a later date. It will be intense and challenging, but will also involve hearty laughter and fun. No one has to do or say anything that they inherently know is not a good idea.
Though not at all mandatory, it is helpful to read Daring Greatly, The Gifts of Imperfection, or I thought it was just me by Brené Brown for The Daring Way™. Prior to attending Rising Strong™,  you might want to read Rising Strong. Alternatively, there are several videos online of Brené Brown that will help familiarize you with the material. Please look at our "Guilt and Shame" page for links to these videos. Carolyn Bergen (CDWF-Candidate) has been writing about Dr. Brené Brown's research for some time, exploring the concepts of shame, vulnerability, authenticity and wholehearted living.
The Daring Way ™ with your group:
Call us if you would like too book a 3 day The Daring Way™ intensive retreat for your team at work, your book club, your Bible study group, or a group of friends who want to help themselves and each other show up, be seen, and live bravely™.
You supply the venue and the food/snacks, and we supply the therapists,worksheets, The Daring Way ™ book…which means we supply the facilitation and the expertise to guide your group through a life changing experience. You provide the support and the laughter and your stories which will make your The Daring Way ™ event a one-of-a-kind experience. Call us to discuss the options.
Further offerings are in "the works":
The Daring Way™ for Couples
          A three day weekend retreat for couples who are not in acute distress but desire to increase the intimacy level in their relationship through meaningful conversation with each other and with other couples-
Please call our office (204 275 1045) or email us if you are interested in participating in any of the above groups, and we will contact you as soon as dates are established.