Sarah Picken has completed a Bachelor of Arts and Master's in Marriage and Family Therapy from the University of Winnipeg.
Sarah combines her clinical experience with her own personal experiences of healing trauma and loss to offer holistic therapy sessions to individuals, couples and families with a soft spot for teenagers!
She believes in the importance of using a holistic model of care that incorporates mind, body and spirit. Every event we experience affects all aspects of us. We hold challenging experiences in our cognitive memory which can cause emotional distress. Our body holds those experiences at a cellular level which can show up as physical illness or discomfort. Challenging experiences can also affect our spirit. This can feel like a disconnection from the place deep within yourself that holds hope and possibility.  
Part of healing is learning how to reconnect with all parts of ourselves. This starts with remembering that we all have an inner source of strength that is our greatest resource. Learning how to heal mind, body and spirit means integrating our challenging experience on all levels so that we can achieve overall health.
Sarah works in a gentle trauma informed way. She meets her clients exactly where they are, collaborating to decide how they will work. She utilizes different therapies such as: Internal Family Systems, Attachment Therapy, Self Regulation Therapy, Narrative Therapy, Somatic Experiencing and a variety of Mindfulness practices in addition to Reiki as a compliment to traditional therapy services.
Sarah's goal as a therapist  is to form deep and secure relationships with her clients while providing a safe space for them to be authentically themselves. She attunes deeply to her clients needs. She loves to help clients:
rediscover their inner wisdom,

increase joy in their life,

find clarity around stuck areas,

learn new simple and effective tools to cope with daily stressors and struggles,

heal from traumatic events,

heal from PTSD,

improve relationships with themselves and those they love,

(re)discover a passion for life and

experience a deep sense of inner peace.
Sarah has a special interest in working with trauma, abuse, grief, anxiety, depression, stress, eating disorders and exploring spirituality.
She knows the idea of therapy can be scary but can tell you that the hard events in our lives are what trigger growth and transformation and that... is a beautiful thing!  
We are delighted that Sarah Picken has joined our team and has begun seeing clients in December 2018. We are a stronger group because of her.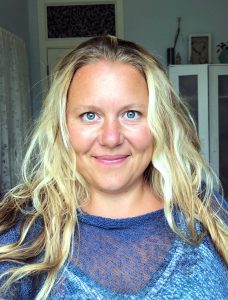 more pictures coming soon!